Bumble calls for the criminalisation of cyberflashing in new campaign by Hope&Glory

Dating app Bumble has embarked on a campaign calling for the criminalisation of cyber-flashing—the act of sending unsolicited images or video recordings of genitals without consent.

Known colloquially as sending 'dick picks', the reality is that a disparity between IRL flashing, a criminal offence, and the digital equivalent is vastly out of sync.

What's more, the issue has been somewhat trivialised in its portrayal, even though the act itself disproportionately impacts women who receive explicit images regularly sent on social media, messaging apps, AirDrop, Wi-Fi or Bluetooth.

In fact, findings show that 4 in 10 (41%) millennial women in the UK have been sent an unsolicited photo of a man's genitals without consent, nearly half (48%) of those aged 18-24 receiving a sexual photo they did not ask for in the last year alone and as a result over the last year 3 in 4 (79%) women under the age of 44 have become more concerned about the connection between their online and offline safety.

More than half of women claim to have been left feeling less trusting of others online (59%), with 95% of women under the age of 44 saying they are clear that more needs to be done to stop these unsolicited nude images.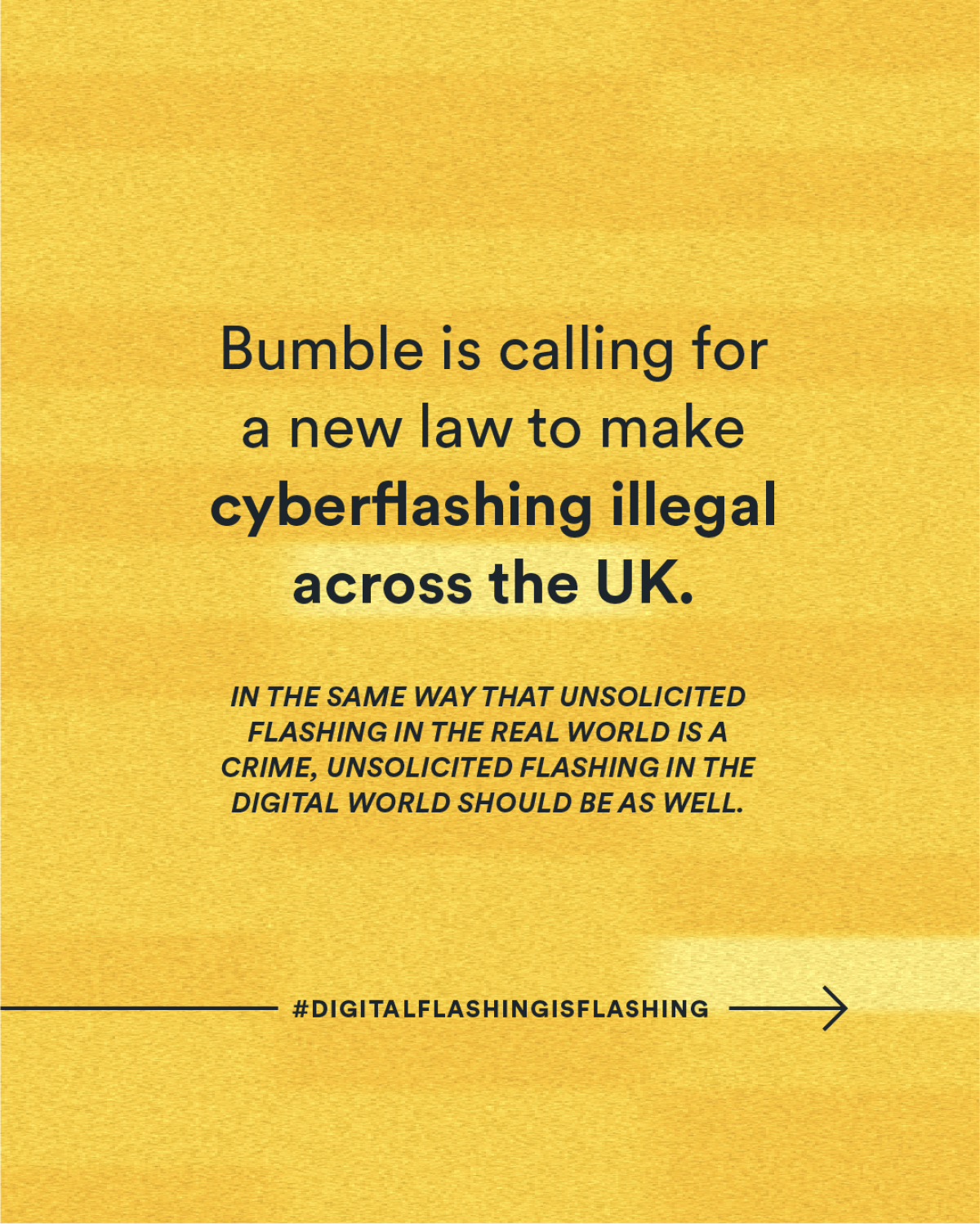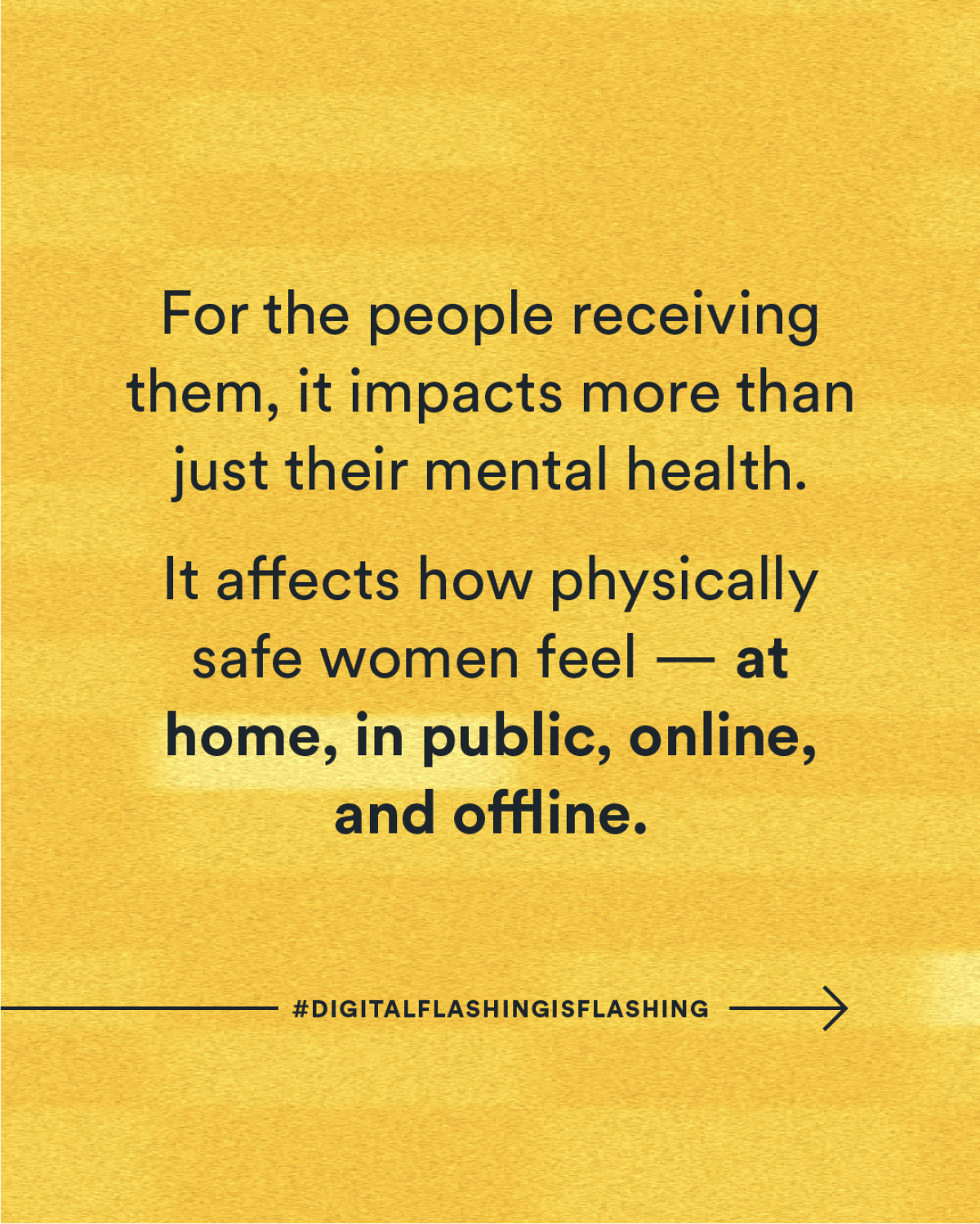 As a result, and supported by their retained agency Hope & Glory, Bumble launched the campaign under the banner of #DigitalFlashingIsFlashing. Calling on the Government to recognise the need for a change to the existing law to criminalise Cyberflashing and view the act in the same as it is as a real-world explicit act - bringing England and Wales in line with Scotland, where Cyberflashing has been a criminal offence for over a decade.

With the desire to enact genuine change, Bumble's rollout plan includes the organisation of cross-party Parliamentary consultations alongside the UN's gender equality arm, "UN Women", to encourage support from MPs.

Whitney Wolfe Herd, founder and CEO of Bumble, said: "Now more than ever, we spend a considerable amount of our lives online and yet we have fallen short of protecting women in online spaces.

'Cyberflashing is a relentless, everyday form of harassment that causes victims, predominantly women, to feel distressed, violated, and vulnerable on the internet as a whole. It's shocking that in this day and age, we don't have laws that hold people to account for this."

Claire Barnett, executive director of UN Women UK, added: "Cyberflashing is a pervasive issue that, like other forms of sexual harassment, disproportionately targets and impacts women and girls.

"As we build back post-pandemic, we have a unique opportunity to reconsider how we use and interact in public spaces – both online and offline. Digital spaces will only become a greater part of our daily lives, so for the sake of future generations, it's crucial that we get this right now, with preventative, education-driven solutions to online violence."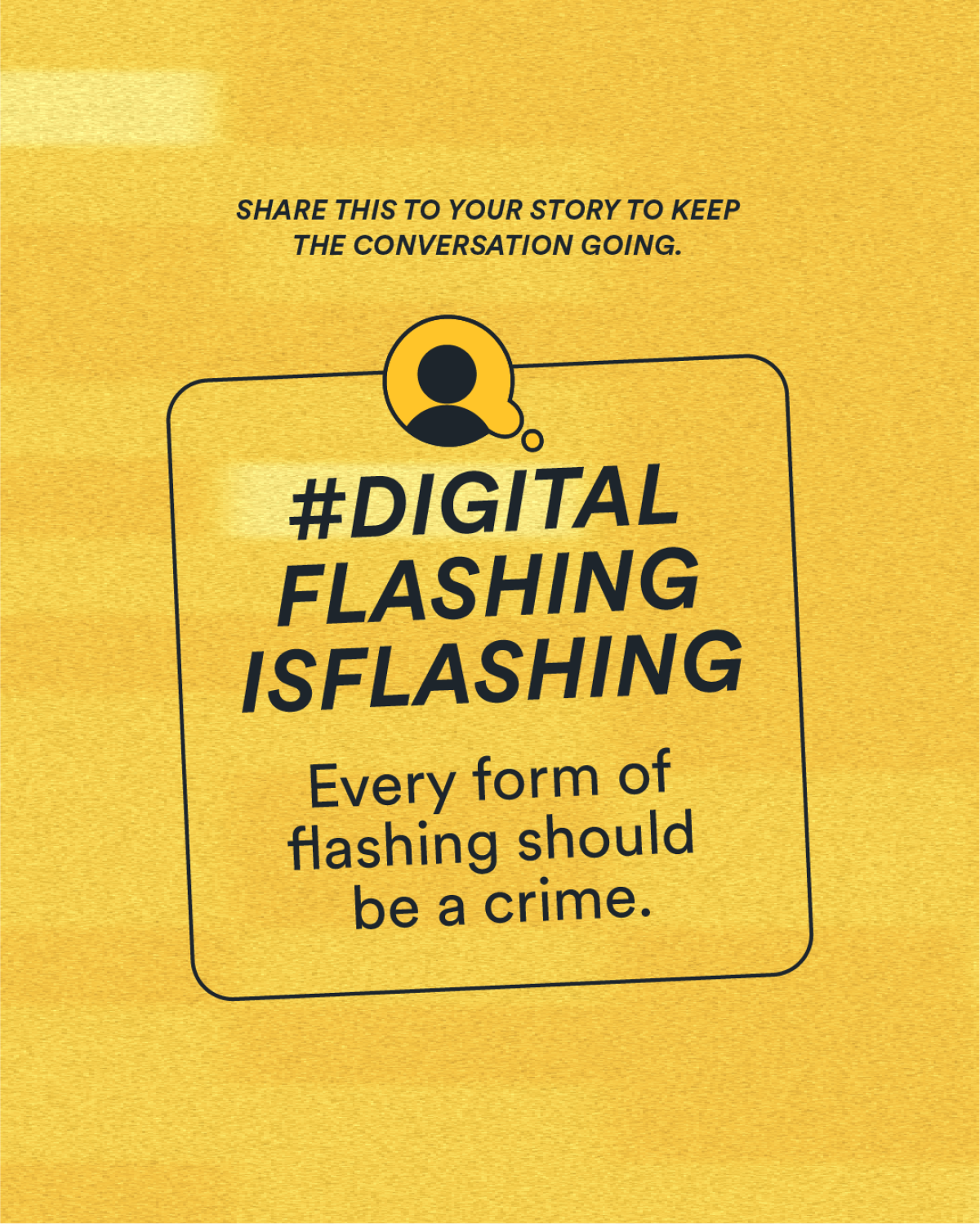 If you enjoyed this article, you can subscribe for free to our weekly email alert and receive a regular curation of the best creative campaigns by creatives themselves.