Burger King becomes Burger Queen to sponsor the female Stevenage FC team

Following the success of the Stevenage Challenge campaign which hacked FIFA20, Burger King® is now sponsoring the female Stevenage FC team to promote inclusivity.
Last year, the Burger King® brand announced it was sponsoring Stevenage FC, the fourth division men's football club. The aim was to turn a real-world League Two team, into the biggest club in the online gaming world. Now, the home of the Whopper® wants to do the same with the club's women's team. To support inclusivity in the sport, the Burger King® brand is sponsoring the Stevenage FC women's team under the same terms and conditions, and at the same level, as the men's team.

As part of the sponsorship, Burger King created the Burger Queen® logo, symbolising the sponsorship of the women's team of Stevenage FC. The new logo will be proudly displayed on the team's kit throughout the 20/21 season and to celebrate the launch of the sponsorship, all Burger King® social channels have been updated. As well as this, the Stevenage Burger King restaurant is undergoing a makeover later this week and rebranding to 'Burger Queen®'.

Playing for Stevenage FC is hard. Playing for the women's team shouldn't be harder. To show support, fans can purchase the limited-edition Burger Queen kit from the official Stevenage FC store at stevenagefc.com.

The campaign was created by David Madrid with UK Social Media agency Coolr managing the activation socially.

"After successfully spotlighting the talent of the Stevenage FC men's team last year, we wanted to do the same for the women's team in 2020," said Soco Nunez, Marketing Director of Burger King® UK. "The women's team faces the same challenges and hurdles as the men's team and it's only fair that it receive the same support from our brand with an equal sponsorship."
"We are thrilled to be continuing our partnership with Burger King® and the support that the brand is showing for the women's team is unmatched," said Stevenage FC CEO Alex Tunbridge. "The sponsorship from Burger King® will be used to help grow the women's program and support the team".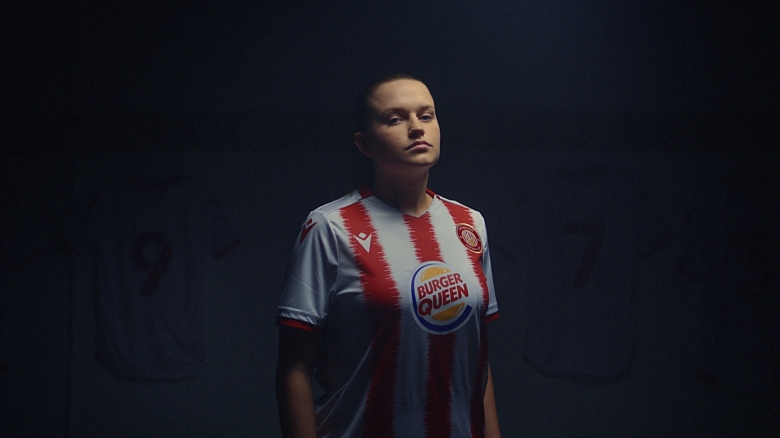 Credits
CLIENT: Burger King
Agency: DAVID Madrid
Global CCO& Partner: Pancho Cassis
Global COO: Sylvia Panico
Executive Creative Director: Saulo Rocha, André Toledo
Creative Director: Fred Bosch
Art Director: Felipe Antonioli
Copywritter: Luis Giraldo, Maud McCaffrey
Head of Production: Alejandro FaldutiGroup
Account Director: Stefane Rosa
Management Supervisor: Jenny Gobel
Account Executive: Rachel Startz
Senior Business Affairs Manager: Barbara Karalis
Business Affairs Manager: Elizabeth Torriente
Production Company: BLUR x Outsider
Director: Tom Day
EP: Zico Judge
Producer: Joseph Taussig
DOP: Hamish Anderson
Edit: Kevin Palmer @ Love Edit
Colour: Philip Hambi @ MPCLondon
Post: MPCLondon
Sound: Robert Ashton @ Soundbee
Music: Tim Moorish @ Audium Post
Social Media Agency: Coolr
CEO/Founder: Adam Clyne
Senior Account Director: Lauren Sarginson
Social Creative: James Parker
Senior Social Exec: Alex Ayre
Junior Social Exec: George Brett