Celebrating Cow and its favourite creative campaigns over the past two decades

Happy Birthday Cow.
As indie creative agency Cow celebrates its 20th birthday this month, Creative Moment invited Mark Perkins to reflect on how agency life and creativity in PR has changed. The creative team has also picked its five favourite pieces of work over that time.

Twenty years ago, in November 2000, Cow opened for business.
It was still an analogue world: fewer than 1 in 4 UK households had internet access, the majority of people still communicated via landline phones and print media ruled. When we started, we distributed work via fax machines and couriers; now we're making TikToks.
Co-founder Sian Morgan's key principle, unusual in PR at the time, was to put creativity first.
We wanted to make work that was measured in more than column inches. Our belief, which – like Sian - remains to this day, is that smart ideas can help to solve complex business and social problems.
At that time PR was principally bracketed as media relations and reputation management. Creative directors in PR didn't exist.
We were among the first to create the specialist role in 2008; today we have three hugely experienced CDs. We tried to change the perception that the creative was restricted to a news story (usually a survey) and an accompanying image (normally an attractive female celebrity!) to pitch to print and broadcast media.
News editors had the power to decide whether your client campaign was a hit or a miss. If they didn't run your idea it had nowhere else to go. Their power has waned as increasingly we'll break work on digital channels, maybe with video produced in-house, sometimes through an influencer instead for unedited engagement.
Today, traditional media has become much more reactive, reporting on the conversation we've initiated rather than determining it.
For too long PR agencies were at the bottom of the food chain in brand marketing.
Almost always, the brief was to 'amplify the ad' with the creative already set in stone. That was irrespective of whether the ATL (above the line) was of little media or public interest or a complete dud. (Such as the racehorse purchased by a biscuit brand which, it transpired, was unable to race due to anxiety triggered by other horses).
Now we'll often get the same brief and it is a case of 'best idea wins'.
With clients looking for the best ROI and efficiencies, and for an idea to translate across channels for earned media results, that's suddenly put PR creatives in pole position – especially as most of us now produce content in-house.
We've always interrogated an idea with the simple question, 'Will anyone actually give a shit?'.
In an age when consumers are scanning through news and social feeds at hyper speed, the ability to 'create clickbait', to tap into trends and topicality, grab attention and stop thumbs with an arresting headline and content has never been more valuable.
We've also been fortunate enough to work with the likes of Google, Disney, Tesco, Santander and Heinz, so when Creative Moment asked us to select five favourite campaigns from the past 20 years, that inevitably led to internal 'creative tensions'.
What about the time we parked a Removal Van Persie outside the Emirates when RVP left Arsenal? The TV Binge hotel with Three Mobile and Netflix? The Run For Your Bun 'pay by exercise' café? When we brought the Green Cross Code Man out of his 30-year retirement for MORE TH>N? Or the Simon Armitage poem engraved on a pioneering pill for the Institute of Cancer Research? Spanish lessons with Vinnie Jones? And so on.
Anyway, we can't have them all.

Here's our final five, based both on the memorable impact they had at the time and the pleasure we took in creating them.
The Wottle (2008)
Brita water filters wanted to have a voice in the emerging debate around plastic waste. Instead of a stunt, we responded with a new product development idea.

Back then bottled water was still marketed as a cool, premium, style product targeted to consumers on the move.
We spotted a gap in the market: a designer, reusable, portable water bottle that looked cool and had perfect sustainability credentials.
Partnering Brita with designer Orla Kiely, The Wottle appeared in Vogue, sold over 200,000 units worldwide and was shortlisted for an Observer Magazine Ethical Award (sadly we forgot to put a commission in the contract).
Flame With Piers Morgan (2009)
Burger King in the US had launched its beefy Flame fragrance with a scantily clad image of a brand icon The King in front of a flaming fire using a body double.

However, in the UK no one knew he was, so we were tasked to come up with an alternative personality.
Enter Piers Morgan.
The photoshopped image went everywhere, was featured on a giant billboard, and has never left public view: every time Piers is trolled on Twitter about his physique or manliness, this image is his go-to response.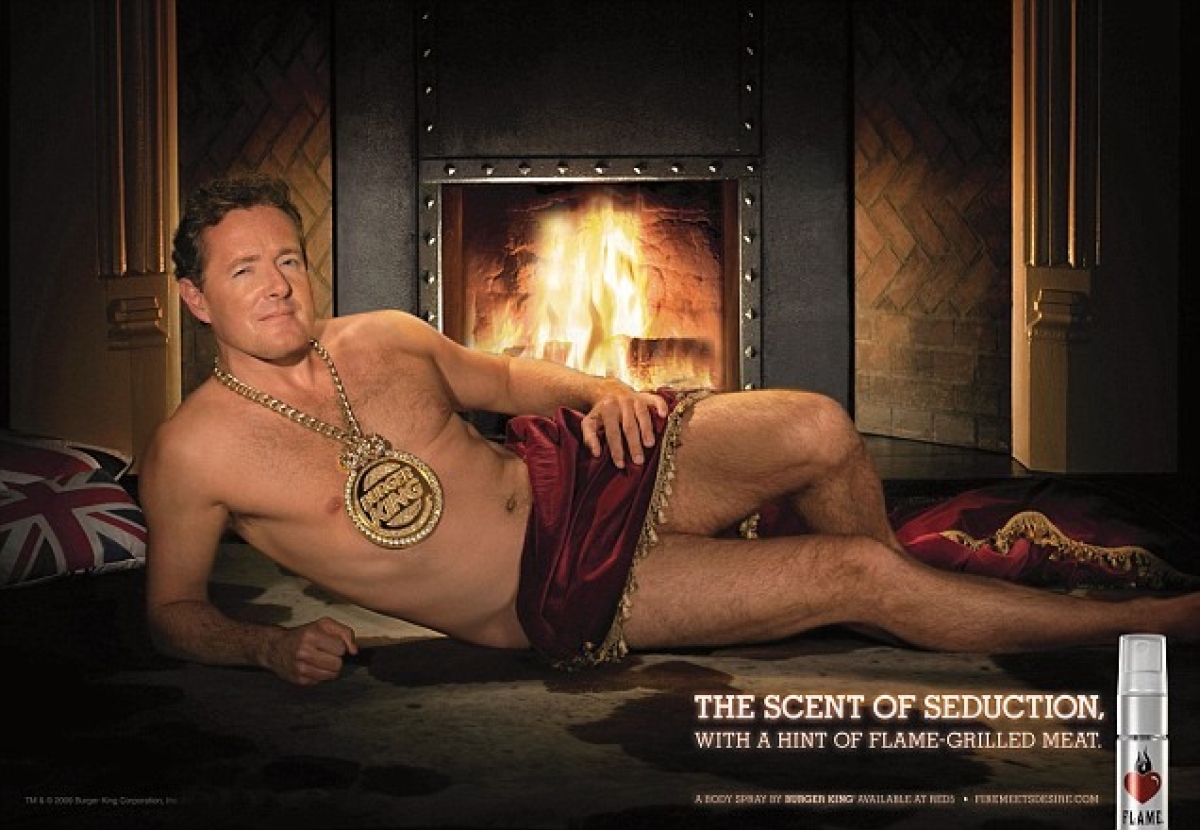 Pussy Cat Riot – Cats Against Cyber Censorship (2014)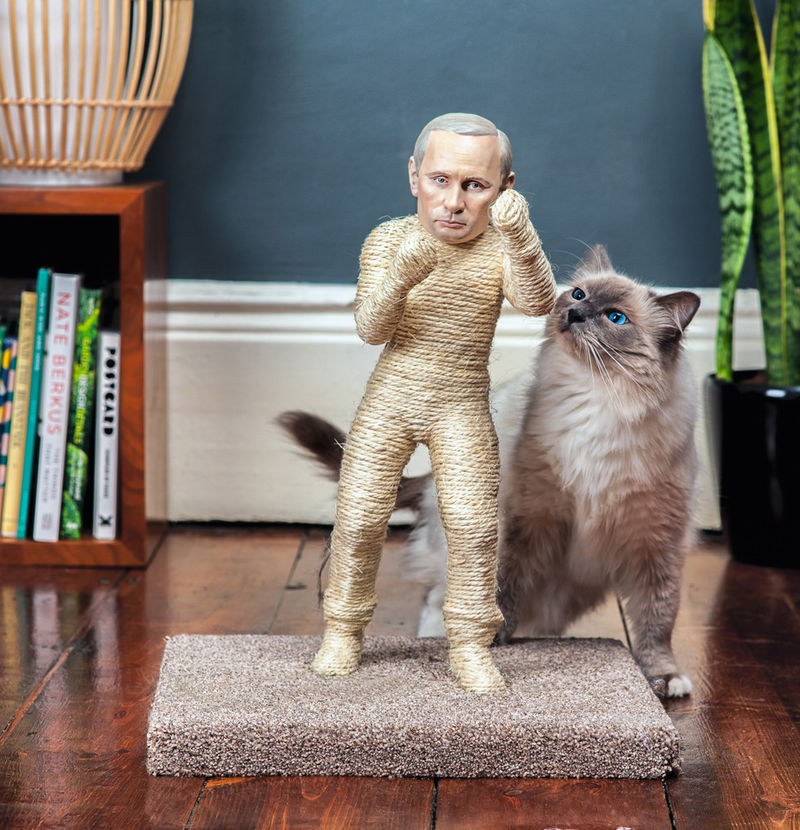 Cats are some of the most shared and loved stars of the internet, yet many people living in oppressive regimes don't get to see them.

Tasked to fight internet censorship by Hide My Ass, we recruited an army of some of the famous cats of Instagram and YouTube to form Pussy Cat Riot.
Launched with a buyable range of cat products including accompanying dictator litter trays and scratching posts in the likenesses of Vladimir Putin and Kim Jong-Un, #Pussycatriot became one of the viral sensations of the year – rocketing to the top of Reddit.
It also generated media coverage in 27 countries (North Korea and Russia weren't among them).

Swimming In It (2019)
We hear about plastic waste and how it is killing and choking marine life, but it can seem remote.

For the Big Bang Fair, which promotes STEM study and careers, we asked a simple question: 'What would it be like if we had to swim in plastic every day?'.
Two young British synchronised swimmers were tasked to do exactly that, with images and video that were mesmerising and disturbing in equal measure.
The video was viewed over 10 million times, and featured on BBC News and CNN. It was adopted by The World Economic Forum reaching the eyeballs of global leaders and CEOs to highlight the issue.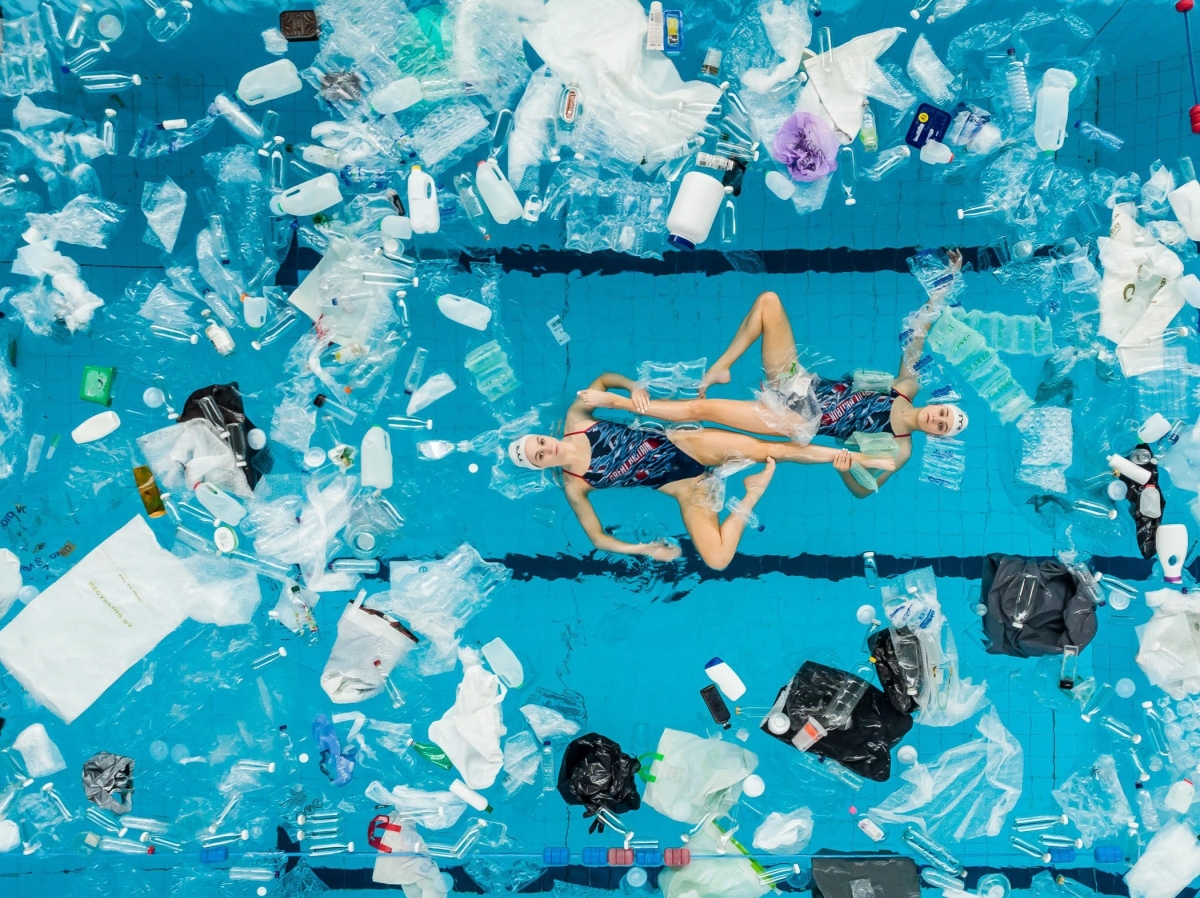 Period Pantone (2020)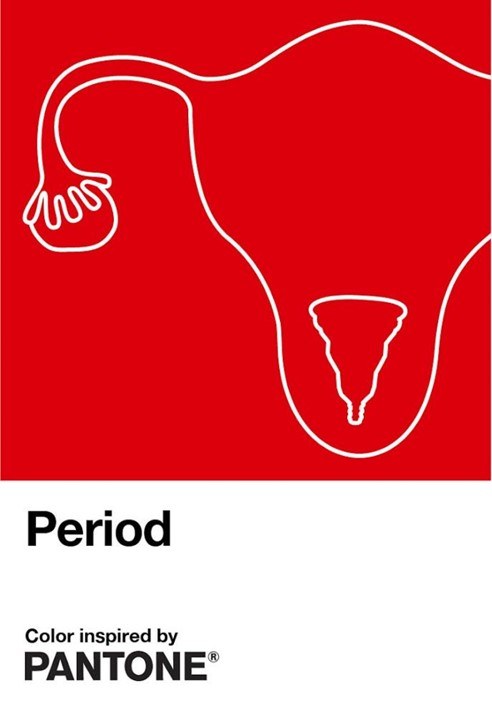 In many parts of the world girls and women are not permitted to attend school or work simply because they are on their period.
To address the shame and stigma many women are forced to feel, we worked with Swedish feminine products brand Intimina to create the Period Pantone.
Still hot off the press, the global impact of coverage and conversation peaked when the Period Pantone design was even shared on the social channels of the United Nations.

Mark Perkins is a creative director at Cow. He was at the agency from 2000-2012, recently returning to the herd in the summer of 2020.
If you enjoyed this article, you can subscribe for free to our weekly email alert and receive a regular curation of the best creative campaigns by creatives themselves.