Charity Refuge's 'Reverse Poems' highlight the horror of domestic abuse

The Background
Since Christmas, domestic-abuse charity Refuge has been running a hard-hitting creative campaign, 'Reverse Poems'.
It refreshed the thinking for Valentine's Day to reveal an alternative view on love, and what it can mean for victims of domestic abuse.
The Big Idea
The idea's brilliance lies in its simplicity – poems that can be read bottom to top as well as top to bottom.
When read from the top they depict what we'd expect – comforting visions of family life and true love, yet an entirely different message comes through when read in reverse.
What makes it strong is that the medium is the message – domestic abuse is often hidden in plain sight. The clues are all there – it's just up to us to put it all together and see the wood for the trees.
I can very clearly see how the agency went from a core insight to great creative.
What They Did
This launched at Christmas with a number of beautiful and cleverly conceived poems. I somehow missed that amongst the normal Christmas clutter.
But in the run up to Valentine's Day a new poem was released entitled My Husband, My Lover. At first glance it appears to depict a whirlwind romance, but when read in reverse a different reality plays out; a story of controlling behaviour and domestic violence.
The campaign played out across press, radio, poster sites and social media, also with full-page adverts in some key women's titles. And it also generated significant media coverage – in the likes of The Sun and Metro, with the story grounded in facts and stats around domestic abuse.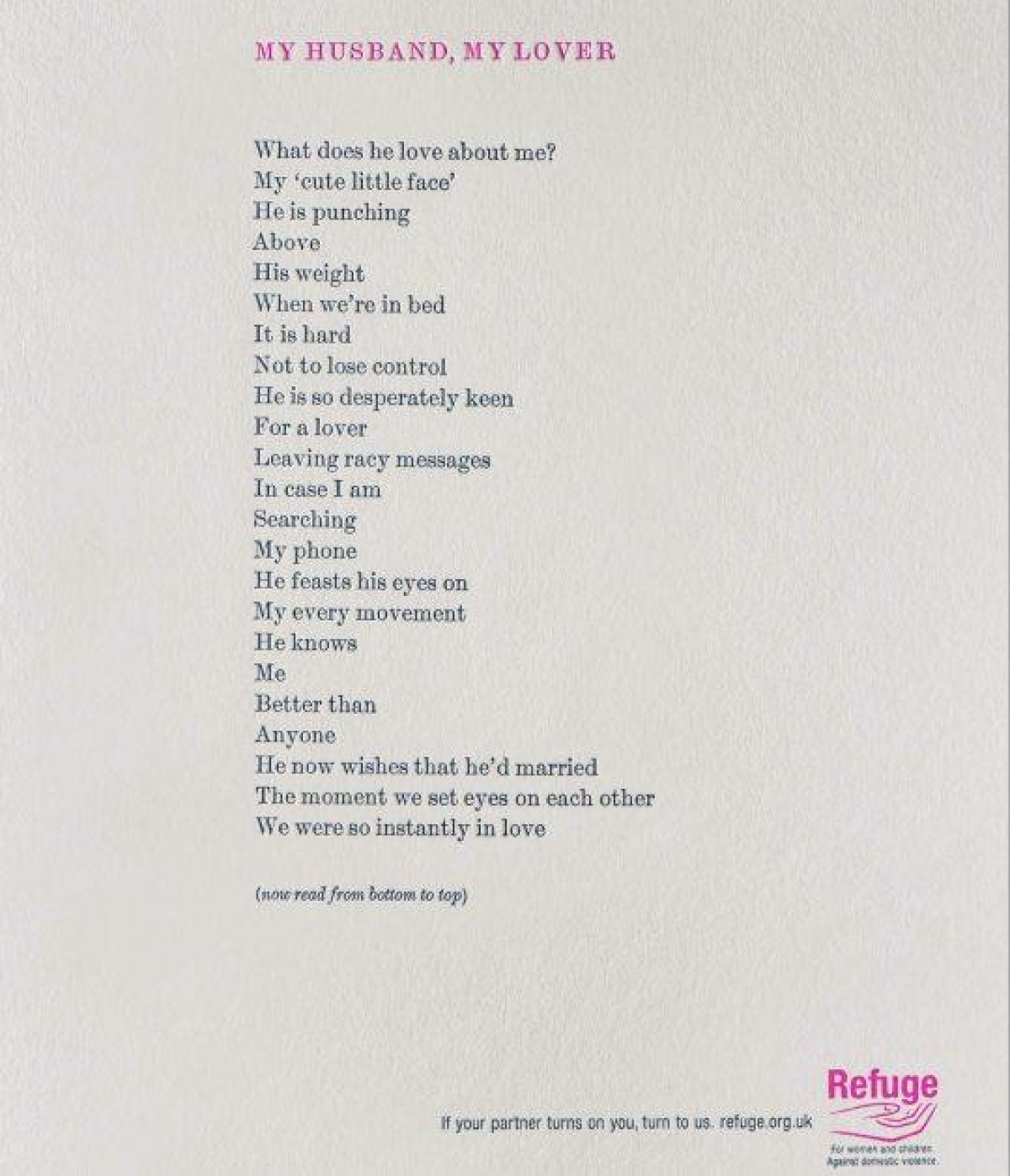 The Review
As said, its brilliance lies in its simplicity – you get to the bottom of the poem and see the words 'now read from bottom to top'. But there's real craft skill in this.
To create something credible whichever way it is read is not easy. But it's also worth noting that this work was created pro bono by McCann Bristol – so the team there wouldn't have the luxury of time or creative resource that it would have had for fee-paying work.
In Hindsight
It's great work – it stood out for me at a time when our feeds are full of blatant promotional messages. Valentine's is the perfect occasion for a message like this to land. And it did it through a stripped-back, simple and bold mechanic that stood out and cut through.
Loved it.
If you enjoyed this article, you can subscribe for free to our weekly email alert and receive a regular curation of the best creative campaigns by creatives themselves.