Combining children, creativity and technology: BA's billboard campaign

Background
Sometimes it can look zero fun being an airline. Not only are you held responsible for any acrimony in the air, but also job cuts, queues and crazed airport terminals on the ground. On top of all that, you have to fight hard as hell for every single passenger, all the while maintaining an air (geddit?) of aspiration and ease.
So fighting for those customers needs to look less like a bar brawl and more like a ballet, with beautiful work gently stroking our eyeballs and imaginations into submission. Hence yet another triumph for British Airway's Look Up campaign...
The Big Idea
Again, proving that the magic of outdoor is alive and well, British Airways now has digital billboards which interact with aircrafts flying overhead, all reminding customers just how enchanting air travel can be from the perspective of a child.

Developed by Ogilvy, the brand experience uses surveillance technology (designed exclusively for this campaign) to track aircraft and interrupt the digital display as they pass above the site. This then presents a small child pointing at the plane overhead accompanied by the destination it's arriving from. Wow, huh?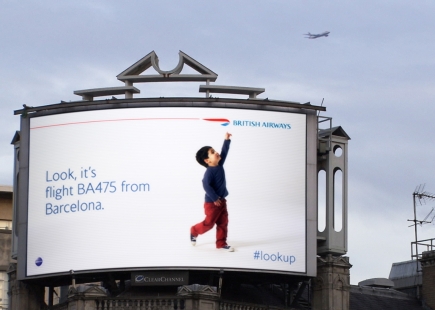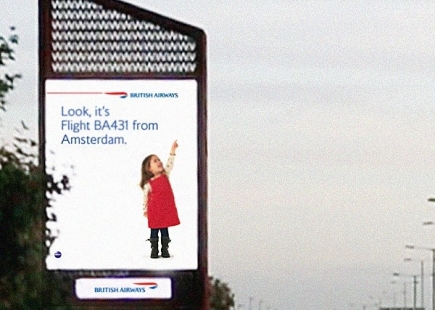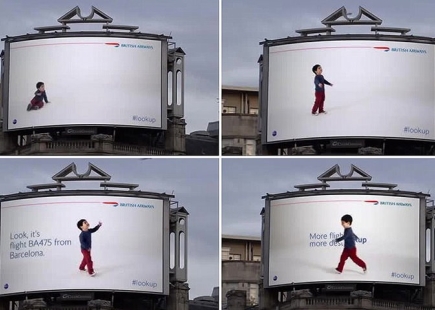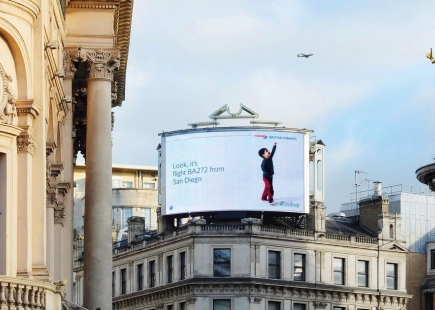 What They Did
More than just a stunt by the brand, the work is accompanied by a relevant message to the flight, such as 'Fly our new route to Las Vegas', or details such as the lowest fare available or the temperature at the destination. Heralded at this year's Cannes, the work not only entices those on our pavements and roads, but has also excited media beyond the trades and created quite the surround sound on social.
Review
Can something follow you around like a good smell? Or is it a bit like being whelmed – you can be over or under but never simply whelmed. Well, it often feels like British Airways follows me around like a good smell. My older brother, ex-husband, best pal, best pal's mother blah blah are all all alumni.
Thus I'm predisposed to loving the brand for no real reason. That's the difference between brand loyalty and just plain loyalty I suppose? There ain't usually a rational reason behind the former. Anyway, I have it big for BA and this simple, spirited interplay between tech and cute kids gets two thumbs up from me. Wish it were my work.
In Hindsight
In terms of building on the campaign, I'm sure there's more to come, but overhearing what parents tell their kids as planes depart and arrive can be pretty heart-melting. "There's Auntie Sarah's plane – waaave!" or "that plane's going to Hawaii – there are big volcanoes there."
It brings to mind the adorable London Heathrow campaign that recasts Grandma and Grandpa as two teddy bears – I die every time I see it. Just more kayootness please, Ogilvy and BA.
The kids are alright – I'm about to look up my next BA flight, and I'm not even a parent. Bravo, BA.

If you enjoyed this article, you can subscribe for free to our weekly email alert and receive a regular curation of the best creative campaigns by creatives themselves.