Corona rallies support to save endangered coral reefs with page turning creative

World Oceans Day saw Corona make a splash in The Guardian, as it highlighted the alarming rate at which coral is lost.
A life-sized coral seen in the full-page advert shows how by the time the page is turned, 285 corals that exact size will be lost.
The execution is part of a wider campaign from the brand in partnership with Earthshot winner, Coral Vita, to shine a light on the global issue of coral reef degradation and inspire people to join the cause in building a new pioneering, climate-resilient reef.
As part of this, Corona is encouraging consumers to donate to Coral Vita via a QR code in the Guardian advert, which can also be found on Limited Edition bottles in stores. For every pound consumers donate to Coral Vita, Corona will do the same, ultimately helping to build a new climate-resilient reef, utilizing Coral Vita's pioneering methods.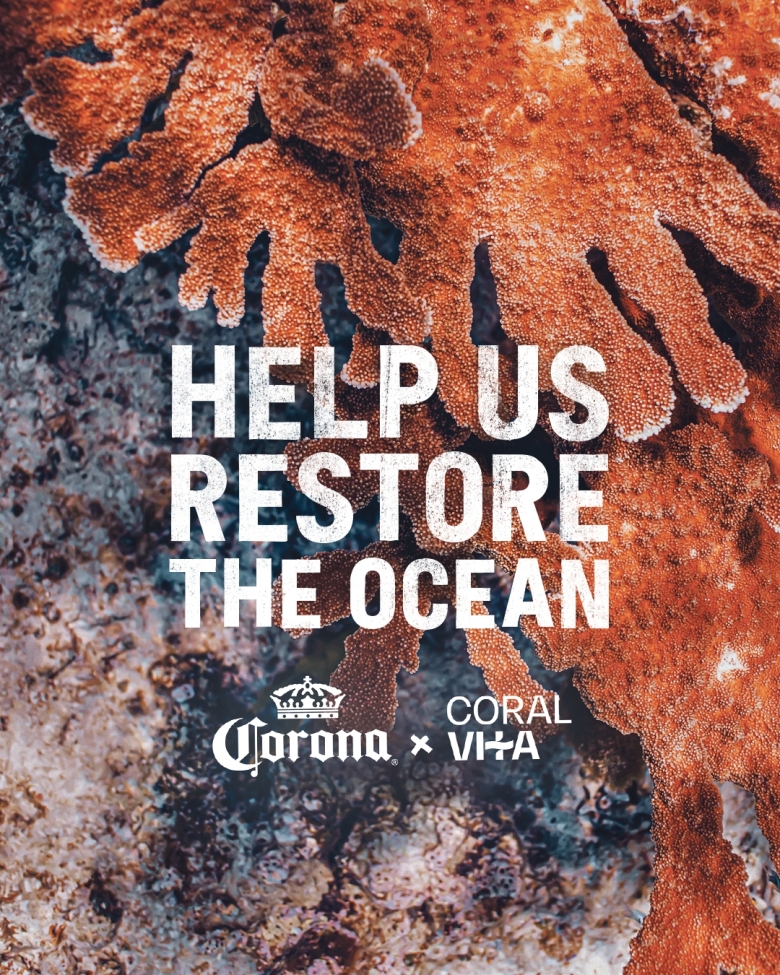 According to data supplied by Coral Vita, 90% of coral reefs could disappear as soon as 2050.*
But like the coral itself, the size of the problem is hidden below the surface. Oceans' biodiversity is fading at an alarming rate and by the end of the year, the world would have lost 164,268 football pitches worth of coral. By showing the scale of the problem in real-world scenarios, the campaign aim is to help people truly understand the plight of the ocean's beating heart and restore the reef little by little.
Corona has a long history of helping to protect paradise, first launching a partnership with Parley for the Oceans in May 2017 to help protect the world's oceans from plastic. So far, Corona has worked with over 68,000 volunteers to complete over 1,400 clean-ups, cleaning over 44 million square meters of beach in the process.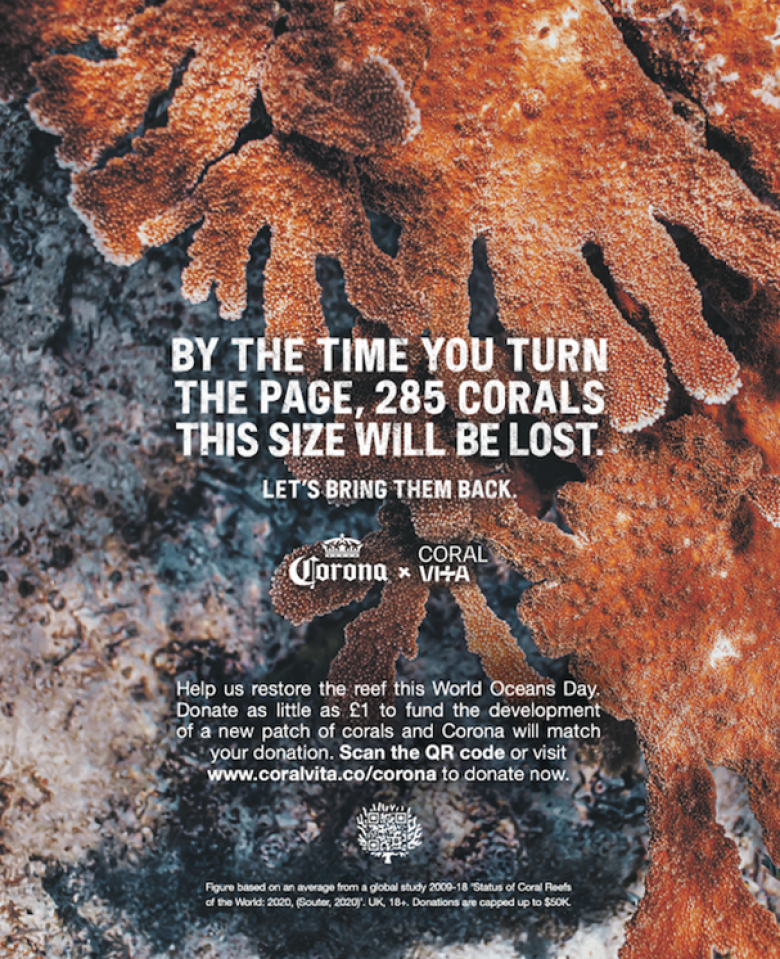 Corona's senior brand manager Naomi Blazquez said; "As a beer born by the beach, Corona is proud to be brewed with 100% natural ingredients. Nature has given us so much and Corona feels a responsibility to give back to the world, whether that's being the first beer company to achieve a net-zero plastic footprint or through initiatives that help restore the nature around us all.
With everyone's help, Corona will connect a barren patch of coral between two healthy reefs, revitalizing the ecosystem. This 'bridge' made from new pieces of climate change-resilient coral will restore crucial habitats, allowing native species of fish and invertebrates to return, maintaining a healthy reef ecosystem."
Credits
Corona & draftLine:
Marketing Manager - Rūta Ambrasaitė
Senior Brand Manager - Naomi Blazquez
ECD - Mark Brown
CD - Felipe Sampaio & Gabriel T. Garcia
Creative Team - Aaron Furman & Charlie Hue-Williams
Creative Team - Andy Lockley & Rob Potts
Head of Design - Vinicius Sales De Oliveira
Senior Project Manager - Ollie Begley
Project Manager - Serena Wilkins
Strategy Lead - Ben Barton
Coral Vita Brand Lead - Harry Lee (photography/videography, consulting)
Coral Vita Web Development - Jack Amend/Lab300
Coral Vita Director of Restoration Science - Katey Lesneski
Coral Vita Director of Restoration Operations - Joe Oliver
& the entire Coral Vita team
If you enjoyed this article, you can subscribe for free to our weekly email alert and receive a regular curation of the best creative campaigns by creatives themselves.