Creative Corner: Faithless get some sleep, ketchup to the rescue, Heineken's virtual beer and Bridgerton-inspired cocktails

Well this year is just flying by, isn't it?
Q1 is all but over and there's been some amazing work on display already from brands and organisations from around the world already in 2022.
This week, in particular, I've been spoilt for choice when deciding what to include in this edition of Creative Corner so without further ado, let's get cracking!

Campaign of DREAMS
There's an awful lot going on in my life right now which I won't bore you with but, as such, I've averaged around four hours sleep a night over the last five days. Now, I have no desire to turn into Margaret Thatcher who famously said she could run the country on just four hours of sleep (mama NEEDS her full eight!) so thank gaaaawd the lovely folks at The Romans launched such an awesome sleep campaign.

For CBD brand OTO, The Romans looked at the state of the UK's sleep habits (spoiler alert, they're crap) took the insights from that research and convinced British electronic band Faithless to rewrite the band's 90s ANTHEM, Insomnia, to lull us all back to dreamland.
And oh-em-gee it's a BEAUT of a campaign!
Right down to the fact the new version of the track is 27 minutes long, because that's how long on average it takes Brits to drop off according to the research, BUT also a lovely nod to the fact the original song is 27 years old, and the fact we can all make the same dad joke about how Faithless has finally figured out how to get some sleep after all these years.
There's sleep science, a sleep expert, the actual band, a 15-piece orchestra, a dash of ASMR—what more could a PR want?!
You can read more about the campaign here. Thanks to head Roman Joe Mackay-Sinclair for flagging to Rich earlier in the week.

Saucy saviour
I love this effort from Ogilvy Germany for Curtice Brothers!

'Ketchup to the rescue' sets out to prove the brand's award-winning sauce can make even the worst meals taste great by putting it on dishes at some of the worst reviewed restaurants in Berlin.
The campaign video is great, the restaurants that participated (can you imagine those awkward conversations Ogilvy had to have to get them on board at first?!) all improved, and the OOH and social media elements ensured the results of the taste tests lived outside Trip Advisor.
Great idea, expertly executed, with a decent pay off for the brand that fits its tone of voice—'Making not ok food ok since 1868' is such a great line.
Cow walks into a bar…
No, not a poorly told joke, but a nod to not one but two cracking Cow campaigns in the alcoholic beverage space this week.

Heineken decided it couldn't plan a piss-up in a brewery, and opted to launch the world's first virtual beer instead. Taking the mick out of the metaverse and itself, Heineken invited real journalists to its virtual launch (which one attendee told the BBC was 'surreal') complete with lobster, edible gold, and of course the new Heineken Silver for guests to try—but it's safe to say everyone left hungry and thirsty!
A fun and self-aware dig at brands that jump on bandwagons too quickly.
<Julie Andrews voiceover> Off to the ton now, which is abuzz with news of exciting new drinks inspired by none other than Lady Whistledown herself.
If that sentence means absolutely nothing to you then it's safe to say you won't know today is the much-anticipated release of Bridgerton season 2 on Netflix. However, brands knew and there has been a ton (I'll stop now) of campaigns of all sizes indulging in the success of the show ahead of its launch.
For Warner's Distillery, Cow created four Bridgerton-inspired cocktails - The Forbidden Kiss, The Duke's Duel, The Queen Bee, and The Scandal Sheet (pictured) - that can be made at home or enjoyed at the Bridgerton Secret Cinema Experience that Warner's is the official gin partner of.
A simple, on brand bit of creative that makes me want to buy Secret Cinema tickets and gin immediately!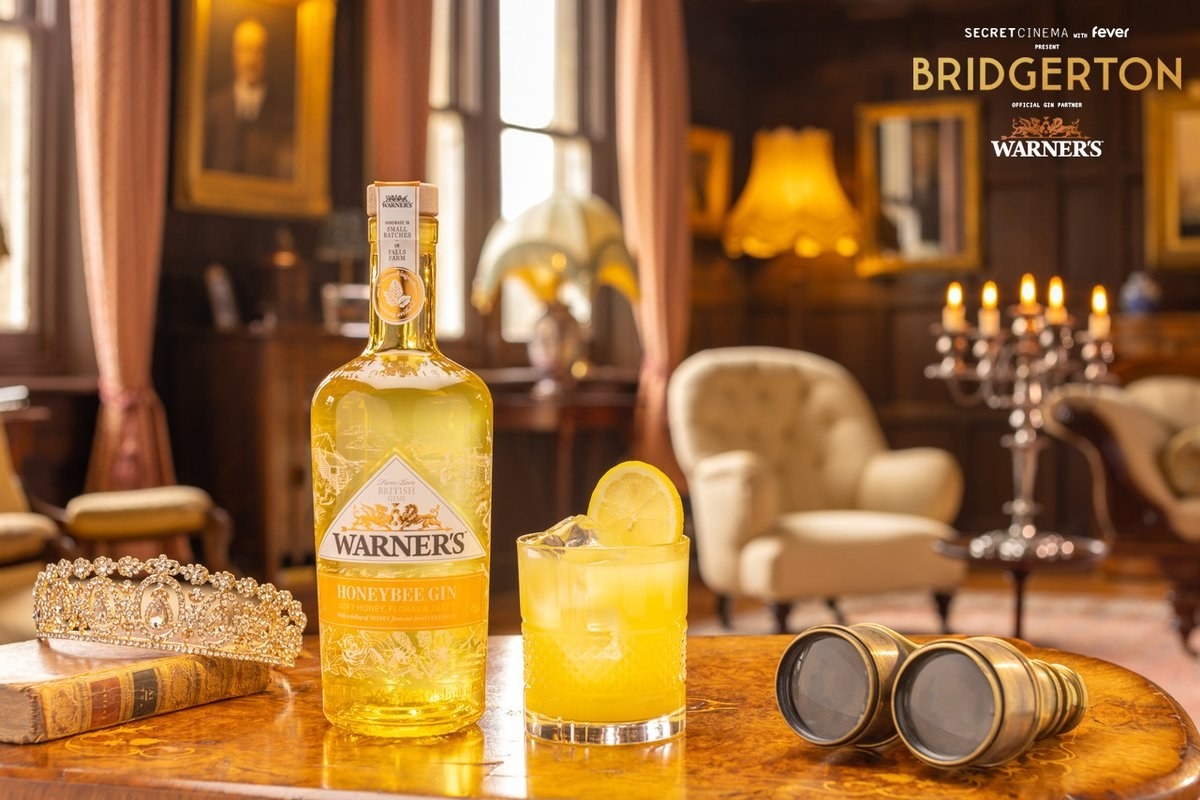 Banksy for Ukraine
Next up I wanted to mention a lovely piece of reactive PR for MyArtBroker.com that is also A Good Thing™.

Banky's 2005 work 'CND Soldiers' was put up for auction on the site last Friday by an anonymous donor with a starting bid of £20,000. A week on the site is now only accepting bids over £40,000 and all money raised from the silent auction will go directly to the Ohmatdyt Children's Hospital in Kyiv.
Shout out to Tom (@WolfofBaldStreet) on Twitter for being so vocal about his work on this - it's been incredible seeing the global coverage flood in as he's been pitching and I'm sure there's more to come as the bid threshold increases until the piece sells.
New look, who dis?
You might have spotted we look a little different this week. No, we've not done something new with our hair or lost weight, but we have had a serious glow-up at Radioactive!
We've dropped the 'PR' from our name, redefined our proposition as the home of measurable creativity, and given ourselves a new look. We've been around since 2014, and that 7 year itch is REAL.
I know no one ever reallllllly cares about a rebrand except the people behind it, but it's been a LOT of work to get here so indulge me a little while I celebrate how good we look now!
More details here if you fancy a gander:

What it does mean is that there's new ways to share your campaigns with us!
We're now at angharad@weareradioactive.com and rich@weareradioactive.com over email, or you can tweet us @HeyRadioactive, @Welsh_PR, or @RichLeighPR.
That's all for now; can't wait to see what you lot get up to for next week's column!
If you enjoyed this article, you can subscribe for free to our weekly email alert and receive a regular curation of the best creative campaigns by creatives themselves.