Creative Corner: Deliveroo's 'Chipwatch', Digital Break Up Tool from Refuge and a Resident Evil Street Experiment

Everyone in the UK just about recovered after being turned into a puddle person earlier this week?
Hola friends! I was going to make some clever pun about hot weather/hot creativity but honestly it was SO hot and the science is SO not great, that I'm not going to.
Instead, let's enjoy the goodies we've been served by brands this week.

Bye Gull Bye
BIG love for this for Deliveroo earlier in the week, courtesy of those cheeky scamps over at Talker Tailor - the launch of Chipwatch.

With hot weather and school summer holidays on the horizon, Deliveroo launched its new 'Chipwatch' initiative to help protect al fresco diners from hungry seagulls, after 53% of Brits said they've experienced seagulls stealing their food.
#I'm1of53%
The free 'Chipwatch' dedicated beach zones set up on Brighton Beach and Scarborough Beach, two of the UK's most popular holiday hotspots, are patrolled by Chipwatch crew members armed with seagull deterrent devices such as reflective umbrellas and decoy hawks which look hilarious.
But the ornithological fun didn't stop there, as a new audio track 'Bye Gull Bye' has been created in collaboration with bird expert and ornithologist Dr Madeleine Goumas, to provide banging backing music that also deters gulls.
This campaign is super tight and ticks a lot of boxes for me—data insight into real world problem (damn seagulls!), fun creative IRL stunt PLUS an additional audio track that makes the stunt interesting to national press and not just media in and around Brighton and Scarborough.
Love, love, love!
Thanks to the lovely Olivia Mushigo from Talker Tailor for sending it over!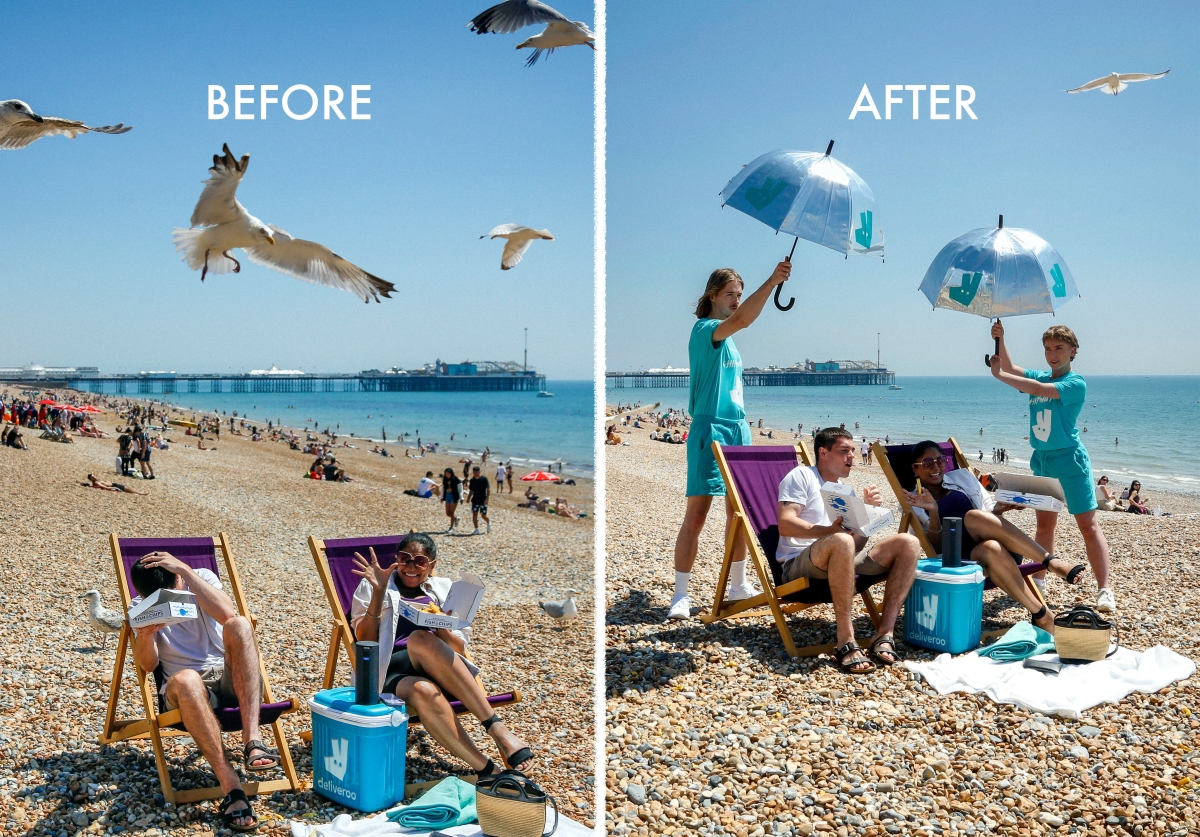 Digital Break Up Tool
A very important campaign from domestic abuse survivors charity Refuge now, which has teamed up with online safety and privacy pros Avast to produce the Digital Break Up Tool.

In England and Wales, one in four women will experience some form of domestic abuse in their lifetime, and tech abuse is an increasing part of that problem. Abusive partners may use technology to control, harass or intimidate.
The tool aims to raise awareness of tech abuse, both helping women understand what it is and also supporting them to secure their digital devices and platforms against potential tech abuse from a partner or ex-partner - whether it's social media accounts, online banking, or live location through apps such as Uber and Strava. The tool also provides women with the necessary knowledge to help them secure these digital platforms against potential tech abuse from a partner or ex-partner.
I've only spotted it on social media at the time of writing, but I hope both companies go big with this because it's a great creative solution to a sadly all too common problem.
Resident Evil Street Experiment
We round up this week with a stunt from Netflix to promote its new Resident Evil series - a 72 hour 'experiment' by the Umbrella Corporation on a street in Santa Monica, California.

A man is trapped in a secure clear box surrounded by scientists from the Corporation in all their lab-coated and clipboard glory with a huge digital clock counting down from 72 hours.
Passersby are filmed interacting with both the scientists and the man in the box as the experiment goes on, culminating in an inevitable zombie chase when the clock hits 00:00:00!
It's a great watch and from the crowds in the stunt video below, it definitely captured (and terrified) an audience to promote the show.
And that's a wrap, folks! I'm off to finish scoring the incredible entries across my three categories in the Creative Moment Awards 2022!
Good luck to all the amazing work and teams that entered. The shortlist is announced 29th July so keep your eyes peeled.
If you see any exciting creative for next week…
Email me angharad@weareradioactive.com, or tweet me @Welsh_PR, or my partner in creative crime Rich, rich@weareradioactive.com or on Twitter @RichLeighPR.
If you enjoyed this article, you can subscribe for free to our weekly email alert and receive a regular curation of the best creative campaigns by creatives themselves.