Creative Moment talks to Toby Allen, deputy ECD at AMVBBDO, about the creation of kitchen towel brand Plenty's Christmas ad

'Love is messy' has certainly caused a reaction.
The ad, from AMVBBDO, has been much talked about because of its slightly uncomfortable viewing but also for its honesty and humour.
Ads for products like Plenty's have often been sterile in nature, but this? This is reality. And it's a reality with a comedic value that only real life can imitate.
No wiping up orange juice from a pristine kitchen surface. This is about baby vomit, dog pee and cleaning up the dropped turkey from the floor.
And then there's the cat's backside and tinsel-removal moment...
Plenty seems to be grabbing Plenty (yes, a cliche but it had to be done) of attention when it comes to the annual Christmas ad debate and its attempt to bring an authentic family Christmas to our screens.
We talk to AMVBBDO's Toby Allen about the insight, the idea and what didn't make the final cut.
Lucy Smith: Talk us through the concept behind this ad.
Toby Allen: The ad marks a new direction for Plenty. We wanted to talk about mess in a fresh way, depicting life with our loved ones the way it really is: messy, occasionally yucky, and sometimes downright revolting.
But that's what real love is: when you invite people into your life, you accept the collateral damage. You wipe it up, laugh it off, and move on.
Love is messy. That's especially true of Christmas.
There is more love and more mess at Christmas than most other times of year – it's like the Olympics of mess and family tension.

LS: Can you tell us about the insight this is based on?
TA: Our brilliant strategist Margaux Revol observed that the ones we love the most – kids, partners, family, friends, pets - make the most mess, it comes with the territory. But we love them all the same.

It's the parents that get a dog because their kids want one but they end up walking it and cleaning up its shit. It's understanding that side of love, and the tension between love and mess.
As to the specific insights in the Xmess script – they came from personal experience and with Andy Vasey, Prabs Wignarajah, Jamie Starbuck and Dan Warner we had four creatives who've been through the family-Christmas-ringer many times.

LS: Essity, the client, is known to be a brave brand. How did this help you when it came to the bolder elements of the campaign?
TA: When you're working with clients who have signed off on singing vulvas, it certainly helps.
AMV BBDO and Essity have grown braver together. Risk demands trust and when it pays off that builds more trust and more bravery. It allowed us to be honest about mess and challenge the accepted conventions of the category.
Drawing an analogy from period care, we felt orange juice was the 'blue liquid' of the kitchen towel category. We wanted to challenge that with radical honesty about the reality of living with loved ones and the mess they make. It made us ask 'what is real mess'? It's not spilled orange juice in a pristine kitchen, it's standing in dog piss. At 3am. Barefoot.

LS: The ad covers some interesting themes such as the tension between humour and disgust. How did you judge how far to go?
TA: It's not just the physical comedy of the mess we are trying to get across, it's also the emotional complexity of our relationships with the mess makers in our lives.
We were careful to make it a love story, not a gross fest. We chose to push the mess because the worse the mess, the greater the love needed to overcome it.
That juxtaposition is the source of the tension, the comedy, and the emotional payoff at the end.

LS: What was your overall ambition for this creative?
TA: In the short term we wanted to tell a Christmas story no one else would, or could. To counter the false narrative of perfect families and a perfect Christmas.
For most of us, it's not the most wonderful time of year. It's messy and chaotic. It's a test of love. But we keep coming back for more.
We liked the challenge of a kitchen towel brand competing in the UK's Christmas ad battle, to make the brand famous. In the long term, we're launching the new brand platform 'Love is messy' which we hope will run and run.

LS: Finally, some found the ad funny, some said it resonated with them and some found it disgusting! What didn't make the final cut? Is there anything you wanted to do but couldn't?
TA: Nothing was off-limits provided the broadcasters would let us air it, and as long as we kept it relatable so people would recognise themselves or loved one in what we created. To the credit of our clients, nothing was left on the cutting room floor but a few scenes didn't make it to set.

There was a scene where a kid picks his nose and deliberately wipes it on our guy's jumper when he's not looking. But Essity is a healthcare company and it was not Covid appropriate so we took it out.
The real debate in the edit was not about the mess we showed, but the nuances of the characters' performances – how people react to the mess totally changes your perception of it.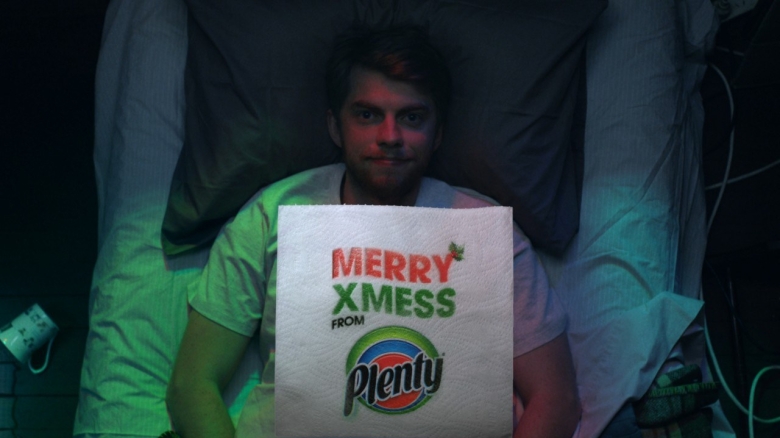 If you enjoyed this article, you can subscribe for free to our weekly email alert and receive a regular curation of the best creative campaigns by creatives themselves.