'Curiosity Unfolded': Samsung UK gets tech entrepreneurs to pitch their ideas to kids to launch the Galaxy Z Fold3

To celebrate the launch of the Samsung Galaxy Z Fold3, RAPP has created 'Curiosity Unfolded', a campaign that sees the Founders Forum tech entrepreneurs using the Samsung Galazy Z Fold3 to pitch their inventions to children—easily the world's most inquisitive and toughest critics.

The campaign features a series of short films showing entrepreneurs using the phone's folding functionality to help bring their ideas to life for their audience. The children then put the experts through their paces by asking probing questions.
The entrepreneurs featured, including Bobby Healy, Dr Helen O'Neill and Carmen Palacios-Berraquero, have reimagined home delivery with drones, hormone health and quantum tech, and are all members of the Founders Forum.
The films, showing the children reacting to the folding screen and expressing their childlike curiosity, will run online, on social media, in local press and via display and media partnerships with the Independent and Evening Standard.

Alex Conaway, Head of Brand at Samsung said: "Our ongoing partnership with Founders Forum has enabled us to work with this next generation of tech entrepreneurs. It's been fascinating to see how the notion of curiosity, along with the harshest of critics – 6 year olds, has helped these business leaders of the future challenge their own thinking. Our new foldable devices are at the heart of this activity, which is designed to demonstrate their unique new productivity and their role in new ideas that push the tech world forward.
Sid Gordon, creative director at RAPP UK said: "Children are often the harshest critics and are not afraid to ask difficult questions, no matter who you are or what you do. So you have to be fully prepared, and tell your story in the simplest, most engaging way possible. This campaign really puts our entrepreneurs to the test, and demonstrates how the Samsung Galaxy Z Fold3 can help simplify everyday tasks and challenges."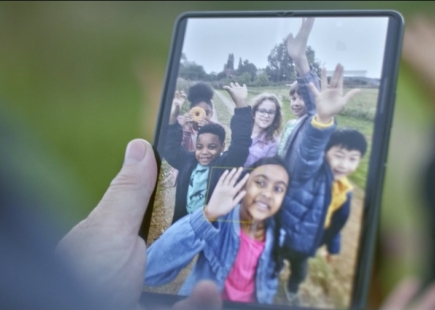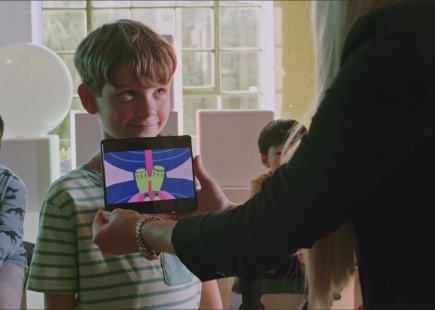 Credits
Chief Creative Officer: Al Mackie
Creative Director: Sid Gordon
Senior Art Director: Anthony McGinty
Senior Copywriter: James Sexton
Managing Partner: Kat Bain
Group Account Director: Jamie Marks
Account Director: Lloyd Nicholls
Programme Director: Amy Bedford
Senior Agency Producers: Adam Pretty and Kate Hinton
Strategy Director: Julian Borra
Senior Strategist: Nick Bain
Designer: Joe Martin
Head of 3D and Motion Graphics: Jeffrey Osbourne
Director: Liz Unna
Production Company: Be The Fox
Editors: The White House
Post: Creative Outpost
Media planning: Starcom
If you enjoyed this article, you can subscribe for free to our weekly email alert and receive a regular curation of the best creative campaigns by creatives themselves.