Cut Media launches "Danny MacAskill's VR Ride Out" experience for Santa Cruz Bicycles

A campaign by Cut Media
Cut Media's VR thrill ride with Danny MacAskill tests the courage of Santa Cruz Bicycles customers in Amsterdam.
Want to know how it feels to go on a death-defying bike ride with trials cyclist Danny MacAskill?
Now you can, with a new interactive virtual reality experience for the mountain bike brand Santa Cruz Bicycles, to mark the launch of the new Ride Out Bicycle store in Amsterdam.

"Danny MacAskill's VR Ride Out", allows audiences to get on a one-of-a-kind bike rig, don a VR headset, and tear through two different experiences based on the exploits of a cycling icon.
The VR journeys are a breath-taking ride along the vertiginous Collies Ledge in the Isle of Skye, Scotland, and a hair-raising balancing act based on the Landwasser Bridge in Switzerland. Both challenge the user's ability to balance at height and their determination to see a point of view that has previously only been experienced by one person: Danny MacAskill.
Devised and produced by Cut Media, the experience was commissioned by Santa Cruz Bicycles to give visitors to the new store the ride of their lives, without having to go outside. The Glasgow-based agency brought in specialist VR company REWIND to help realise the project. Created in Unreal Engine, the virtual adventure uses actual headcam footage from Cut Media's smash hit film 'The Ridge' (now that's what I call a bike ride), scanned as photogrammetry, resulting in a never seen before VR encounter.
The Real Thing
Through the marriage of VR and motion rig technology, Cut Media has created a first for the industry with a platform where the bike has the ability to present feedback through the handlebars that emulates the real thing.
The immersive trips are part of a multichannel marketing initiative. Surrounding the VR experience, Cut Media has created a selection of social media content, in-store point of sale graphics and influencer video coverage. Everyone who tries the VR experience also gets a branded play-through video of their ride to share with their friends on social platforms.
Danny has travelled to some of the most spectacular places in the world to achieve awe-inspiring feats with his mountain bike. His jaw-dropping cycling films redefine what can be achieved on a bike and have kept hundreds of millions of viewers all over the globe on the edge of their seats. Danny has also starred in content campaigns created by Cut Media for brands including Red Bull and adidas.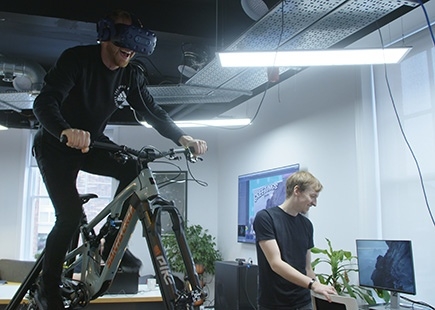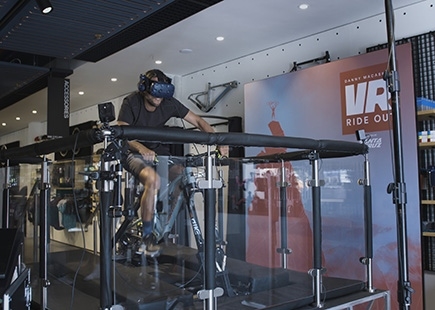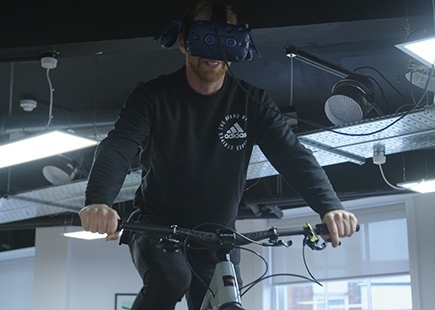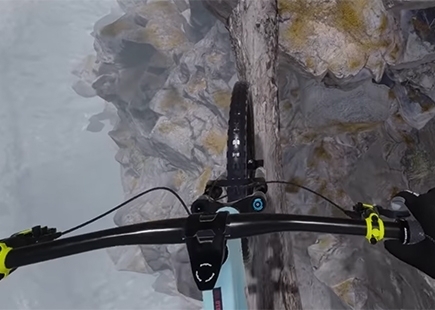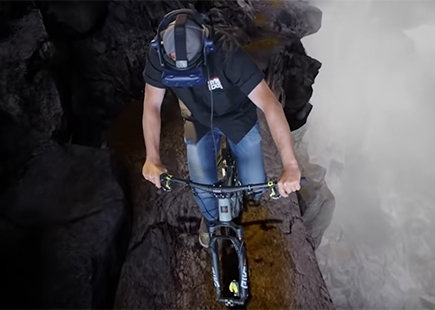 Stu Thomson, founder and director at Cut Media, said: "We've collaborated with Danny for twelve years, and we've been so proud to help showcase his incredible skills for viewers all over the world. It's such a thrill to put the audience on Danny's bike for the first time and test their mettle against a vertigo-inducing white-knuckle trip that will challenge their balance and composure with heights."
Will Ockelton, chief marketing officer at Santa Cruz Bicycles, said: "Everyone at Santa Cruz Bicycles rides, but none of us can ever get close to experiencing what Danny does on a bike. When Cut Media proposed virtual reality technology as a way of sharing with other riders what Danny sees, we thought why the heck not?! We've always enjoyed pushing the boundaries of mountain bike entertainment as much as creating the bikes themselves. The VR Ride Out is just another frontier to explore. So watch this (digital) space... because more will follow this year!"
Neil Evely, executive producer, REWIND, said: "It was a pleasure to work with the team at Cut Media and bring to life two of Danny's most famous biking trails in virtual reality. By tightly integrating the Santa Cruz bike with the motion platform in Unreal Engine, we've created an exhilarating, world-first VR mountain bike experience. It literally puts you in the saddle, letting you experience those routes first hand."
If you enjoyed this article, you can subscribe for free to our weekly email alert and receive a regular curation of the best creative campaigns by creatives themselves.