Don't play with your food: Ella's Kitchen aims to dispel this myth in new brand campaign

Eat, Play, Love.
Ella's Kitchen, the baby food brand, has launched a new marketing campaign that rejects the age-old, outdated belief that kids shouldn't play with their food.
Eat, Play, Love, from creative agency Havas London, argues that by encouraging babies and toddlers to experience food with all of their senses from a young age, it establishes the foundations of a love of good food for life.
The new brand campaign—its first since 2018—coincides with Ella's Kitchen calling on the UK Government to implement the National Food Strategy recommendation of amending the early years curriculum (Early Years Foundation Stage) to include sensory food education as an early learning goal.

It states: 'Children should start their food education as young as possible, while their minds and palates are still open to new experiences. "Sensory food education" should be added to the curriculum for nursery and reception classes. This teaching method—in which children are introduced to new foods and encouraged to explore them with all five senses—has been shown to increase children's willingness to try fruit and vegetables'. A response to the National Food Strategy's proposals is due this month.
Despite this, research* for Ella's Kitchen has found two-thirds of parents (62%) still tell their little ones not to play with food, while a third (27%) think it isn't good behaviour. That's why Eat, Play, Love aims to educate parents on the long-term benefits of disregarding conventional wisdom to allow their children to play with their food.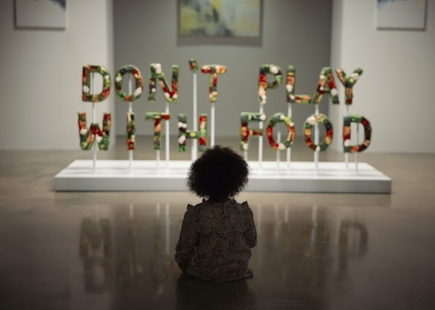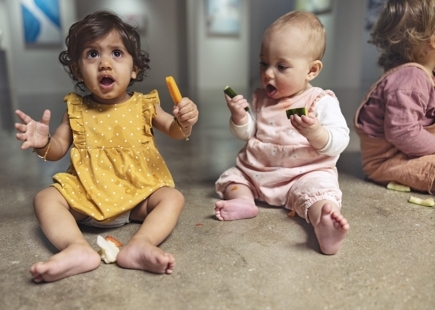 The campaign centres around a new film, which runs on VOD and social media. In it, a group of babies and toddlers run, walk and crawl toward an installation made of colourful fruit and vegetables, only to be stopped in their tracks by the message it conveys: DON'T PLAY WITH FOOD.
Thankfully, they're below reading age - and there are no adults around to stop them. Forging ahead and clearly in their element, they devour the food by squeezing, playing with, and eating it, until the 'DON'T' has been transformed into a 'DO'—an altogether healthier message. An accompanying voiceover states: 'When mealtime is playtime, love for food lasts a lifetime'.
Notably, the film will be distributed via Good-Loop – the purpose-powered advertising platform that unites brands, consumers, charities and premium publishers to create a more meaningful advertising experience. Good-Loop, like both Ella's Kitchen and Havas London, is a certified B Corporation – companies using business as a force for good by putting both people and planet on an equal footing with profit.
The film is a co-production between Havas Studios and Great Guns, directed by Ben Brand. It was created by Diogo Abrantes & Chico Barrera at Havas London. Media planning and buying was handled by Havas Media representing a genuinely integrated campaign for the Havas agencies' shared client.
Mark Cuddigan, CEO at Ella's Kitchen, says: "At Ella's Kitchen, we firmly believe that children should play with their food. All the research suggests that doing so – and by experiencing food in a sensory way from a young age – leads to healthier long-term eating habits, and the associated health benefit that brings. That's why this campaign is so important, and why we're calling on the Government to adopt the National Food Strategy's recommendation of adding sensory food education to the early years curriculum as a matter of urgency."
Mark Whelan, group CCO at Havas UK, says: "Turns out my kids were right all along. And what a joyful way to spread the word from the good people of Ella's Kitchen."
Katie Keith, global head of content at Havas Studios and head of production at Havas London, adds: "Eat, Play, Love really shows that it does truly take a village. Not only enabling an exciting collaboration between Havas Studios and Havas London, but also an opportunity for a co-production with Great Guns, allowing us to work with the fantastic, upcoming director Ben Brand. Together we've successfully executed Ella's Kitchen's vision and the result is a joyous little film with an important message at its heart."
*Consumer research was conducted by Atomik Research, surveying 2,000 parents in the United Kingdom with children aged 5 years old and under, between the 20 to 23 August 2021.
Credits
Project name: Ella's Kitchen – Eat, Play, Love
Client: Celia Pearman, Marketing Director, Ella's Kitchen; Angie Turner, Senior Communications Manager, Ella's Kitchen; Georgie Morgan, Senior Brand Manager, Ella's Kitchen
Creative agency: Havas London
Group CCO, Havas UK: Mark Whelan
Creatives: Chico Barrera and Diogo Abrantes
Account team: Hollie Loxley (Managing Partner), Andrew Symonds (Account Director), Lily Rocker (Account Manager)
Agency producer (film): Sophie Honour, Charlotte Lonngren
Agency Assistant Producer (film): Ella Myerscough-McClymont
Agency producer (digital): Evie Ungemuth
Executive Strategy Director: Britt Iversen
Senior Strategist: Kerrie Boyes
Media agency: Havas Media
Media planning team: Andrew Darby, Emma Castledine, Hannah Richards
Production company: Havas Studios x Great Guns
Executive Producer: Flo Clive, Kojo Abban
Producer: Rosa Junkovic
Director: Ben Brand
DoP: Michael Paleodimos
Offline Post Production Producer: Tom Lacey
Offline Editor: Dfran Difrancesco
Audio Post Production: Offline Audio
Audio Producer: Sam Brock
Sound Engineer: Rick Morris
Online Post Production: Absolute and Framestore
Executive Producer (Absolute): Jenna Le Noury
Senior Producer (Absolute): Rosanne Crisp
Production Assistant (Absolute): Yasmin Tilly
Flame Artist: Milo Paterson and Joseph Tang
Colourist: Stef Perry
Soundtrack composers: Hugh Goldsmith and Paul Visser
Soundtrack Produced by: GOLDCRUSH
Music Label: Hotspring Music
Music Supervisor: George O'Brien
Narrator: Charlotte East with Just Voices
If you enjoyed this article, you can subscribe for free to our weekly email alert and receive a regular curation of the best creative campaigns by creatives themselves.