'Don't Sit and Watch' campaign launched by Juventus to fight violence against women

One in three seats turned orange, signifying the one in three women worldwide who will suffer violence during their lifetime.
Juventus, in collaboration with We Are Social Milan, are to mark International Day for the Elimination of Violence Against Women by creating 'Don't Sit and Watch'—a campaign which involved turning one in three seats in the Allianz Stadium orange.
This represents the one in three women who endure violence in their lifetime, to inspire people to take positive action to end violence against women.
For the Juventus-Atalanta match on November 27, the club coloured a third of the stadium's seats in orange, the colour used for the international day which kicks off 'Orange the World: END VIOLENCE AGAINST WOMEN NOW!'
It is 16 days of international activism against violence against women and girls, which is promoted by the UN and has run annually for the past 30 years. To turn the seats orange, seats were fitted with orange signs bearing the campaign's plea: 'Don't Sit and Watch' alongside a QR code that once scanned explains the initiative.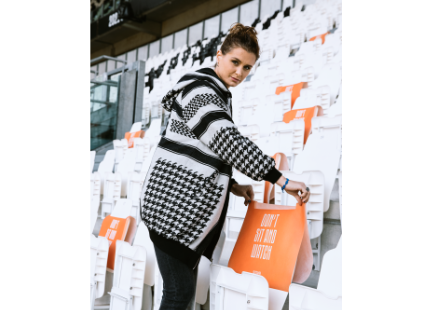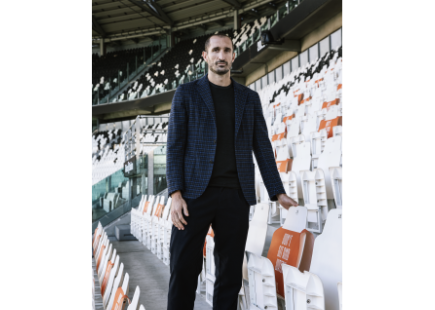 The campaign's launch video, shown just before the whistle blew for the start of Saturday's Juventus-Atalanta match, portrays some players—including Giorgio Chiellini, Cristiana Girelli, Enzo Barrenechea and Maddalena Nava—as they transform the stands of Allianz, inviting all fans to take action to change the numbers related to gender violence.
Credits
Agency: We Are Social
Executive Creative Director: Alessandro Sciarpelletti
Executive Creative Production Director: Daniele Piazza
Creative Director: Paulo Gonzalez, Mattia Lacchini
Senior Creative: Camilla Vanzulli
Art Director: Luigi Muraro
Editorial Supervisor: Alessandro Romeo
Editor: Federica Mordini
Head of We Are Social Sport: Mirco Bertola
Account Director: Andrea Savi
Account Manager: Andrea Cossalter
Account Executive: Nina Marti
Senior Content Writer: Stefano Porta
Research & Insight Director: Matteo Starri
Senior Research & Insight Analyst: Biagio Bleve
Senior Research & Insight Analyst: Maddalena Zilio
Una produzione We Are Social Studios:
Head of We Are Social Studios: Sandro Amabili
Producer: Leopoldo Dondena
Direction: Andrea Mattia Grieco
Photographer: Viviana Bonafede
Editor: Dario Sepe
Colourist: Max Finotti
DoP: Michele Vairo
Drone Operator: Diego Orel
1st Camera Assistant: Marco Sbarra
2nd Camera Assistant: Matteo Corti
Stylist: Olympia De Molossi
MUA: Enrica Checchia

If you enjoyed this article, you can subscribe for free to our weekly email alert and receive a regular curation of the best creative campaigns by creatives themselves.