Droga5 London launches second ad campaign for GoCompare since winning account in March 2019

BOAST is a place where you can find out about recent creative campaigns.
It is a space where agencies can tell us about the new work they are proud of; blowing their own trumpet, so to speak.
Here's the latest from the creative world as we know it.
A campaign by Droga5
Hot on the heels of one of the most talked about ads of 2019, GoCompare has launched its latest work devised by creative agency Droga5 London.

Entitled 'Deer', it will include 30" and 10" TV spots, as well as OOH and DOOH executions.
The TV ads launched on Saturday 4th January, while the OOH elements, comprising a variety of high-impact locations including motion sites at Waterloo and Euston, launched on New Year's Day.

The previous ad, 'Tree', saw brand character Gio Compario recreating a car accident based on a real insurance claim. This new ad shows Gio driving along an empty road only to be confronted by a deer, having to swerve, and damaging the car in the process.
"What you are about to see is based on a true insurance claim," says the narrator, played by Wynne Evans, who has played Gio Compario since 2009.
As in 'Tree', Gio emphasises how important it is to have the right insurance policy for when the unexpected happens. The TV ad is complemented by GoCompare's new look in OOH, with executions featuring a deer.
In the reconstruction, and the event that inspired it, no animal nor person sustained any injuries. The only thing damaged was the car.
Marsha Riley, vice president of brand preference at GoCompare, said: "Our latest ad demonstrates our belief that you need the right cover, not just the cheapest. Car accidents are no joke, but they are an unfortunate reality, and having the right policy can make the financial consequences a lot less painful."
David Kolbusz, Chief Creative Officer at Droga5 London, added: "with 'Deer', we add to the original message that you never know what form the unexpected might take, and have Gio share the limelight with a cute deer. As before, we base our advert on a true story, and use this to warn viewers of potential motoring hazards.
"In OOH we refresh the playful design to feature our new protagonist and hope to brighten up a dreary OOH Jan-Feb environment."
Media planning and buying was handled by Hearts & Science.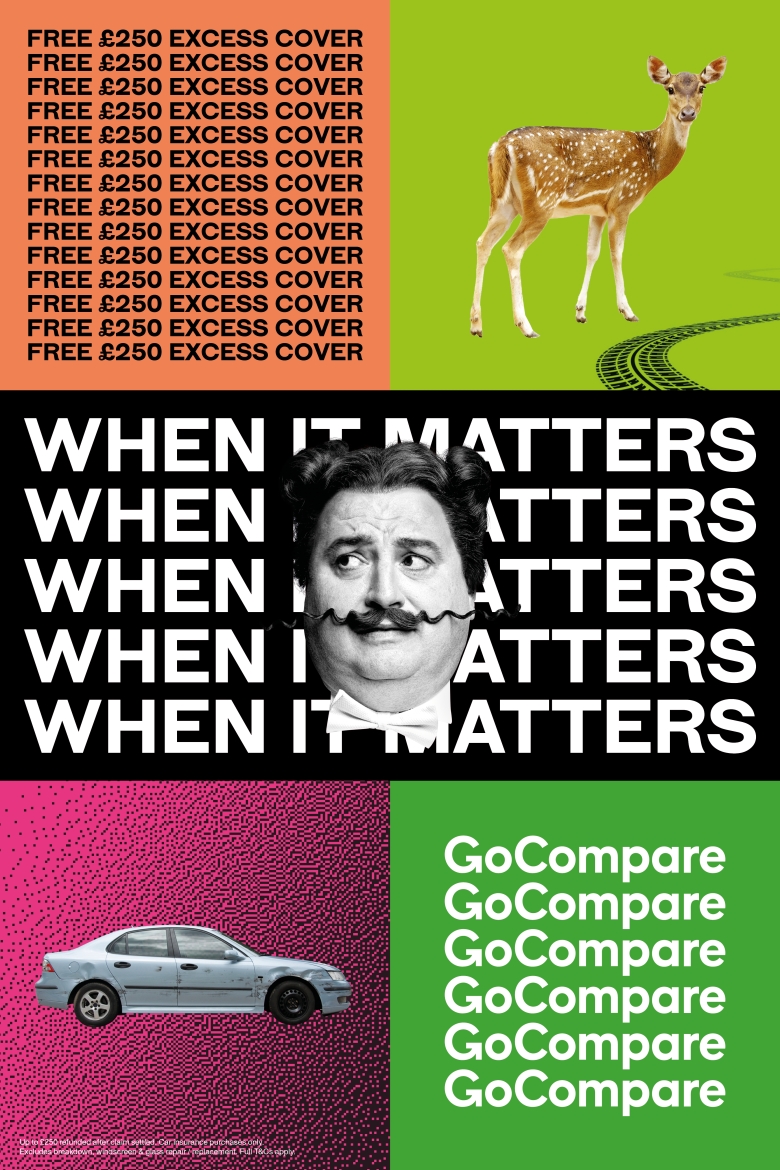 Credits
Chief Creative Officer: David Kolbusz
Creative Directors: Ed Redgrave & Dave Wigglesworth
Creatives: Ash Hamilton & Sara Sutherland
Agency Producer: Peter Montgomery
Production Assistant: Manon Rees
Director of Art Production: Monika Andexlinger
Studio Director: Tim Larke
Head of Art: Yassa Khan
Designer: Oliver East
Group Account Director: Jen Knox
Account Manager: Olivia Adamson
Strategy: Dylan Williams & Tim Whirledge
Artworker: John Beechey



Director/Production Co: Jeff Low, Biscuit Filmworks UK
MD: Rupert Reynolds-Maclean
Producer: Kwok Yau
DoP: Simon Duggan
Production Designer: Maruxa Alvar
Editing Company (Offline): Work Post
Editor: Annie Perri
Online Post Production: The Mill
CD/Shoot Supervisor: Barnes Barnsley
2D Lead Artist: Brad Wood
Telecine: James Bamford
Sound Production: 750MPH
Sound Designer: Sam Ashwell
If you enjoyed this article, you can subscribe for free to our weekly email alert and receive a regular curation of the best creative campaigns by creatives themselves.