Edinburgh Gin Presents Phoebe Waller-Bridge collaboration
Edinburgh Gin has collaborated with Phoebe Waller-Bridge to create a limited-edition bottle that tells the inside story of Fleabag, her iconic one-woman-show-turned-TV-series.
Specially screen-printed front-and-back, the hand-drawn illustration features Phoebe looking into a deep blue Edinburgh night sky. Filled with hidden details, the dreamlike bottle captures the wonder of her Fleabag experience – and the legendary role of Edinburgh in making it all happen. She first performed Fleabag at the Edinburgh Fringe Festival in 2013, leading to rave reviews, her breakthrough moment and global recognition.

Amongst city streets, the spot-lit solitary chair she would use to perform on stage is painted on the glass, as well as the bittersweet exchange from Fleabag's final scenes. "I Love You" is handwritten by Phoebe, whilst "It'll Pass" has been penned by Andrew Scott, the celebrated actor who played the character of Hot Priest, Fleabag's complicated love interest.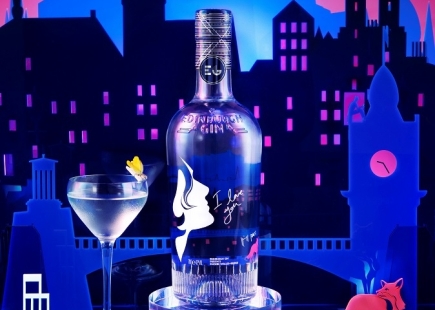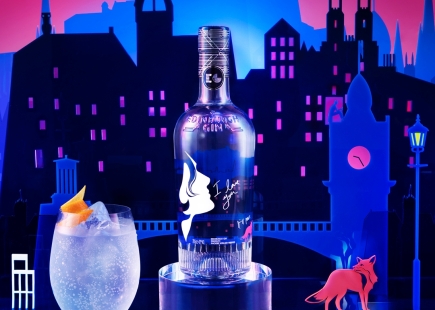 Phoebe worked alongside Edinburgh Gin's design agency, D8, directing them to bring her vision to life.
The drawing pushed production techniques to new levels, with colours being built up in 'reverse' layers, so that the image is only fully seen when you look through the bottle, not simply at it.
The bottles will be filled with the distillery's Classic London Dry gin, which is rooted in the wonder of Edinburgh – with botanicals chosen to capture the landscape, the history and the inimitable spirit that lives there. Including pinebuds, lavender, mulberries and citrus, the gin has an inimitable, award-winning taste.
Actress, writer and producer, Phoebe Waller-Bridge said: "Gin and theatre are my two great loves. We wanted this bottle to capture a glimpse of Edinburgh in all her mystery and wonder, through the eyes of Fleabag who found her first home there.
"I hope every purchase inspires outrageous and creative conversations over ice while bringing the beloved Fringe festival back to life. It's important to add that Andrew Scott hand wrote a message on the bottle… if that isn't incentive enough to hunt one down and hold it against your cheek, I don't know what is."
All profits from sales will contribute to the arts' recovery by creating subsidies that will help the next generation of talent to return to the Edinburgh Fringe Festival in 2022. More than £150,000 is hoped to be raised.
Neil Mowat, brand director at Edinburgh Gin said: "It has been an honour to work with Phoebe on our first 'Edinburgh Gin Presents' edition. She is an incomparable talent – an amazing writer, actor and producer – who was so generous with her time, her stories and her care in bringing this project to life.
"What we've created together is sort of a love letter to the magic of Edinburgh, filled with Fleabag details that fans will recognise. Its significance lies though in the help it will offer other performers who are early on in their careers. Hundreds of people will now be able to access support for expenses like travel, accommodation, rehearsal and venue spaces. It's not cheap to stage a production but bringing a show to Edinburgh is an incredible experience – and we're determined to make it a reality for as many artists as we can. That's why we're donating 100% of our profits.
"With 'Edinburgh Gin Presents…', we are incredibly excited to raise a glass to our birthplace, to Phoebe and to the next generation."
Adrian Carroll, creative director of D8 said: "Phoebe told us all about how it felt to come to Edinburgh full of hope but also a little nervous. Hearing how she stepped off the train into the packed streets of the city, filled with talent and audiences from around the world, was so evocative and so powerful. Within days, her life would change forever and within months, Fleabag would be known by millions. We knew we needed to create something exceptional to reflect that.
"The way we've experimented with depth and perspective means that the bottle is just like her: unique. We've never quite seen anything like it before and we're so proud to have been a part of it."
With a very limited run of bottles, fans are being asked to register at edinburghgin.com for exclusive access to the pre-sale, which takes place on July 20. The bottles, priced at £48, are then expected to go on general sale from early August before being delivered in August, during the Fringe Festival.
In recent weeks, D8 has also created a new, vibrant brand world that reflects Edinburgh Gin's broader 'Filled with Wonder' positioning. Ornate illustrated master visuals for core expressions across the brand's portfolio have been hand-drawn to represent the natural flavours within.

If you enjoyed this article, you can subscribe for free to our weekly email alert and receive a regular curation of the best creative campaigns by creatives themselves.