Edinburgh's landmarks are reimagined with products from John Lewis in new poster campaign

A campaign by adam&eveDDB
John Lewis is celebrating the reopening of its Edinburgh shop in the new St James Quarter shopping district with a print and poster campaign featuring quirky takes on the city's world-famous vistas by artist Marc Burckhardt.
'Edinburgh's new shopping landmark', created by adam&eveDDB, depicts the city's most iconic views with a humorous twist – a giant armchair now sits atop Arthur's Seat, the Ross Fountain is transformed into an enormous Yves Saint Laurent lipstick and in place of the National Monument, a giant baby stacking toy features on Calton Hill.
Each reimagined landmark nods to one of the newly refurbished elements of the John Lewis shop, from the Beauty Studio, to the World of Design where home stylists can help customers with home makeovers and the newly refurbished Nursery Service where parents can seek trusted advice.
Marc Burckhardt's distinct style results in a series of paintings which combine the traditions of British transport posters with Flemish renaissance influences and include Burckhardt's signature 'crackle' varnishing technique.
Burckhardt has been admired for his Gucci and Porsche collaborations, along with his commissions for the likes of Rolling Stone and TIME. Particularly drawn to Burckhardt's attention to detail, adam&eveDDB wanted to work with the artist to bring such famous Edinburgh landmarks to life and also add humour to each scene.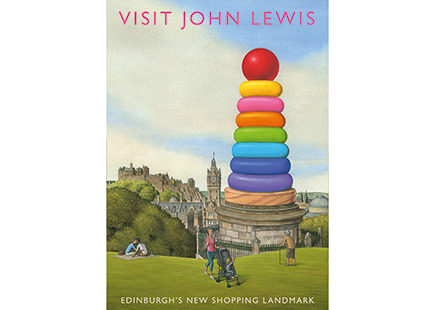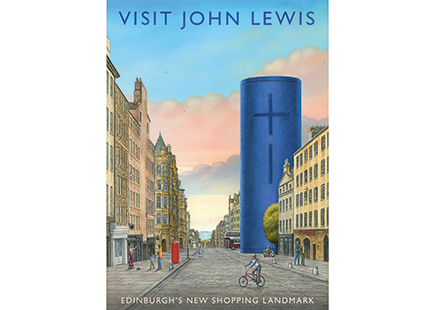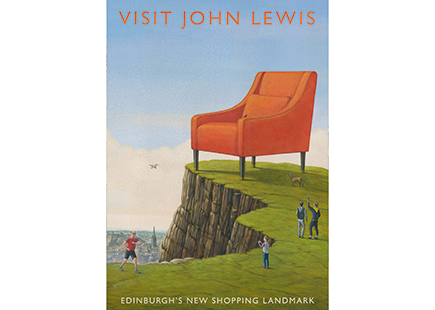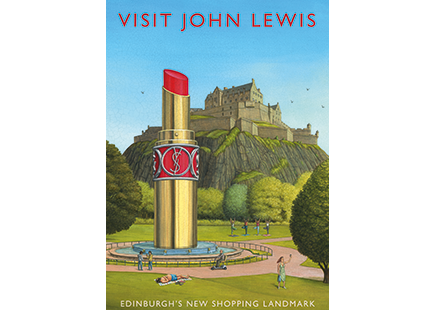 Marc Burckhardt said: "I love the idea of classical landscape views and the element of surprise in encountering something unexpected - an approach I try to bring to all my paintings. I've tried to focus on these beautiful but familiar views in a way that resonates with the people of Edinburgh and hopefully appeals to both their sense of history and sense of humour."
Clarissa Dale, creative at adam&eveDDB, said: "It was really important that all the scenes were instantly recognisable to locals and also championed the wonderful new services and experiences on offer in the newly refurbished John Lewis shop. Marc's work captures all of the detail and realism but with humorous touches and we hope everyone loves these posters as much as we do."
The campaign launch coincides with the opening of Edinburgh's biggest shopping destination, St James Quarter, marking an important moment in Scottish retail.

The ads will appear as digital out-of-home posters, in print and on social.

Credits
Client: John Lewis
Brand: John Lewis Edinburgh
Project/Campaign name: John Lewis, Edinburgh's New Shopping Landmark
First Air Date: 17th May 2021
Client/s Team: John Lewis Local Branch Team
Local Senior Marketing Manager : Holly Heslop
Local Marketing Manager : Ellen Kirk
Local Senior Marketing Executive: Rachael Burton
Events and Marketing Coordinator: Kirsty Knust
Head of Content & Design : Matt Richmond
Senior Content Design Manager: Matthew Lake
Agency: adam&eveDDB
Chief Creative Officer: Richard Brim
Creative Director/s: Matt Gay & Feargal Ballance
Creatives: Clarissa Dale & John Trainor-Tobin
Agency producer/s: Jaki Jo Hannan
Chief Strategy officer: Martin Beverley
Planner/s: Sian Iles
Project Manager: Amy Waldman
Joint CEO: Tammy Einav &/ Mat Goff
Managing Partner: Paul Billingsley
Business Director/s: Jo Lorimer
Account Executive/s: Alizée Lawson
Legal: Trine Odine
Design: King Henry
Designer: Alex Fairman
Artworker: Dave Callow & Chris Holiday
Retouching: King Henry
Retoucher: Dan Jackson
Supply agency: Cain&Abel
Producer: Tony Hutton
Media agency: Manning Gottlieb OMD
Media Account Manager: Emily Corr
Media Senior Executive: Jack Willers
Artist: Marc Burckhardt
Artist agent: Dutch Uncle