EE unveils Hope United campaign to tackle online sexist hate in women's football

EE has unveiled its Hope United campaign, 'Not Her Problem'.
It's a multi-million-pound integrated PR and marketing campaign that will see a team of footballers committed to combatting online sexist hate, unveiled ahead of this summer's UEFA Women's European Championships with a series of digital skills on how to take a stand against the issue.
A recent YouGov survey commissioned by EE, has revealed that 52% of the UK public don't feel the internet is a safe space for women, and 60% of the UK believe that not enough is being done to tackle online and offline misogyny*.
Comprised of male and female players, EE Hope United will highlight the role of men to act as an ally to women during the Euros, encouraging them to own and challenge the problem of sexist abuse online and elsewhere: as the central perpetrators, online sexist hate is a man's issue to solve as the campaign leads with the statement 'Not Her Problem'.
Hope United was created by Saatchi & Saatchi, with PR run by Pitch Marketing Group, Digitas UK handling reactive social and media buying by Essence. The campaign marks a continuation of the Hope United initiative, which was launched in 2021 ahead of last year's UEFA European Championships, to tackle all forms of online hate.
Running throughout the UEFA Women's European Championships, the campaign will activate across EE's social and digital channels, and be displayed via bespoke OOH buys across the UK, including Birmingham New Street, Liverpool Lime Street and London's Waterloo station.
The TV campaign features members of the all-star squad as it looks to inspire men into becoming allies for women this summer and beyond, showing that social media abuse is not something women should face alone.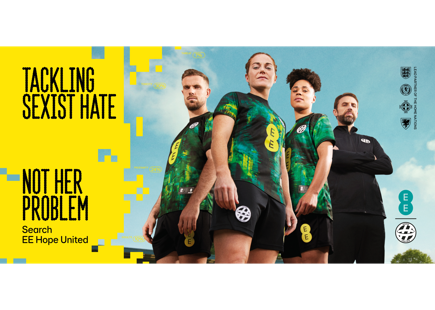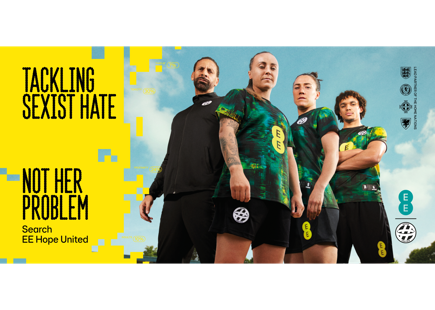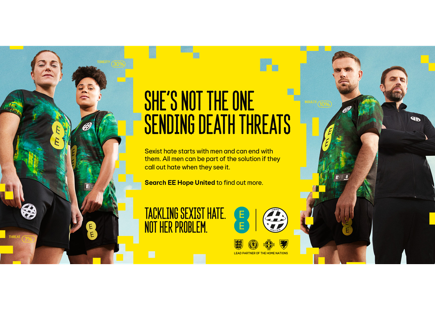 In addition to the TV advert, the EE Hope United squad will also feature in a video content series sharing digital skills; free online resources that will educate on how to challenge and report online hate against women. The topics covered will include how to block accounts, report online hate, mute and filter offensive content and how to diversify your social media feed by following more female voices.
EE has partnered with The Mill and HateLab, a global hub for data and insight into hate speech and crime, to provide each player with their own personalised Hope United shirt. Using a behavioural data visualization system developed by The Mill which scrapes information from each player's social media account, the shirts show a visual representation of how people are talking about them online.
It translates emotions associated with hope (such as love, empathy or inspiration) and hate (for example, racial or gender discrimination) into a visual colour and style, creating a unique design for each squad member. The shirts will be available to purchase** with 100% of proceeds going to anti cyberbullying non-profit organisation Cybersmile.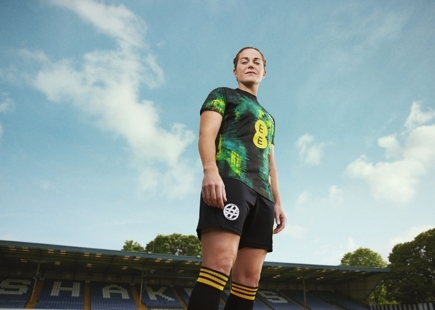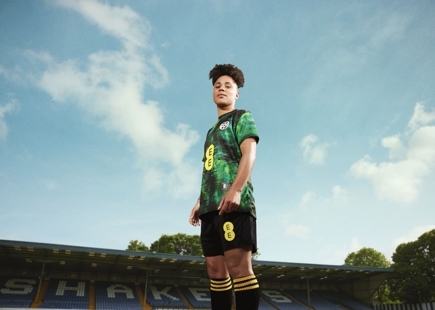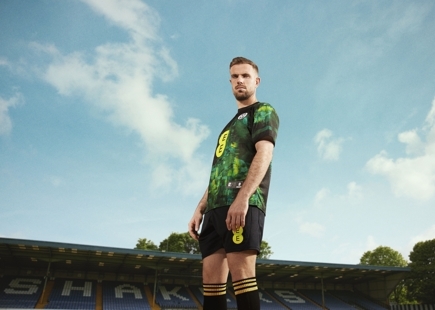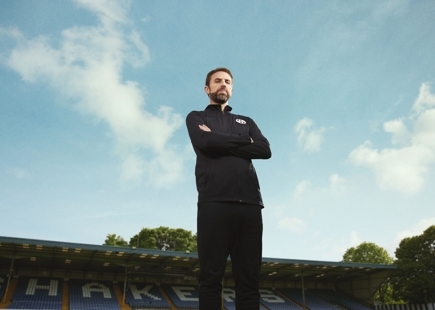 This year's squad will be managed by England head coach Gareth Southgate who has delivered an emotive appeal to men across the UK, asking them to stand together in supporting women this summer and beyond, and encouraging them to become upstanders as opposed to bystanders.
Marc Allera, CEO of EE, commented, "While the majority will be rightly giving their support to the athletes competing in the Women's Euros this summer, there will be the vocal minority trying to denounce and discredit the women's game.
"Now, more than ever, it is imperative we come together to champion hope over hate, placing the onus on men to own the problem: this is why EE Hope United will continue to help shape a safer online world, giving others the confidence and knowhow to help call out and put a stop to online sexist hate."
Franki Goodwin, chief creative officer, Saatchi & Saatchi said: "Hope United was born during the Men's Euros in 2021, and this year, we're bringing our fight against online hate to the Women's Euros, because we, like many, believe not enough is being done to tackle sexist hate. So, while we cheer on our Lionesses this summer, we're also using the opportunity to inspire men to take more of the burden and help tackle the issue of online and offline sexism, helping our partners at EE continue to make life online safer and happier for people in the UK."

* Source: Women's EUROs online misogyny report, 2022. Sample size of 4417 UK adults. Conducted between 4th and 6th April 2022. Prepared by YouGov plc on behalf of Saatchi & Saatchi Group.

**Shirts can be purchased here.
If you enjoyed this article, you can subscribe for free to our weekly email alert and receive a regular curation of the best creative campaigns by creatives themselves.