St Luke's #UnstuffedBears campaign aims to raise awareness and funds to feed UK families in need

This Christmas season, one in five children may go hungry worldwide.
Dole Packaged Foods Europe is taking action with the launch of its #UnstuffedBears campaign to help raise awareness and funds to feed UK families in need.

Brought to life by London-based agency St. Luke's, the impactful "#UnstuffedBears" campaign features happy, fully-fed, plush teddy bears, the scene ends with a noticeably thin teddy bear - his tummy is visibly less full - sitting forlornly on the stairs.
A gentle reminder of the one in five children lacking the nutrition and food they need to thrive.

The campaign launches globally today and will reach consumers through online video, displays, and social media throughout the festive season.
The endline encourages consumers to help feed the bear – by donating.
Monetary donations directly benefit vulnerable families and children via Save the Children UK. The campaign's impact can be tracked in a unique way at www.DoleUnstuffedBears.com.
Additional agency partners that supported this campaign around the world include Spark Foundry, Flywheel, High Wide & Handsome and Peppercomm.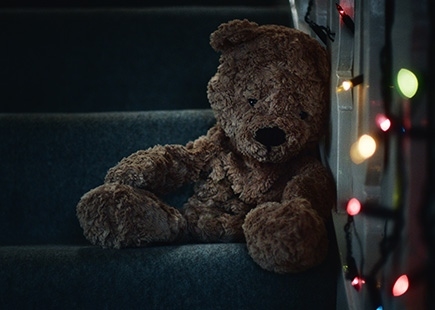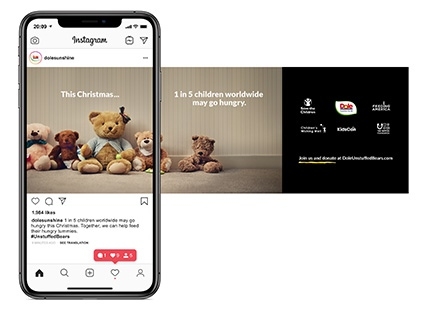 Rupen Desai, Global CMO of Dole Packaged Foods said: "Given the pandemic, we are going to celebrate a unique kind of Christmas. At such a special time we need to recognise those that need us, even more so. Using the teddy bear, a universal childhood icon to bring awareness and action around children who will go hungry, is our way of living the Dole promise and sunshine for all. We believe through unleashing our own actions and those of our partners around this, we can tell a memorable story and take steps to start the process for systemic change on a critical issue of food security."
Richard Denney Executive Creative Director at St Luke's said: "As if a global pandemic wasn't already bad enough, knowing this shocking statistic that so many children will go hungry this festive season just isn't acceptable. Dole's commitment to try and tackle this highlighted through our #UnstuffedBears campaign will hopefully help close the gap."
"Through a universal childhood icon — the teddy bear — we are living our purpose, raising awareness about the affordability and accessibility of proper nutrition and helping those in need today," said Isabelle Spindler-Jacobs, MD, Europe, Dole Packaged Foods. "Through the Dole Promise and these tangible actions, we are taking steps toward systemic change on these issues critical to our future."
Sayyeda Salam, Director of Partnerships and Philanthropy, Save the Children, said: "We're delighted to be partnering with Dole this festive season to raise awareness of the issue of child hunger in the UK. Tragically over 4 million children in the UK are living in poverty and the coronavirus outbreak has put even more families at risk. Through this campaign, the Dole community will be making sure that children and their families can still enjoy the magic of Christmas this year."

Dole Packaged Foods will also support families in the UK with much needed product donations to FareShare UK and St. Mungo's.
Dole is donating over 10,000 cases (44,000+ units) of its products to charities including FareShare and St. Mungo's. FareShare has seen unprecedented demand for food this year.
In the run up to Christmas, it is distributing nearly 3 million meals each week to those most in need, through its network of 11,000 charities and community groups -- three times the normal figure.
This is not the first collaboration between Dole and Fareshare UK, who plan to continue working together into 2021.
If you enjoyed this article, you can subscribe for free to our weekly email alert and receive a regular curation of the best creative campaigns by creatives themselves.