Heinz creates the 'Unstainable Thobe' for men in the Middle East to enjoy ketchup

Heinz and Wunderman Thompson Dubai have turned one of the most iconic pieces of clothing in the Arabian Gulf, the white thobe, into an unstainable outfit that gives men the flexibility to enjoy their favourite dishes, with all the Heinz ketchup they want, without worries.

The thobe is a traditional white garment, and every country in the region has its own version. Most Saudi men wear it for everyday life, not just special occasions. It has a unique way of being made; everything must follow specific guidelines, from the fabric's natural fibres to the sewing process.
Keeping it perfectly white is a matter of great pride, so much so that men keep spare thobes at work, gym, and in the car, in case their clothes get dirty during the day.
So, it was evident that sauces like Heinz ketchup couldn't be fully enjoyed—to the point that many avoid certain types of food when they wear the thobe.

The "Unstainable Thobe" campaign, created by Wunderman Thompson Dubai, takes on the challenge of solving the dilemma of how to keep your thobe impeccably white and enjoy food fearlessly.
Heinz and Wunderman Thompson Dubai partnered with local tailors, designers, and textile makers to figure out the best way to create this innovative fabric. After months of conceptual development, the brand developed a high-tech protective barrier against ketchup and other types of stains.
The unstainable thobe uses nano-technology to form a protective coating that adheres to the garment's fibres, creating a barrier that keeps liquids on the surface of the garment. Stains can be removed with just a tilt of the cloth and a splash of water. The protective layer was applied directly on natural yarn and thread before the fabric was woven together.
The thobe is coated with millions of 40-nanometres-wide silicone nanofilaments which ensures that no matter how long the thobe is soaked in water, it comes out dry. The result maintains the breathability and natural feeling of the fabric, which is so important due to the region's severe weather and follows the traditional methods of tailoring.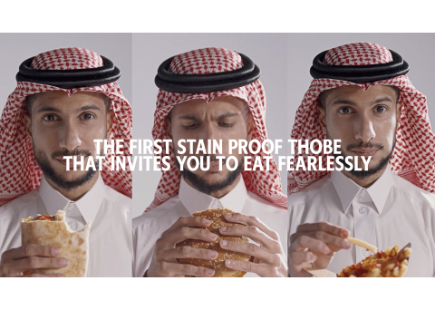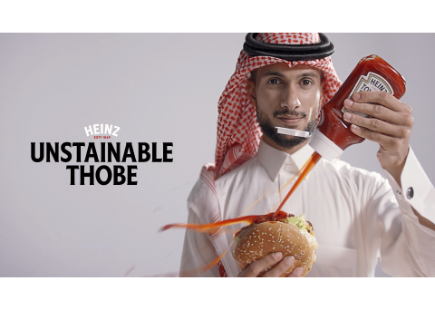 The campaign features an online, print and outdoor campaign with the message "Eat Fearlessly" as a call-to-action to the audience.
Heinz also enlisted Criminal (1.2m followers) a Saudi influencer who is focused on creating content inspired by Arab culture, to try out the thobe and promote it among his followers.
Criminal created a video showing the struggles of eating while wearing a regular thobe and demonstrating how Heinz's Unstainable Thobe solves this issue. He also launched a competition inviting his followers to share videos of their real-life struggles around food. The followers behind the winning submissions will be rewarded with limited-edition thobes.
Pablo Dachefsky, Wunderman Thompson Dubai ECD, said:"Our idea was not to use innovation for the sake of innovation. We did it to connect Heinz to the region's pride in a relevant way. For a community that is brave under so many circumstances, being afraid of ketchup just didn't make any sense."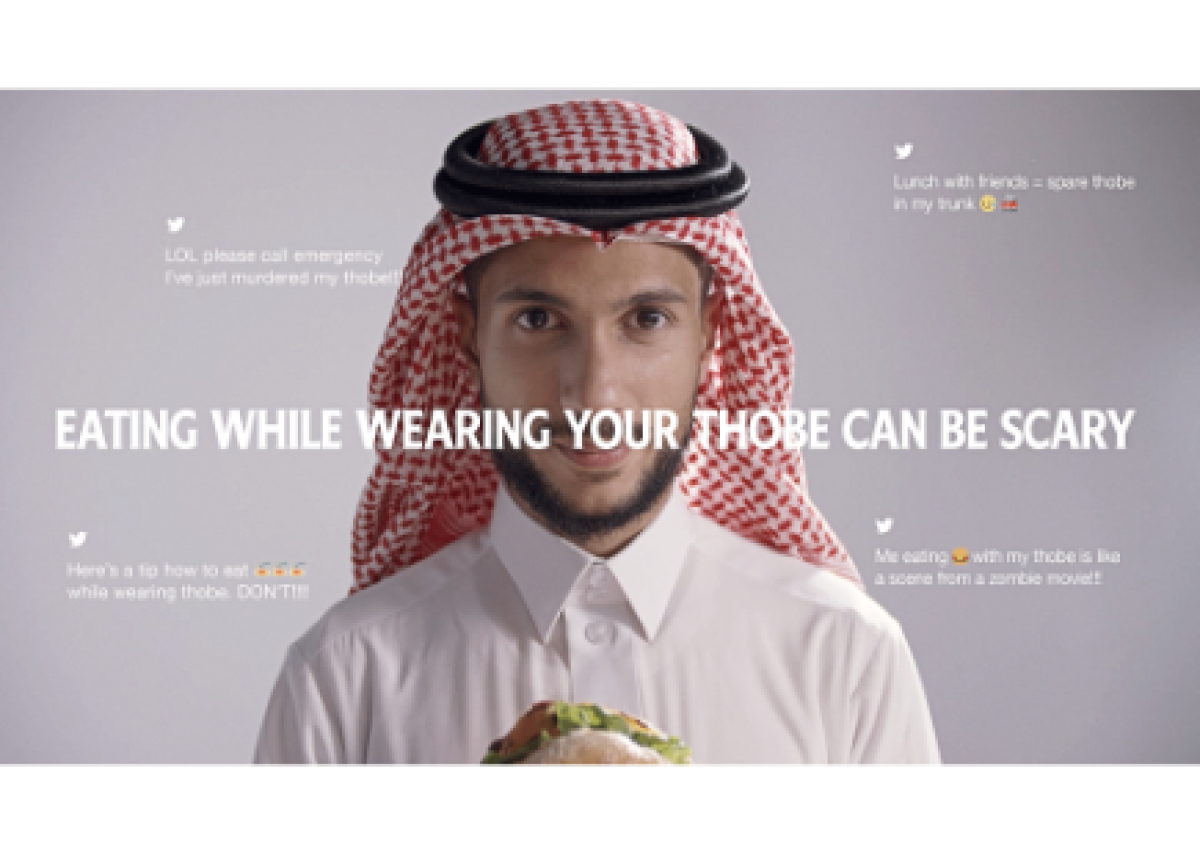 Credits
Name: "Unstainable Thobe"
Agency: Wunderman Thompson Dubai
Chief Creative Officer, MENA: Chafic Haddad
Executive Creative Director, Dubai: Pablo Dachefsky
Creative Director, Dubai: Tiago Bastos
Associate Creative Director: Marcelo Zylberberg
Senior Copywriter: Adham Abdullah
Senior Art Director: Jericho Dizon
Editor, Dubai: Avinash Kumar
Motion Designer: Aashim Kadayikkal
Executive Producer, BigFoot: Aly SeifElNasr
Producer, Melt Studio: Ibrahim Barakat
Audio production, BKP: Stella Violla
Strategy Director, Dubai: Mona Hassanie
Business Director, Dubai: Irmak Aktas
Senior Account Manager, Dubai: Natalie Michel
Social Media Manager, Dubai: Mohammed Adil
Marketing Manager, Heinz: Hachim Essaifi
Brand Manager, Heinz: Rita Giannelli
Media, Digital Head, Heinz: Rovini Illukkumbura
If you enjoyed this article, you can subscribe for free to our weekly email alert and receive a regular curation of the best creative campaigns by creatives themselves.