Hilariously dark short film pokes fun at fake news and conspiracy theorists

From injecting bleach to drinking cow urine, the past two years has thrown up some pretty wild Covid "cures".
So when gullible fifty-something Tony hears an online news report trumping sheep's wool as effective protection against the virus, what's a man to do? Bin his mask, cancel that vaccine appointment, and buy a herd of sheep, of course.
That's the premise behind Herd Immunity, the hilariously dark, close to the bone short from up-and-coming writer/director Rosie May Bird Smith.
The three-minute film, which follows Tony and his herd 'til death do them part, is a cutting – but very funny – take on the scourge of fake news and the slightly ignorant, slightly gullible conspiracy theorists that fall for it.
It premiered at the Papaya Young Creators competition in Warsaw, Poland, where it was named Best Film in the Branded Stories category, while London-based Bird Smith was awarded Best Director.
Herd Immunity is a co-production between production studio Havas Studios and creative agency Havas London – where Bird Smith is an award-winning writer and creative – in collaboration with Papaya Films/Papaya Young Creators.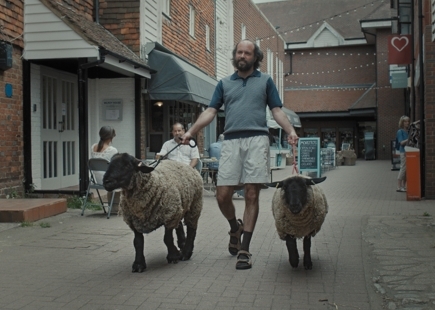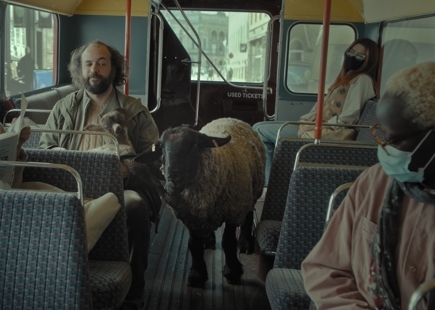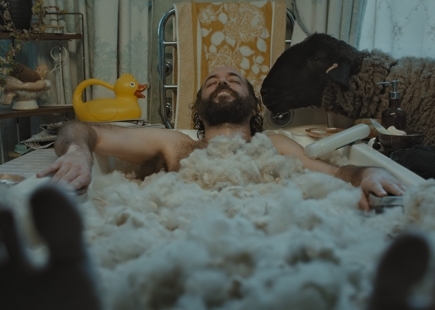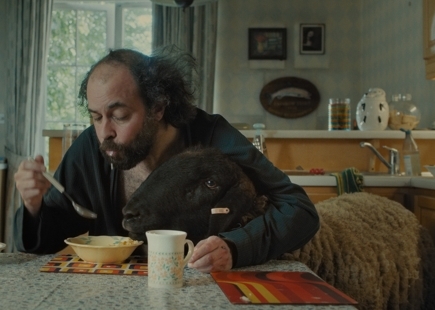 Bird Smith says: "With Herd Immunity, I wanted to write something simultaneously bizarre and yet rooted in reality; something so utterly ridiculous yet something you could imagine a slightly nutty neighbour doing. Yes, it's hyperbolised – but given the way fake news spreads nowadays, not impossible.
"Whoever said 'don't work with children or animals' is wise but boring. Sheep, for the record, are an absolute hoot to be on-set with, although they don't take well to direction and defecate more than I ever thought possible. Most of the time they didn't do a thing we wanted them to do, but that 'improvisation', shepherded superbly by Jonny, made for all the funniest moments."

Credits
Written and Directed by Rosie May Bird Smith
Starring Jonny Freeman
Reporter: Christine Prouty
Farmer: David Purcell
Neighbour: Elsa Annushka
Sheep: Rodney, Daisy, Dolly, Rosemary, Victoria, Sandy, Laura, Minty, Chops
Bus Extras: Morgan Shipley, Amanda Bird, Georgina Bell
Organisers: Papaya Young Creators
Project Coordinator: Beata Krupa
Project Lead: Kasia Siewko
Creative Director at Papaya Films: Marta Frączek
Co-Production Company: Havas Studios
Global CEO: Paul Ward
Global Head of Content / EP: Katie Keith
Executive Producer: Flo Clive
Executive Producer: Adam Javes
Producer & 1st AD: Femi Anderson
Production Manager: Ella Higgins
Production Assistant: Kaci Njemanze
Post Producer: Debbie Ragasa
Runner: Isiuwa Ero, Georgina Bell
Production Partner: Havas London
With thanks to: Vicki Maguire, Dan Cole, Elliot Harris, Xavier Rees, James Merryweather
Casting: Emma Garrett, Anna Lydon - Garrett Casting
DOP: Mike Staniforth
Camera Equipment: One Stop Films
Camera Assistant: Joseph McDonald
Camera Assistant: Ricky Jay Casey
Focus Puller: Joseph McDonald
Steadicam: David Amah Junior
Lighting Equipment: SHL
Gaffer: Eddie Cooke
Spark: Connor Baskerville
Production Design: Set Sisters
Wardrobe: Amanda Bird
Make up: Nathalie Abensur and Ella Tanner
Vet 1: Hayley Johnston
Vet 2: Jessica Tattersall
Animal Hander: Rob Louth & Animals UK
Animal Hander: Donna Lloyd c / o Animals UK
Animal Hander: Jill Clark c / o Animals UK
Animal Hander: Cerys Clark c / o Animals UK
Sheep Legend and Wool Washer: Helen Stow
Editor: Russell Oxenden
Sound Studio: Jungle Studios
Sound Design: Ben Leeves
Post Production: Absolute Post
Post Producers: Jenna Noury, Rose Crisp, Yasmin Tilly, Mary Musasa
Colourist: Juliette Wileman
Flame Artist: Antonio Jimenez
Nuke Artist: Tommy Coulter-Liston
Title Design: Lorenzo Fruzza
News Report Design: Luke Remon, Morgan Shipley, Sam Adams
Storyboard Artist: Jonny Meakin
Photographer: Taha Izzi
Property Management: First Option, thanks to Lisa Miller and Matt Miller
Insurance: MAKonLine Ubezpieczenia in association with CIRCLES Group
Bus Provided by: The London Bus Company courtesy of Mike
Thanks to: Everyone at Papaya Young Creators, Havas Studios, Absolute and Jungle, Helen Stow and everyone at Mount Lodge Farm, Billy Boy and Nanny Pat, Leah Joyce, Samuel Bennetts, Simon Allinson, Fran Ellis, Hannah Levy, JJ Keith, Jack Rundle, Steve Smith, Benedict Spence, Guy Manwaring, Sye Allen, Thomas Worthington, Jonas Blanchard
If you enjoyed this article, you can subscribe for free to our weekly email alert and receive a regular curation of the best creative campaigns by creatives themselves.