Did Harvester's 35th birthday trigger a mid-life identity crisis for the brand?

Background
A trip to the local Harvester was a big deal to me as a child of the 80s living out in the regions. The endless salad bar with its array of gloopy dressings, magical sprinklings of bacon bits and a flamboyant sundae that once later reappeared on the hard shoulder of the A27.
There was no quinoa, avo on sourdough or skinny flat whites. Hummus wasn't even a thing yet. The beige accent dishes weren't Instagram ready. But it felt welcoming and wholesome albeit in a bland, mediocre way – like Coldplay or Pierce Brosnan as James Bond. Alan Partridge was a fan.

This year, Harvester marks its milestone 35th birthday and times have really changed. The menu has been 'funked up' with a freakshake – served in the ubiquitous hipster-friendly jam jar – and a new ad campaign launched in July. 'Sneaky Harvester' attempts to lure the Nando's crowd away from the high street down an A road and into this British cultural cul-de-sac of yesteryear.

The Big Idea
Faced with an anniversary, many brands go down the misty-eyed heritage route, but not Harvester. Like Poochie in The Simpsons, the brand decided it was time to get down with 'youth culture'. How? By taking a large portion of inspiration from the 'cheeky Nando's' meme and trying to create 'a thing that goes viral'.
According to Harvester's website, the big idea behind the campaign – comprising VOD (video on demand), radio and social – was born from genuine insight gathered by social listening. This research uncovered a 'worrying phenomenon' whereby Harvester fans were taking to social media to vent their Harvester FOMO (Fear of missing out) when discovering friends and family had made a trip there without them.

In order to become a thing with lolz you need a snappy hashtag so this phenomenon has been dubbed #SneakyHarvester. The creative taps into the true crime genre; focusing on some of the 'victims' of '35 years of betrayal' – using a combination of fake 'live' footage and social media posts to bring the idea to life.

Before I go on we should address the chicken in the room. Yes; 'sneaky' does rhyme with 'cheeky'. Yes; the phrase also frames a Harvester meal as a guilty pleasure. What I can't quite work out is whether this campaign is designed to be a light-hearted parody of meme culture and FOMO? After all, why would any parent go to elaborate lengths to sneak out for a burger anywhere as reassuringly unspectacular and relatively inexpensive as a Harvester? And why would a teenager feel aggrieved about missing out on yet another family meal when they're engrossed in their third consecutive hour on Fortnite with a Dominos and a doobie?

Like watching your dad flirting with one of your friends it just all feels a bit wrong. But it's definitely stirred up debate on social, with a handful of Harvester fans praising the ad's great humour and the haters lampooning the brand for trying to be trendy.

What They Did
The main activation is a series of two-minute, 40-second and teaser-length, faux-authentic films revealing these 'acts of betrayal' through fake news reports, interviews with victims and a psychology expert designed to dramatize the Sneaky Harvester phenomenon.
Seeded through VOD and social media, the campaign is also supported through a Global Radio promotion offering listeners £2,000 for sharing the sneaky behavior they've experienced from their loved ones. From being cropped out of an Insta pic to your partner finishing your favourite box set without you; these are the worse types of acts of betrayal for a modern audience because Harvester is a modern brand.
The campaign also comprises a series of social media assets featuring people 'at risk' from a #SneakyHarvester. For example, a gym bunny 'putting gains before mains' and a Love Island addict having to choose between her beloved show or a trip to Harvester.

For me, the campaign needs a lot of explaining to make sense and the more it needs explaining the more the integrity of the insight is undermined. No one I've spoken to gets it the way you do when a campaign is built on a genuine consumer truth. This could be a deliberate 'fake news' strategy to simply get people talking about the brand, in which case the very fact that I've written this piece is testimony to the campaign's success. Alternatively, the campaign is a misguided attempt to grab the attention of a younger audience by speaking in their language.
Review
Memes can evolve overnight or over a number of years and it's perhaps too early to judge whether #SneakyHarvester will take off.
The exact origin of 'cheeky Nando's' is unclear. It seems to have gained traction around 2011 with Buzy Ray uploading a hip hop track to SoundCloud in response to the phrase's use on Insta and Snapchat. By 2015 cheeky Nando's had spread like hot peri peri sauce across America whilst in the UK the term had – by then – become synonymous with mainstream lad culture. Any cool cultural currency the term once had was sucked from its bone like meat from a chicken wing, but today cheeky Nando's is still used organically without a penny of marketing spend. Why? Because – like most phrases that become part of popular vernacular it ascended from real people in real life, not an advertising agency.
I'm not doubting that the insight behind Sneaky Harvester was real, but I find the notion that this is a bonafide phenomenon as hard to swallow as a one of its crusty rolls. The younger audience Harvester is trying to appeal to are motivated by brand authenticity and emotional DNA. To me, the campaign – whether a parody or real – just doesn't stay true to the role Harvester plays in British culture. Unless, as I say, that is exactly the point.
In my opinion this is a missed opportunity. Amongst my peers (as backed up by a scientifically spurious straw poll of my mates) there's a lot of latent love for Harvester. More than just a restaurant, it symbolises simpler times before Trump, Brexit and pesto. It evokes memories of Bonnie Tyler on the radio and a respite from a long boring car journey to see our Great Aunty Sandra. If Harvester wanted to spark real emotions it needed only to look inside and draw on the emotional power of nostalgia around the brand via social media – a brilliant vehicle to trigger and share memories.
This wouldn't necessarily jar with the desire to reposition Harvester as a modern dining destination because the younger generation take multiple cultural cues from the eighties and nineties – from the renaissance of old-skool garage to the revival of Champion, the huge popularity of Stranger Things to the resurgence of Angel Delight. There is a collective desire to go back to 'the good old days' which Harvester could have dined out on.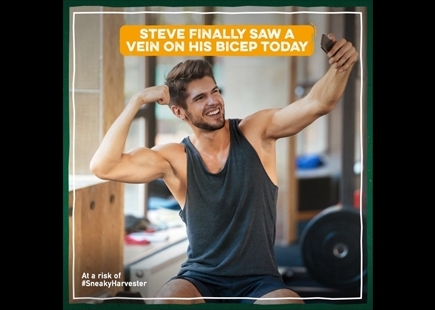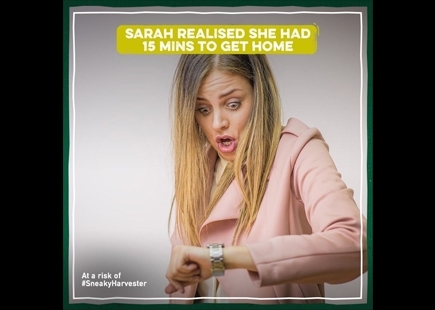 In Hindsight
There's nothing wrong with borrowing from other brands; but as self-help guru Tim Ferris says "no one can steal execution or passion". Rather than sticking on contemporary cultural tropes and trends in an attempt to modernize the brand, the 35th anniversary offered Harvester a golden opportunity to tap into the power of nostalgia and remind people its place in the evolution of British dining culture.
Browsing Facebook, the brand's ambition to create a new irreverent tone of voice doesn't translate into community management when replying to customer complaints. The notion that Harvester FOMO is a plausible thing hangs on the dining experience being decent enough and no amount of cheeky puns and emojis will make up for 'powdered scrambled egg' (a recent complaint on Facebook).

For a campaign that aims to appeal to a younger audience, the media strategy needs a stronger digital focus – a quick bit of research shows minimal conversation around #SneakyHarvester in July. It will be interesting to see how and whether #SneakyHarvester gains organic traction – perhaps it's too early to say but I couldn't find much so far.
In an article for Vice earlier this year (yes Harvester has enough ironic cultural currency to make it into Vice) a spokesperson said that the brand "has remained largely true to its 1983 roots" so why not embrace this era's rich (albeit kitsch) cultural relevance for the younger audience as well as the oldies like me? This could be as tactical as bringing back 1983 prices and original menu favourites for a limited period or encouraging people to share old photos of early Harvester experiences in all their 80s-tastic glory.
Fresh thinking is said to be at the heart of Harvester's new proposition, but it needs to be applied to the dining experience with rigor before the comms. Stock up on the salad bar, make customers feel welcome, leave the jam jars in Shoreditch, serve well-cooked homely food and celebrate – don't shy away from – the warm glow of nostalgia.

If – as the new ad says – it's 'only a burger' make it a burger so damn good you could at least imagine you might do something sneaky to get your hands on one. Then let the hashtags, memes and FOMO follow and – as Shalamar sang in the BRILLIANT 1995 ad – make a trip to Harvester a night to remember.

If you enjoyed this article, you can subscribe for free to our weekly email alert and receive a regular curation of the best creative campaigns by creatives themselves.