How HSBC's 'We are not an island' campaign is brave and true to the brand

The Background
HSBC has kicked off this year with a new outdoor and press campaign 'we are not an island'.
It looks great – modern, bold, arresting (ie, not very bank-y) – but its content is what provides the punch, positively advocating global citizenship.
The Big Idea
As you'd expect it's a simple notion – the creative playfully tells of all the ways in which we're part of something bigger.
'We are not an island. We are a Colombian coffee drinking, American movie watching, Swedish flat-pack assembling, Korean tablet tapping, Belgian striker supporting, Dutch beer cheers-ing, tikka masala eating, wonderful little lump of land in the middle of the sea. We are part of something far, far bigger'.
Beautiful.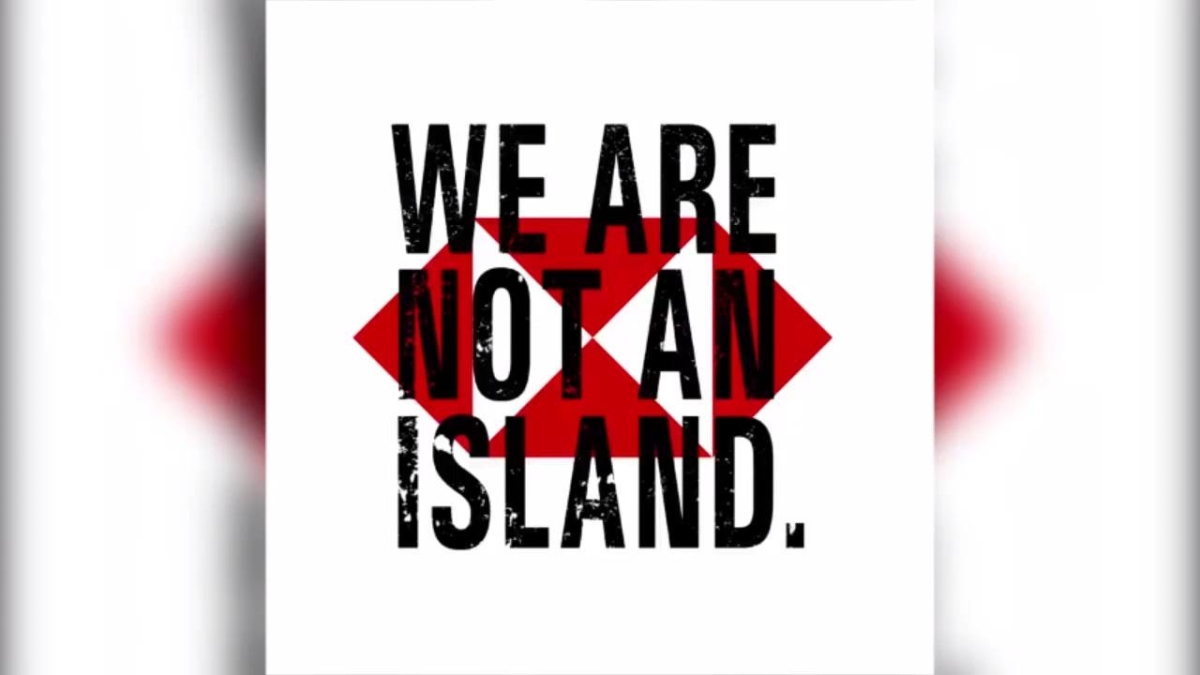 What They Did
The core creative is supported by regional variants, playing into people's personal pride in their own city, and that city's place in the world.
The work builds upon the film Global Citizen – which was released last year – starring comedian and travel presenter Richard Ayoade (a good choice I think – representing a modern and diverse Britain).
The short film emphasises the international aspects of everyday British life and was the first time we saw the tagline switch from 'The World's Local Bank' to 'Together We Thrive'.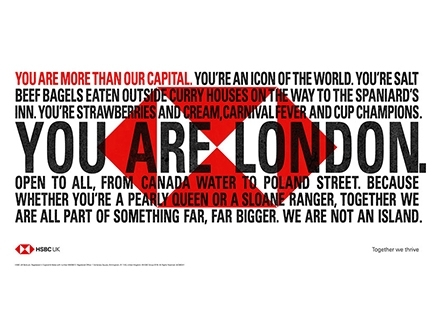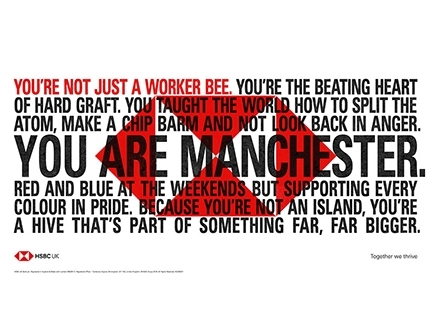 The Review
I LOVE THIS. It's so brave for a bank to release this kind of work whilst the polarising shadow of Brexit looms so large. I like it because it's true to HSBC – since 2011 (when 'The world's local bank' was launched) it has played heavily on its international credentials, so to suddenly shy away from this would have been odd. Especially as it's headquartered here.
But I would have cynically expected it to take a more muted stance, to avoid obvious politicisation. Instead the marketing team has actively leant into the chaos. Proudly reinforcing what it has always advocated.
The campaign resulted in an immediate slew of social media commentary and high-profile media coverage over its political message – and the bank was quick to justify itself: 'With the "We are not an island" poster we are reinforcing our strong belief that the things that make us quintessentially British are the things that make us inescapably international'.
It also stated that the campaign is 'not about Brexit'. Hmmmmm. I've also read somewhere that it's meant to be neither for or against Brexit, but rather 'anti-isolationist'.
But I'm not sure that's how it's been received. Regardless, personally I like that it's uniting – no one can deny the simple truths that the creative presents.

Personally, I love brands that know who they are and get that to be truly loved you're also going to be truly hated. Nike has this licked. With Colin Kaepernick it split the US of A right down the middle. But ultimately those that loved Nike now love it more and they've evolved from being just fans to being advocates; standing behind a brand that actively reflects them as people. What HSBC has done is arguably braver. This is financial services not sports and streetwear; a category we look to for stability and security.
However, HSBC is a brand that's been experiencing declining brand health for some time – the inevitable aftermath of the financial crisis, even though it was one of the few that didn't need a bail out. Set that also against the explosion of new banks in the last few years and it's clear that HSBC needed something disruptive, which it has delivered.

So hats off to you. To the agency that devised it and the clients who had the balls to see it through.
In Hindsight
In Hindsight – nothing. Keep up the good work. There's not much that would push me out of inertia to leave the bank I've been with for over 30 years.
But for the first time – ever – I'm teetering.
If you enjoyed this article, you can subscribe for free to our weekly email alert and receive a regular curation of the best creative campaigns by creatives themselves.