Innocent launches 'Little Drinks, Big Dreams' to show how a little collective action can drive big change

A campaign by Mother London
innocent drinks launches Little Drinks, Big Dreams – a new brand platform designed to connect a new generation of drinkers with its ongoing mission to make great-tasting healthy drinks, using the best of nature and with no added sugar, that help people and the planet.
In its new TV ad, created by Mother London, launched across Europe on 19th May, innocent shows audiences how its big dream to help the planet, and people live well and die old, and for communities to thrive has never been more relevant. innocent's Little Drinks, Big Dreams campaign hopes to inspire audiences to take action, no matter how small, for a healthy, happier planet, showing how collective, positive action can drive big change.
The scene is set through a cheerily ironic song accompanied by simple animations – created in collaboration with artist and illustrator Matt Blease – designed to be both entertaining and thought-provoking. The storyline acknowledges while the need for change is becoming more urgent, innocent has the ability to inspire people and businesses to play their part in a more positive future.
The simple, gently self-mocking film sets out to show how environmental awareness needn't be a chore.
It tells the story of a man and his aquatic sidekick, Otter, as their boat is hijacked by revellers so intent on celebrating the mess they are making that they don't see a giant waterfall approaching. Everyone sings gleefully about "messing up the planet" until they all find themselves facing certain doom and hanging off the edge of a cliff. This stark metaphor for planetary peril is allayed swiftly when the loveable Otter and his ukulele signal a change in the song. The second half of the film takes us to a better place where the characters change their ways and "get fixing up the planet!".
The brand's new visual identity – as seen in the TV ad – is accompanied by a poster campaign that shares more of innocent's big dreams and highlights how the little drinks company is achieving them. This includes giving 10% of profits to charity to help combat world hunger and being a good business partner to nature by committing to be fully carbon neutral before 2030, as well as initiatives to safeguard biodiversity across thousands of hectares of farmland worldwide – and never, ever adding sugar to its products.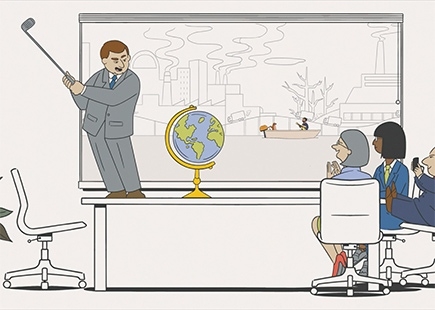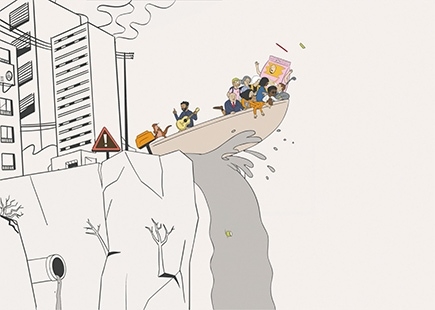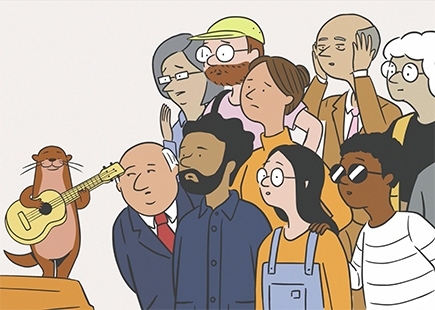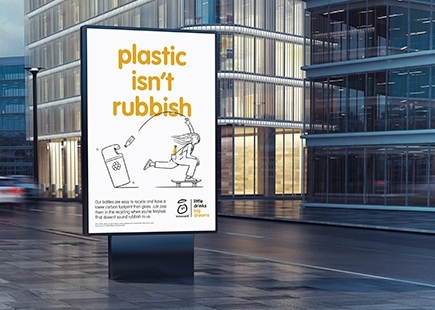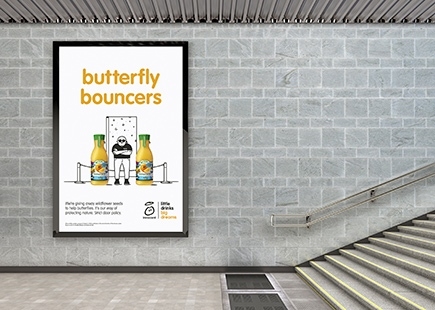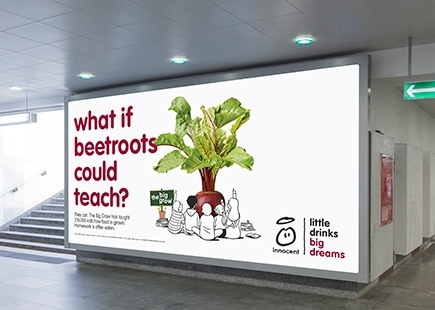 Douglas Lamont, CEO of innocent drinks, said: "The launch of innocent's Little Drinks, Big Dreams is an important moment for us. It gives us a platform to talk about the many fantastic initiatives within the company – from carbon reduction to recycling, sustainable farming and helping people and communities – sharing information and what we've learnt along the way and hopefully inspiring others.
"This year is shaping up to be a major opportunity for UK businesses to look beyond the pandemic towards the sort of world we want for ourselves and future generations. innocent is determined to play its part in that conversation – whether through our role in the Better Business Act coalition, or our ongoing B-Corp commitment. innocent's Little Drinks, Big Dreams is both a marker of where we stand and a way of showing where we're going."
Kirsty Hunter, group marketing director of innocent drinks, said: "Since we launched in 1998, we've believed in doing business the right way. And we know our drinkers are just like us. They're optimists who believe that collective action can help our planet and communities thrive.
"This year we wanted to continue to inspire people to take those small actions that can make a big difference. At a time where our world is facing so many challenges, it felt like the right time to shout about what we do. Little Drinks, Big Dreams reminds audiences that they too can be recycling activists and climate changers alongside us. By talking about our products and our mission as one, we hope we can raise a smile and spark action, no matter how small."
Credits
CREATIVE
Creative agency: Mother
Strategy: Mother
Creative: Mother
TV
Production Co: Blink
Director: Alex Grigg
Illustrator: Matt Blease @ Breed London
EP: Bart Yates
Head of Business Dev: Clive Olamiju
Producer: Melissa Venet
Sound Studio: Wave
Engineer: Jack Sedgwick
Producer: Beth Tomblin
Music Company: Pitch & Sync
Co-Founder: Simon Robinson
Head of Music: Rebecca Leon
Sound Designer: Ben Hauke
Post House: Envy
Producer: Rebecca Townsend
Production Consultancy: Murphy Cobb
Production Consultant: Jonathan Smith
Transcreation Agency: Creative Drive
Managing Producer: Peter Burgess
Account Director: Nadine Hagenow
Producer: Sinead O'Malley
Delivery Agency: BEAM
OOH
Illustrator: Matt Blease @ Breed London
Photography: Colin Campbell at Gill Turner
Post for Retouching and DOOH Animations: Wellcom

If you enjoyed this article, you can subscribe for free to our weekly email alert and receive a regular curation of the best creative campaigns by creatives themselves.