Iris and BRITA enlist Joanna Lumley to help the nation with 'Green Guilt' one step at a time

Iris and BRITA launch an integrated campaign starring Joanna Lumley.
The campaign demonstrates the extent of Britain's 'green guilt' and aims to help the nation make small changes that can make them feel good, one sustainable step at a time.
Assets include a collection of photographs shot by Mary McCartney, a mini comedy series to dramatise the issue in a way that encourages positive action, and The Greening Good Guide.
Making sustainable changes at home.
To ensure the campaign reached broad target audience groups, Iris collaborated with influencers to document their experiences of making sustainable changes at home.
A partnership with Good Housekeeping invites consumers to share their questions with Joanna as part of a live Q&A to help them achieve 'Green Good' at home.

Iris and BRITA conducted new research* uncovering the nation's feelings surrounding 'green guilt' – with over half (57%) of Brits saying that they could be doing more to reduce their environmental footprint at home.
The campaign is based on the insight that although 74% of Brits care about the planet and are motivated to make environmentally friendly choices, over one in four (28%) Brits experience 'green guilt' due to their non-sustainable lifestyle habits.
Excessive single-use plastic (53%), including buying plastic bottled water and food packaged in plastic, was named as the nation's biggest green guilt, - the feeling experienced when we could and should be doing more to help preserve the environment.
'Get your green on'
To support the launch of the campaign and visualise the growing issue surrounding household plastic waste, photographer Mary McCartney captured images of Joanna surrounded by plastic waste at a waste facility, dressed entirely in sustainable clothing.
The 'Greening Good Guide', encourages the nation to 'Get your green on'.
The guide includes 10 resolutions to help Brits get over their green guilt and make small changes to in their home, including; keeping an eye electricity usage, finding alternatives to single-use plastic, recycling smarter and ending that plastic bottled water habit.
Extending the campaign, Joanna Lumley stars in a paid social campaign where her role of sustainability agony aunt is brought to life in comedic sketches. In one scene we see a serene Joanna chanting 'Reduce. Reuse. Recycle.', before reminding the viewer to rethink their single-use plastic (SUP) consumption. In another tongue-in-cheek clip she takes on the role of couple's therapist, coaching a guilty pair on 'doing it' - recycling - more often. The content will be going live on BRITA's social channels and will be supported by paid media.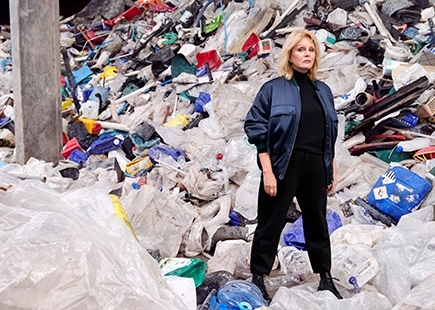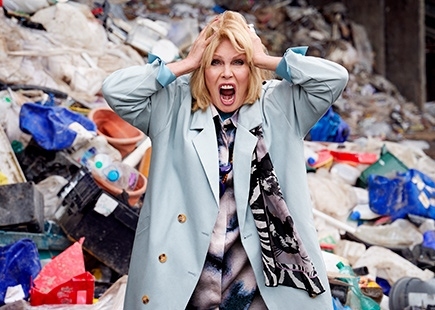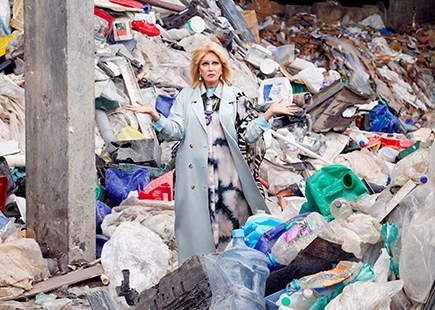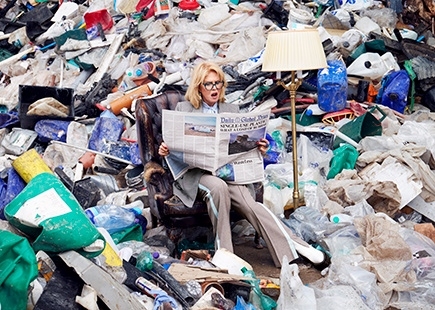 BRITA ambassador, Joanna Lumley, said: "There is no reason for anybody to be hiding their green guilt. Even the smallest household changes can have the biggest impact. From making and mending clothes, to swapping bottled water to a BRITA filter to get great tasting filtered water from the tap, I want to urge everyone to read the BRITA 10 Steps to Greening Good Guide and do their bit to make a small change which will make a big difference – you'll feel great for it!"
Rebecca Widdowson, marketing director for BRITA UK commented: "At BRITA, we are committed to tackling the issue of single-use plastic and our mission is to encourage people to be a part of the positive change that will make a difference. Our challenge to Iris was to find a creative way to showcase how BRITA can help make people to make more eco-friendly choices at home. However, we wanted to do this in a way that didn't place pressure on people or pile on any more feelings of guilt – we wanted Iris to offer tangible solutions that were simple to undertake and would make people feel positive. Amidst the global crisis, bringing people together and providing a helping hand was even more important."
Ross Taylor, creative director, Iris added: "Green guilt is real and can become a blocker to people, making it harder to make environmentally conscious decisions, especially when it comes to single-use plastic. We want to face it head on by letting people know that there's easy ways to live more sustainably at home. Joanna's effortless charm and charisma was the perfect vehicle for our message."

If you enjoyed this article, you can subscribe for free to our weekly email alert and receive a regular curation of the best creative campaigns by creatives themselves.