Is political advertising creative?

'There are only two political campaigns—you either want change or you don't".
Those are the words of Hal Riney, American ad legend and writer of the campaign for Ronald Reagan's re-election. His commercial (voiced over by himself by the way) was a masterpiece in the tricky art of trying to get people to carry on as they are.

It's a beautiful balance of the rational and the emotional.
Reagan and Riney knew the power of emotion. In fact, Reagan teared up when he first saw the ads.
Ironically the ad actually peppers you with stats but does it in such a wonderfully warm, home-spun way that you can't help but be won over.

Asking folk to stay the course is hard. 'Change' on the other hand is, by its nature, an easier and simpler sell.
I worked on the Labour election of 1997.
Creatively it wasn't the most inspiring chapter of my career, but there was a simple reason for that. Tony Blair was a shoo-in and all we had to do was not cock it up. (That election did however help Clive Pickering and I get a job at BMPDDB, and for that, I am eternally grateful). The term 'Britain Deserves Better (or variations of) was plastered everywhere.

It wasn't 'Take Back Control' but it didn't need to be. Britain had had enough, after many years of Tory Government, and was desperate for change.
I read that in recent times no other PM had been given the opportunity to make a lasting positive change as Blair had. It's a little sad that his leadership never delivered on that.
One random point to remember is that if you want to do 'knocking ads' (loosely defined as advertising where "the advertised brand is explicitly compared with a competing brand, and the comparison is obvious to the audience) then you'll probably need to work for the Tories.
'Labour's Not Working', 'Labour's Tax Bombshell' and 'Labour's Policy on Arms' are just a few of the brilliant posters that made Britons stop and think.
By and large 'knocking ads' are just not the thing Labour do.
We thought we had got one away for Labour when Michael 'Dracula' Howard was the leader of the opposition. Even his own party said there was 'something of the night about him.'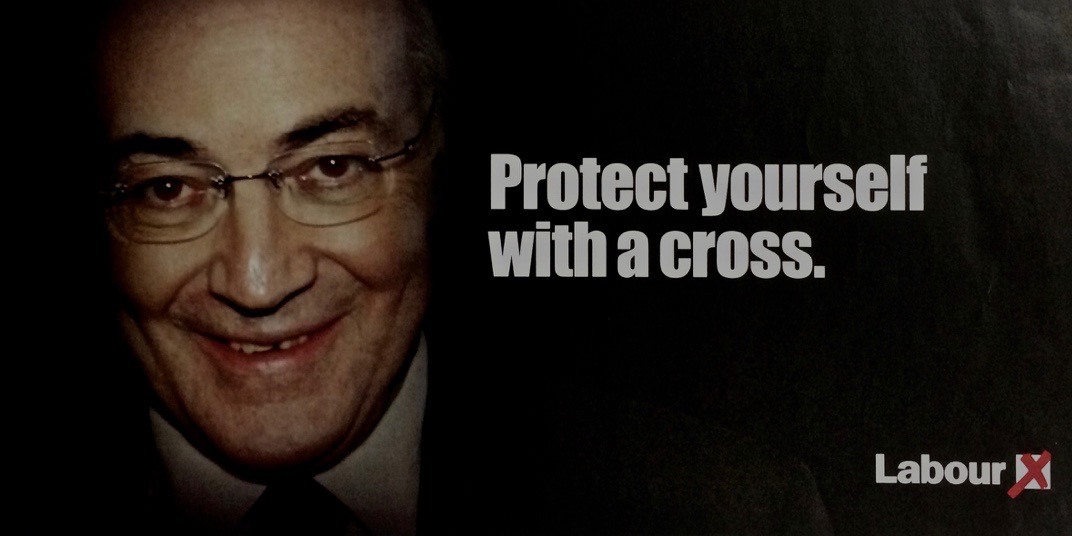 Despite making the PM roar with laughter it didn't make it through.
The ad that ran before ours was deemed anti-Semitic so the appetite for knocking ads evaporated.

But the knocking ad to end all knocking ads came in the US when Paul Gosar ran for Congress.
No less than six of his own family members appeared in an ad supporting his opponent.

Working on Ken Livingstone's campaign for re-election for London Mayor in 2011 against Boris Johnson.
Ken was clearly the best man to run London but BJ needed a stepping-stone to No10. BJ had the support of all the newspapers, Ken didn't even have the support of his own party! If you remember, Blair wanted Frank Dobson to be the Labour candidate.
It was while campaigning for Ken that we clearly touched an emotional nerve.
We created a party political broadcast so emotional it made our OWN candidate cry at the press conference.
The measure of our success could not only be measured in how we closed the points gap in the polls, but also in how ferocious the attack was from BJ's campaign. Through the press, they sought to undermine the validity of our message.

We knew it was going to be tough because if anyone knows how to harness the power of emotion it's BJ. Reports were already starting to surface about his indiscretions but no one cared. Like Trump in the US, the electorate loved his flaws. And BJ made them laugh.
Annoyingly, a real pummelling by Eddie Mair on the Andrew Marr show only came out after the election, but I'm not sure it would have made a difference.
It's still worth a watch though…

The Brexit Bus was a really good example of the emotional and rational working together.
'Let's take the money (350 million freakin' quid!) we currently send to the Johnny EU and give it to the NHS.' Powerful stuff but sadly not true.
The Change campaigns in the US and the UK claimed to 'Make America Great Again' or 'Take Back Control.' Both nostalgically hark back to an era far better than where we are right now. Both imply something has been lost or taken from us. Both pushing back against something. It's simple, emotive stuff that makes some fearful. Of all the imagery used around Brexit, the most truthful one for me is this one: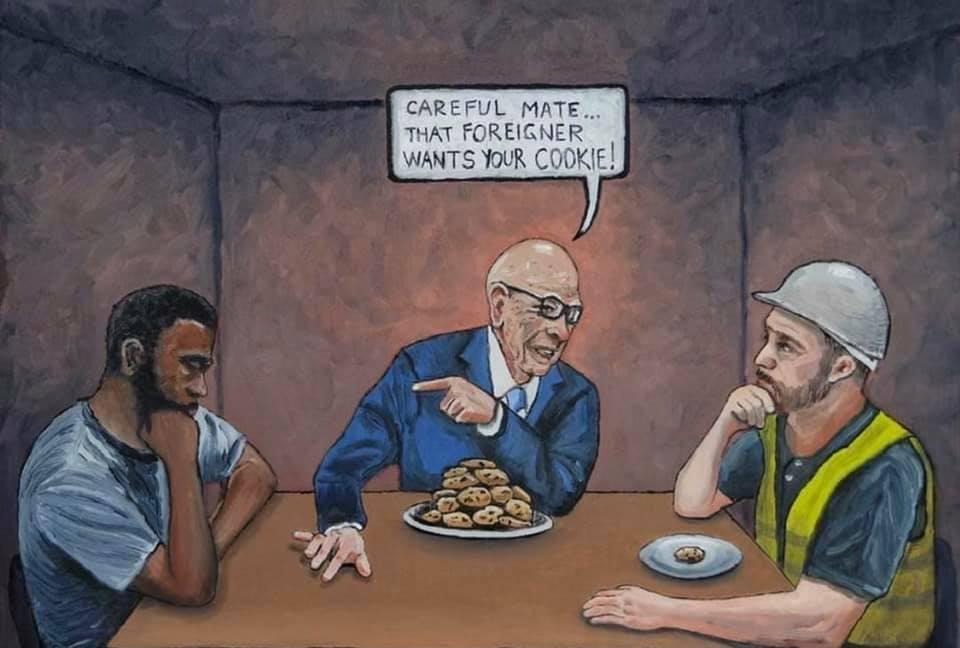 CREDIT: Artwork by Denis Lushch


Brexit was 'divide and conquer', pure and simple.

Immigration, actually, has made this country stronger and has been extremely beneficial for the economy. And let's not forget that in our darkest hour it was with the help of Europeans that we won the Battle of Britain. The then Commander-in-Chief of Fighter Command, Air Chief Marshal Sir Hugh Dowding, was very clear on the contribution of the Polish Fighter Pilots—'Had it not been for the magnificent work of the Polish squadrons and their unsurpassed gallantry, I hesitate to say that the outcome of battle would have been the same'.
Yet we voted to leave. Convinced by tabloids and ads that played on our darkest fears.
I have to admit that for the first time in my life I'm a little embarrassed and ashamed to be a Brit.
There, I've said it.

Right now, I would love to see change and some integrity.
For change to happen we need an opposition leader to connect with the public on an emotional level. Sir Kier Starmer can argue well at the dispatch box, but I've yet to see that emotional connection with the public.
I hope he and Labour can find a way to really challenge for power.
Right now, the MP I like and respect most is David Lammy. Here he is calling out Brexit.

I must finish with the political ad that still stands out today.
It is the brilliant GLC ad (Greater London Council) written by Mike Durban and Lansley Henry, and created by ad agency Boase Massimi Pollitt Univas Partnership Limited.
The background, if you weren't aware, is that Livingstone's high-spend socialist policies put the GLC in direct conflict with the Conservative government. Livingstone antagonised Margaret Thatcher in a number of ways, including the display of posters showing the number of Britain's unemployed directly opposite Parliament. His aim was to retain the GLC and he resigned when it was abolished.
Unarguable logic.
An ad for democracy itself, playing off the polarizing nature of Livingstone at that time.

Even voters who couldn't stand him couldn't dispute the logic.
That's it. I'm off into the garden for some cheese & wine.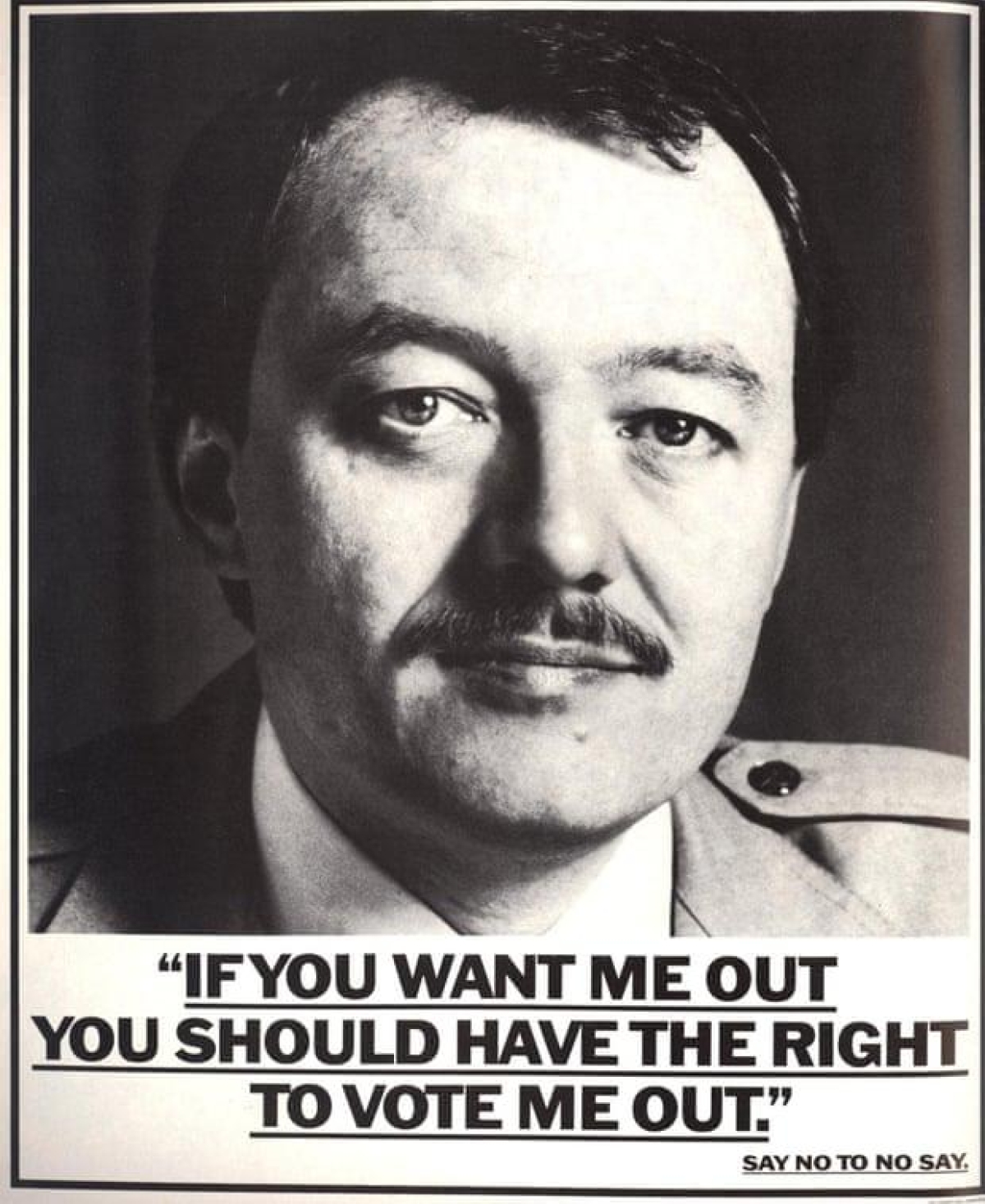 If you enjoyed this article, you can subscribe for free to our weekly email alert and receive a regular curation of the best creative campaigns by creatives themselves.