It's a slam dunk for Bud in this emotional film starring the NBA's Dwyane Wade
The Background
Getting men to connect with anything on an emotional level can be hard (allegedly) – and for brands trying to do it then it's a heck of a lot harder.
So brands looking to hawk their wares to men using the whole emotion thing have to be creative.
What makes men feel emotional?
Well it's something that we're still working on as a gender.
While men work that out though, there are a few time-honoured triggers that marketers use to get men across the globe to exclaim: "I'm not crying, I've just got something in my eye" and these are: sports montages, triumph over adversity, the underdog winning and death/retirement.
Emotion is very much at the forefront of Bud's latest campaign 'This Bud's For 3'.
Big Idea
Dwyane Wade, widely regarded as one of the best basketball players of all time, recently announced his retirement from the NBA and Budweiser decided to create a film to celebrate his career by celebrating Wade's achievements off the field.
Oh, and they also used all of the male emotion tropes above to do so i.e. montage, triumph over adversity, the underdog coming out on top and retirement.
What They Did
Budweiser paid tribute to the basketball great by creating a tear-jerker of a short film celebrating Wade's impact on people's lives off the field.
To put it simply, they created an American sporting version of 'This Is Your Life'.
The ad focused on the theme of swapping shirts, something that Wade has been doing with players he's played with and against throughout his last season in the sport.
The premise being that Bud surprises the player with five shirts to add to his collection.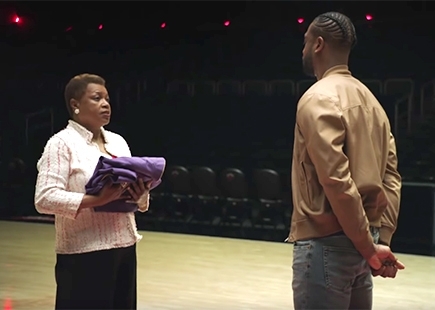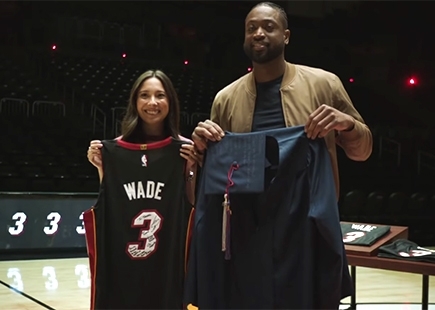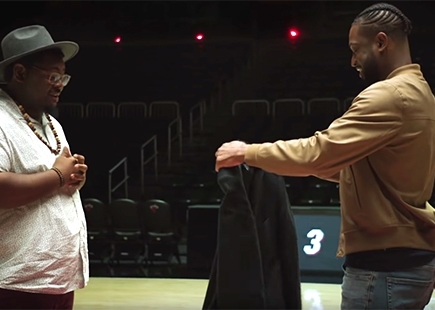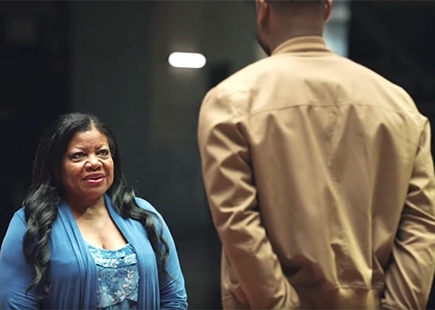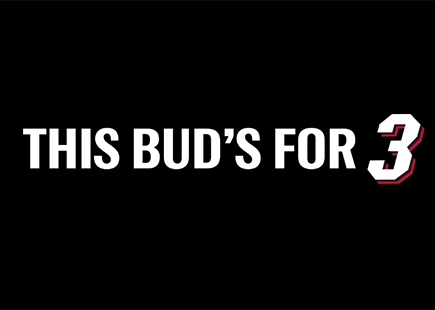 The Review
This is a proper tear-jerker and you don't even need to know much about Dwyane Wade's history to find the advert very powerful.
The set-up of the ad is Dwyane Wade standing in the middle of an empty basketball stadium waiting to receive 5 last jerseys to complete his collection - but he doesn't know who will deliver them.
A bit like a more awake Ebenezer Scrooge, Wade is visited by 5 people from his past whose life he has changed in some way. Luckily it's nowhere near as bad as I've made it sound!
His reaction to and interactions with these people are the heart of what makes this campaign so impactful.
He meets a young college graduate who wouldn't have been able to go to college without financial support from his scholarship fund who gifts him her graduation gown, a young man from a disadvantaged background he inspired, the sister of the victim of the Parkland shooting who's family he supported in their hour of need and most emotionally of all he's visited by his mother, a former addict who's life he helped turnaround and even bought a church for.
It's hard to write about this ad without tearing up slightly – particularly given these reunions are accompanied by a stirring soundtrack.
It's genuinely uplifting in the current climate of daily bad news to see campaigns championing human decency and people who use their wealth to make meaningful change to their communities.
In Hindsight
After crying into my laptop for several minutes, my overriding emotion was confusion.
Why did Bud make this ad?
If Nike had created this advert, then it would make sense – Nike has a strong connection to athletes who lead the way on and off the field through their play and their activism – see last year's Colin Kaepernick campaign. But Bud? They don't really have the same association and Wade's success has nothing to do with the beer-flavoured beverage they're plying.
It's an incredible piece of short form that's masquerading as a beer advert and adding on a hashtag (#ThisBud'sForThree) at the end and a logo doesn't really do enough to promote Bud's role in Wade's career and retirement.
It's outstanding content but it does grate slightly that Bud is piggybacking on Wade's incredible achievements to sell beer to dudes. For the campaign to feel slightly more authentic, then maybe Bud should have considered donating to one of Wade's charity initiatives to help continue the work he started.
It's a great film while you watch it but after you're done it just leaves you feeling a bit empty – a bit like drinking a bottle of Bud really.
If you enjoyed this article, you can subscribe for free to our weekly email alert and receive a regular curation of the best creative campaigns by creatives themselves.