Bloom & Wild says it's over for red roses on Valentine's Day

A campaign by Other
Building on their 'Care Wildly' brand platform, and reflecting the thought and care their customers put into every bouquet they send, Bloom & Wild are launching a campaign to announce its decision not to sell red roses this Valentine's Day. Developed by Other it will run in national press and social media up to 14th February.
Many people believe that a red rose is the symbol of love and affection, yet Bloom & Wild's research suggests they're not actually that well received. A majority of the population think that red roses are cliche (58%) and an even bigger proportion would prefer to receive a more thoughtful gift than a bloom of red roses on Valentine's Day (78%).
Bloom & Wild believes that real love isn't all red roses, it's a more complex and messy bouquet than that. Bloom & Wild's customers don't want to buy into cliches, so it isn't selling them. This is the first time the Bloom & Wild won't sell red roses on Valentine's Day.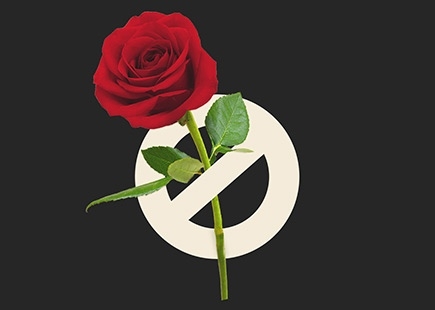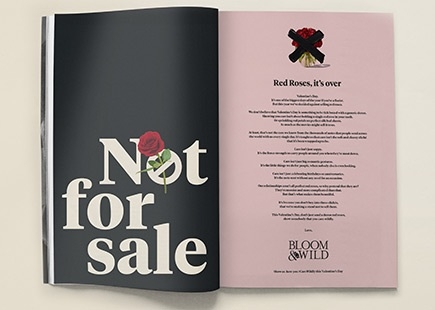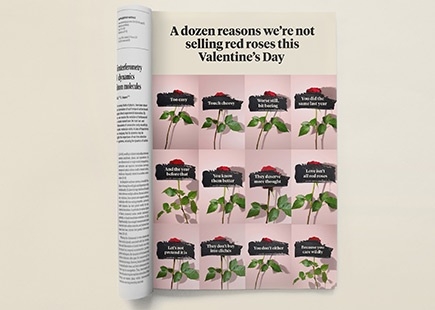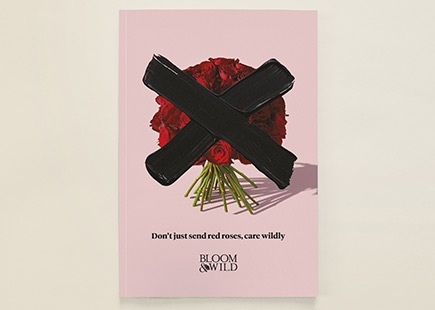 Charlotte Langley, brand and communications director at Bloom & Wild commented: "Many of us want to mark Valentine's Day with the people we love. But it's hard to do that in a thoughtful way when it's become a day steeped in cliché. Valentine's Day shouldn't be about ticking a box with a generic dozen red roses, it should be about saying 'I know you' and showing how wildly you care. And with our unique range of bouquets, we're helping people to do just that."
Kyle Harman-Turner, from Other added: "My partner, Rebecca, is a wonderfully smart, kind and inspiring woman - but if I bought her a dozen red roses, I know she'd laugh at me. Red roses have become a cliched symbol of thoughtlessness. All anybody really wants is to know that we care wildly for them, and there are many more thoughtful ways to do that."
Credits
Brand: Bloom & Wild
Campaign: Not for sale
Agency: Other
Media: Goodstuff
Notes
Research is based on a Bloom & Wild survey of 1,000 nationally representative UK men and women between the ages 18 -64 [January 2021]