ITV's Drama vs Reality returns with an epic helicopter shoot-out between actor Richie Campbell and reality queen Ferne McCann

ITV's new brand campaign, 'Drama vs Reality', highlights the drama and reality shows that are available on ITV Hub. The idea behind the series shows stars from drama and reality TV stopping at nothing in the fight for our attention.
In the third instalment of this campaign, we see Grace actor Richie Campbell under the unexpected attack of First Time Mum reality star Ferne McCann.
In these epic fights we see drama collide with reality on our screens. The campaign launched with McDonald and Dodds star Jason Watkins trying to poison Love Island star Kem Cetinay. Followed by Innocent actress Katherine Kelly kidnapping both TOWIE's Pete WicksandBobby Norris in her kitchen cupboard.
New levels of revenge with an epic helicopter gunship fight scene.
We open to Richie on set nervously taking an important phone call regarding an upcoming role for a new drama series. As he begins to walk comfortably through the scene he expresses his excitement and interest. An unexpected interruption occurs from the sky when, just at the worst possible moment for Richie, Ferne flies into shot where she hovers in the distance wearing a hot pink jumpsuit whilst taking aim with a M50 machine gun from a military helicopter.

Ferne screams a battle cry and opens fire on Richie, doing all she can to take him out. Richie takes cover, hiding in bathrooms, breaking through windows and doing his best to escape Ferne's fire, all the while desperately trying to not drop his call.
Reality wins this round. But Richie survives, so perhaps it's a draw… until next time.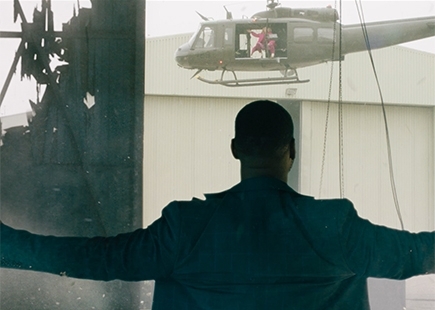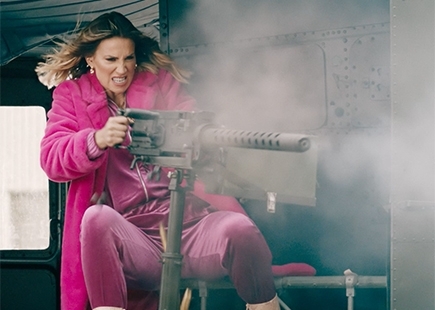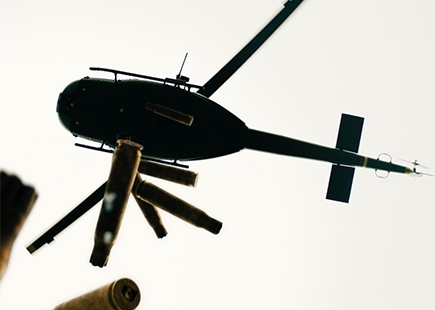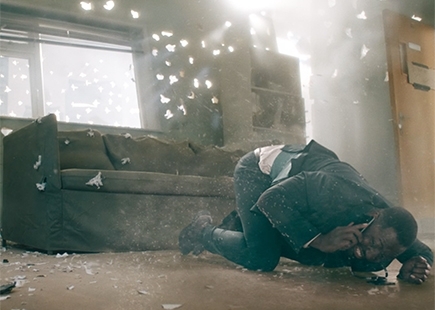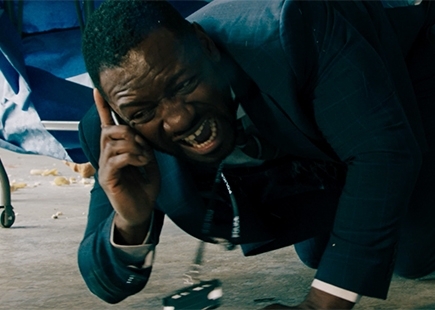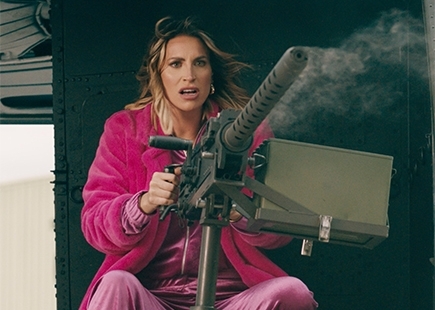 Ferne McCann said: "I loved being a part of this film! What an honour to work with an Oscar winning director and alongside one of ITV's finest actors. I was thrilled to represent reality and bring the drama. No hard feelings Richie—lucky for you my aim was off that day!"
Richie Campbell added: "I'm super proud to be working with ITV. They've always pushed the boundaries to its limits when it comes to Drama. Reality doesn't stand a chance #TeamDrama."
The campaign was created with Uncommon Creative Studio and shot by Oscar-winning Director Tom Hooper (The King's Speech, Les Misérables) whose credits also include the iconic ITV drama Prime Suspect. Alongside cinematographer Barry Ackroyd, whose BAFTA nominated work includes the iconic Green Zone, Jason Bourne and The Big Short, and Terry Needham, the 1st assistant director on Black Hawk Down.

Credits
Campaign Name: The Phone Call. Drama vs Reality
Client: ITV
Creative Studio: Uncommon
Director: Tom Hooper
Production Company: Smuggler
Prod Co Producer: Nick Sutherland Dodd
Executive Producer: Sara Wallace
Managing Director: Fergus Brown
DOP: Barry Ackroyd
Production Designer: Eve Stewart
1st AD: Terry Needham
Editor: Russell Icke
Senior Assistant: Steven Waltham
Offline Executive Producer: Annabel Bennett
Principle Post Production: Rascal Post
Rascal Post EP: James Beck
Rascal Post VFX Supervisor: Barnsley
Rascal Post 2D Team: Brad Wood, Nick Sze, Gareth Brannan, Markus Lundquist, Joe Wreford
Rascal Post 3D: Phil Maddock, Gatis Kurzemnieks.
Rascal Post TK Assist: Dan Levy
Sound Studio: Wave Studios
Sound Designer: Jack Sedgwick
Audio Producer: Ornela Peka
Additional Post Production: Electric Theatre Collective
ETC EP: Magda Krimitsou
ETC Post Production Co-ordinator: Larisa Covaciu
ETC VFX Supervisor: Giles Cheetham
ETC 2D Leads: Taran Spear
ETC 2D Artists: Alberto Pizzocchero, Rich Roberts, Rafa Vormittag, Matt Jackson, Ludvig Hallenius, Kia Coates, Andrius Jurkevicius
ETC 3D Leads: Greg McKneally
ETC 3D Artists: George Savvas, Elliott Holland-Crouch, Jack Powell, Luis Cancio Villalonga, Ogi Vukovic, Robert Reinschedl
ETC Motion GFX: Jamie Child, Steve Gomes
ETC DMP: Dave Gibbons
Digital Intermediate Provided by: Goldcrest Post Production
Digital Colourist: Adam Glasman
Online Editor: Daniel Tomlinson
DI Producer: Jonathan Collard
Director of Post Production: Rob Farris
If you enjoyed this article, you can subscribe for free to our weekly email alert and receive a regular curation of the best creative campaigns by creatives themselves.