Kronenbourg 1664 Blanc and Fold7 introduce 'Good taste with a twist' in global TV campaign

A campaign by Fold7
Fold7 has created a global TV, digital and print campaign for Kronenbourg 1664 Blanc.
It is part of the 'Good Taste with a Twist' campaign launched in June. It underlines the beer's premium positioning and French heritage, making its standout blue bottle the hero.
The 30" film, directed by Stink's Wolfberg, introduces us to 'Le Bar Blanc', immersing us in a world of playful French elegance where surprising things happen. Upon entering the lively Parisian bar, it quickly becomes evident this is no ordinary place; there is a twist. As the waiter arrives with a tray of ice cold 1664 Blanc, a blue lobster cracks open the bottles; and the jazz band's vocalist for the evening? A French bulldog sporting a blue moustache. "Magnifique!", it exclaims.
In a second 30" execution, the twist elevates the experience to new heights. With a nod from the waiter, the barman presses a button and the group's table corkscrews into the air to treat them to a magnificent roof top view of Paris: the best view in the house.
The TV will be supported by a print and digital campaign. Shot by fashion and luxury photographer, Vincent Gapaillard, the work creates a world of stylish, yet slightly elevated beyond the 'real' world, still lives in which friends enjoy Kronenbourg 1664 Blanc's good taste with a twist.
Media was planned and bought by Initiative.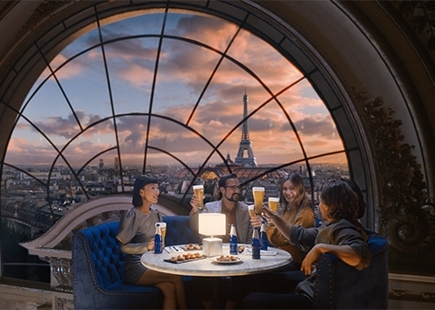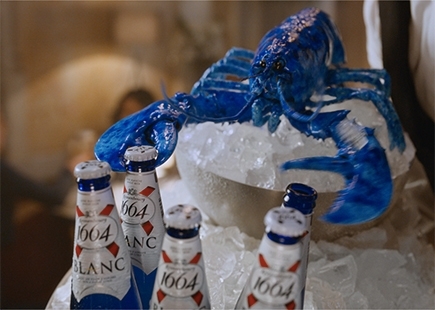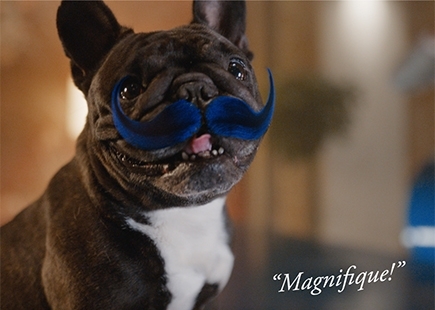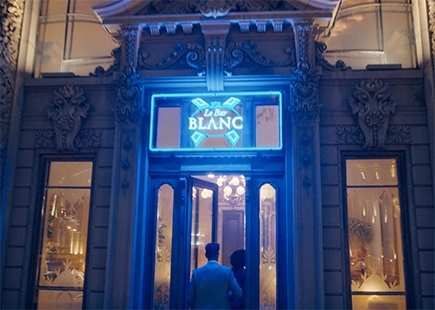 Nikola Maravić, Global Marketing Director 1664 Blanc added: "With this campaign, we are embarking on a new stage in the development of the brand, based on the new communication platform "Good Taste with a Twist". Combining our elegant and playful tone with a contemporary look at French style and heritage, 1664 Blanc will be communicating with consumers in a rather unexpected yet sophisticated way."
Ryan Newey, CCO Fold7 added: "The French are well known for their elegance and flawless good taste, but also an unexpected sense of play in their architecture, fashion and food. The work captures this in a new way, continuing the spirit of playful elegance. It's rare for pitch work to run in normal times, let alone now. We're thrilled we managed to stay true to our vision and make this work happen, even during lockdown."
Credits
Project name: Good taste with a twist
Agency: Fold7
Client: Kronenbourg 1664 Blanc
Client: Nikola Maravic, Global Marketing Director
Chief Creative Officer: Ryan Newey
Creative Directors: Adrian Lim, John Yorke
Art Director: Simon Helm
Creatives: Jo Taylor, Kiran Strickland, Verity Fine Hosken
Business Director: Stuart Lundy
Account Director: Hazal Karabulut
Agency producer: Michelle Hickey
Head of Art Buying: Maggie Roberts
Chief Strategy Officer: Yelena Gaufman
Planner: Caitlin Evans
Media agency: Initiative Media
Production company: Stink Prague
Directors: Wolfberg
Exec Producers: Klara Kralickova & David Promberger
Producer: Veronika Jelsikova
DOP: Filip Marek
Production Designer: Martin Krejzlik
Editor: Filip Malasek
Post-production: Frantisek Stefanek @ PFX, Prague
Soundtrack composer: Michal Pelant
Sound Design: Viktor Ekrt @ Soundsquare, Prague

If you enjoyed this article, you can subscribe for free to our weekly email alert and receive a regular curation of the best creative campaigns by creatives themselves.