LEGO's head of creation Peter Johnson on the creative insight behind its Rebuild the World campaign

Confidence, resilience, communication, problem-solving and decision making.
According to the LEGO Play Well Study 2020, the top 5 skills that parents feel are most important to their child's future success and wellbeing are confidence, resilience, communication, problem-solving and decision making.
It's no secret that children and creativity go hand in hand.
The freedom of thought and expression is something we are all born with and sometimes struggle to retain. Established in 1932 and having been a solid part of most adult's childhoods, LEGO has enabled children to create, build and rebuild form their imagination.
Rebuild the World celebrates children as the masters of creative problem solving and how, by working together, they can achieve anything.

Creative Moment spoke to Peter Johnson, head of creation in Denmark, where the campaign was conceived.
We wanted to find out how it came about and the thinking behind the concept.

"This was our third year of creating a brand film under our Rebuild the World campaign.

We developed this latest iteration by highlighting something that is very important in the creative process and a vital trait for kids and adults alike; resilience.
Now more than ever, resilience is something we all need. Telling our story through the challenges of our lone knight, we were able to dramatize the creative process. We show the problem, various ways to solve that problem, and then a grand solution that is realized through the collaboration of diverse and varied characters and people.
Build, rebuild, repeat is our mantra for the creative process that LEGO Bricks make possible."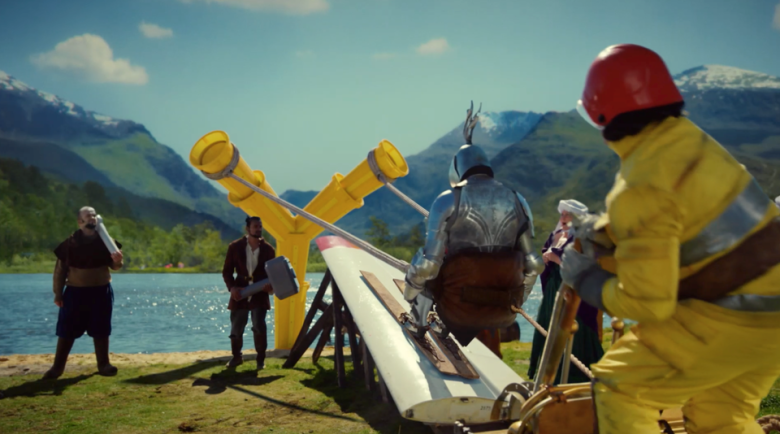 This was truly a global project for The LEGO Agency.
"The creative director (Lucas Reynoso Vizcaino), producer (Uffe Bryld) and others on the team were in Billund, Denmark; the creative team (Anstice Murray, Jon Wicks) and our head of production were in London; and Traktor are based in Sweden.

This project literally put Rebuild the World to the test as we were very far along a slightly different idea and execution and changed course a bit. Traktor and everyone involved came together to rethink and rebuild this campaign and I am happy to say that the final product is something we are all very proud of."
Credits
Campaign Credits:
Agency: The LEGO Agency
Vice President LEGO Agency: Rasmus Juel Mygind
Head of Creation: Pete Johnson
Global Creative Lead: Lucas Reynoso Vizcaino
Global Creative Team: Jon Wicks, Anstice Murray and Lucas Reynoso Vizcaino
Global Sr. Communications Partner: Maria Sanziana Fanica
Global Strategist Director: Kevin Mercer
Global Sr. Project Manager: Preben Jespersen and Malene Kallestrup
Head of Production: Charlie Cooper Henniker
Senior Lead Producer: Uffe Bryld
Post Production Manager: Lene Williams
Sr. Digital Content Manager: Kenneth Sanchez
Client responsible: Alero Dawn Akuya, David Hall, Kristofer Alan Crockett and Lauren Charman
Our Partners:

Directors: TRAKTOR
Production Company: Stink Paris
Executive Producer: Vincent Rivier & Helene Segol
Traktor Producer: Richard Ulfvengren
Service Company: 247xRadioaktive
Executive Producer: Monika Urbańska
Producer: Maria Mazurczak
Production Manager: Anita Kozłowska
Cinematographer: Matyas Erdely
Production Designer: Agustin Moreaux
Art Director: Paweł Dąbrowski
Costume Designer: Pati Fitzet
Post Production: MPC
Post Producer: Anandi Peiris, Solomon Tiigah
Post Supervisor 3d: Fabian Frank
Post Supervisor 2d: Kamen Markov
Colourist: Jean-Clement Soret
Edit house: Final Cut
Editor: Ryan Beck
Music Supervision: Finger Music
Music Producer: Clare McGrath
Music Composer: Craig Brown
Sound Design: Machine
Sound EP: Matej Oreskovic
Sound Producer: Ghazal Zargar Elahi
Sound Designer: Alex Bingham & Ben Gulvin