Limerick celebrates enviable location and unique attitude as it signals global ambitions with new brand launch by M&C Saatchi

BOAST is a place where you can find out about recent creative campaigns.
It is a space where agencies can tell us about the new work they are proud of; blowing their own trumpet, so to speak.
Here's the latest from the creative world as we know it.
A campaign by M&C Saatchi
Limerick City and Council has unveiled a new brand positioning and multi-market launch campaign for the city and county of Limerick, as it seeks to position itself as the destination of the future for travel and tourism, business and study.
The new brand and accompanying launch campaign were developed in partnership with creative agency M&C Saatchi, and aim to engage multiple audiences, from the local community through to tourists, investors and students from Europe, the USA and China, helping them to see Limerick with fresh eyes and consider it as a destination for travel, business and study.
The brand positioning line 'Limerick: Atlantic Edge, European Embrace' reflects Limerick's unique position in the world, looking over the Atlantic with the USA only five hours away, as well as being an integral part of Europe, with its millennia of rich history. The line also evokes Limerick's character, which has been informed by this dual aspect – a combination of the verve that built America and the openness, experience and cultural appeal of Europe.
The new brand both strategically locates Limerick in the world and brings to life the attitude that sets it apart.
The Limerick brandmark is a bold and confident piece of design which reflects Limerick's international ambitions and unerring character. Transitioning from deep blue through to bright green, it reflects both the county's strategic location at the mouth of the River Shannon, flowing to the Atlantic, the iconic verdant landscape of Limerick. The logo is permeated by a texture derived directly from the Limerick Treaty Stone using a reproduction technique from Limerick printmakers. This hardened exterior provides a visual shorthand for the grit, resilience and strength of Limerick.
To launch the brand and positioning, M&C Saatchi has also developed a major multi-market campaign, 'Percentages', which aims to quantify Limerick's combination of edginess and friendliness. Each execution reveals what percentage of any Limerick scenario shows 'edge' versus how much its welcoming side, its 'embrace', is simultaneously on display.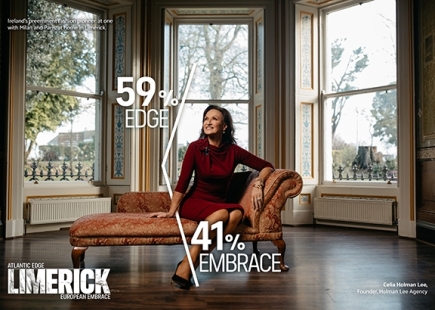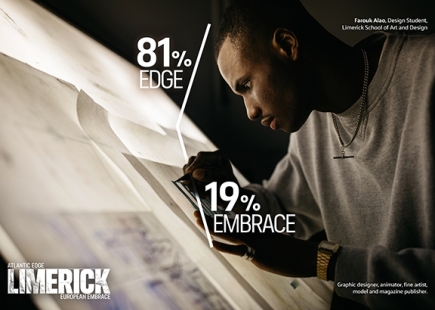 The push features a number of Limerick's 'local heroes' – people with amazing stories to tell who exemplify its edge and embrace. These include aeronautical engineer and author Dr Norah Patten, who is hoping to become Ireland's first astronaut; and Michelin-starred chef Michael Tweedie.
Campaign activity will run across print, digital display, social media, out-of-home and radio, in Ireland, Great Britain, Germany, France, Spain, Italy and the USA.
The highly collaborative 18-month process behind the launch saw M&C Saatchi's team meeting and working with multiple stakeholders, conducting research and workshops with key audiences, and collaborating with a local university.
Farouk Alao, a student at the award-winning Limerick School of Art and Design (LSAD), contributed to the design of the new Limerick logo as part of a creative collaboration between M&C Saatchi and the top design school.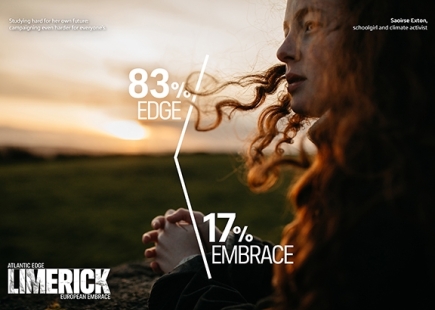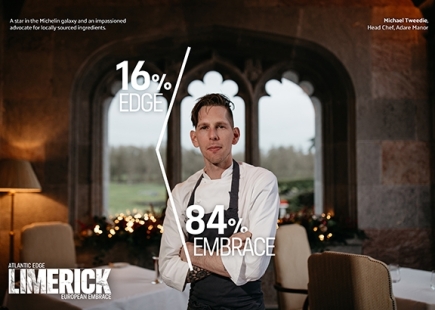 Laura Ryan, Head of Marketing & Communications, Limerick City and County Council, said: "Developing a new brand positioning for Limerick is a major statement in its own way but to have M&C Saatchi, one of the world's leading agencies, create our new brand speaks volumes about where Limerick is today. Their engaging creativity and original thinking made them the perfect partner to work with. It was an incredibly enjoyable process that has involved a lot of research and conversations with people and organisations right across the city and county, to arrive at a brand position that reflects where we are and what we want to achieve.
"Limerick is now fully confident about its proposition, its offering and its ability to compete in the international marketplace. We're excited about our new campaign for Limerick and where it can take us."
Mary Harris, Managing Partner, M&C Saatchi, said: "We're incredibly proud to have taken the creative lead on developing the first brand for Limerick City and County. The brand and campaign we have developed represent a major statement of intent for Limerick and set out its global ambitions. 'Atlantic Edge, European Embrace' immediately locates Limerick in the world and captures its grit, determination, and warmth. It also helps establish the City and County as the gateway to Ireland's premier tourist proposition – the Wild Atlantic Way whilst underlining Limerick's strong cultural links to Europe, both now and in the past.
"Working with Limerick has been a true delight – everyone we have encountered has been so generous with their time and their insight. There is a palpable passion for the county and a belief that the time is now for Limerick to come into its own and take its place on a global stage. It's a very special place and I'm looking forward to seeing it fulfil its potential."
Credits
Creative agency - M&C Saatchi
Mary Harris, Managing Partner
Alex Lemecha-Sim, Senior Account Director
Paddy Cavanagh, Account Manager
David Glass, Planning Partner
Matt Beaumont, Creative Director
Phil Reedy, Art Director

Production partner - True Media
Sean Curtin



Creative partnership - Limerick School of Art and Design (LSAD) and M&C Saatchi
Farouk Alao, Designer

Client - Limerick City and County Council
Laura Ryan, Head of Marketing & Communications
Aoife O'Shaughnessy, Marketing Officer
Pat Daly, Deputy Chief Executive and Director of Economic Development
If you enjoyed this article, you can subscribe for free to our weekly email alert and receive a regular curation of the best creative campaigns by creatives themselves.