LinkedIn helps Big Issue vendors affected by Covid-19 raise their profiles with customers online

The Big Issue, LinkedIn and FCB Inferno
The Big Issue (TBI) and LinkedIn, the world's largest professional network, have partnered on a pilot scheme to support nine of the magazine's vendors who have lost their livelihoods and their sense of community as a result of the Covid-19 pandemic.
The partnership, concepted and managed by FCB Inferno, harnesses the incredible power of Linkedin's network to support the Big Issue vendors, who have been suffering due to the effects of COVID. Footfall on the high streets where many of them ply their trade is much lower, and many of their loyal customers are still working from home, far away from their own offices.
The Big Issue vendors taking part in the pilot, who are based all around the UK and run their own micro-businesses selling the magazines, have joined LinkedIn to find a new lifeline for their work and reconnect with their old customers, as they remain unable to sell the magazine during the latest national lockdown.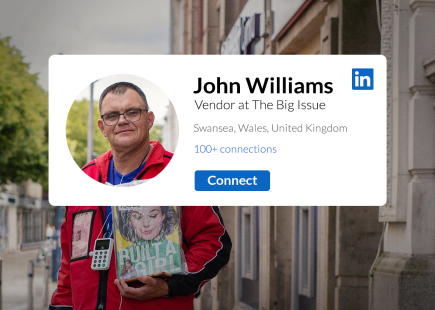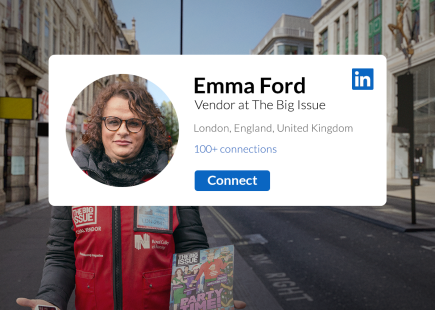 The nine vendors have received specialist and bespoke training from LinkedIn volunteers to help them build their digital confidence to reach an online customer base, find new opportunities, and engage with a new community who can support them.
In addition, they have received training in the best practices of disseminating the news and stories found in the magazines. They have also received tablets donated from Dixons Carphone, the business behind Currys, PC World and Carphone Warehouse, to help them access their LinkedIn profiles and online training.
The vendors will be able to reach out to new and existing customers on LinkedIn to let them know that they can purchase a copy of The Big Issue digitally.
The vendors' profiles are all searchable on the platform through The Big Issue's LinkedIn page. Through company pages, they can search for regular customers who worked in offices near their old pitches and reach out to re-connect on LinkedIn.
Big Issue vendors run their own micro-businesses buying copies of the magazine for £1.50 and selling to the public for £3, keeping the difference. In this way the magazine provides them with the means to earn a legitimate income.
The partnership with LinkedIn aims to take the vendors into a professional space, giving them access to a platform which reinforces that they are working for a living, and allows them to increase their sales in the face of the ongoing challenges in the Covid-19 pandemic
The Big Issue and LinkedIn's ambition is to onboard more vendors onto the scheme throughout the year.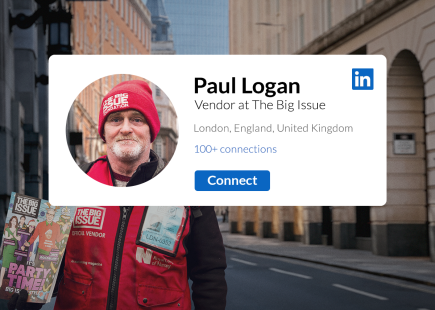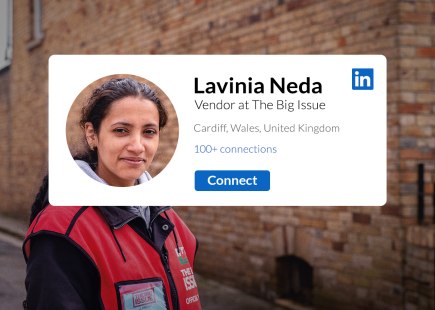 Paul Cheal, group CEO of The Big Issue Group, said: "Covid-19 has changed everything for everyone, but its impact has been keenly felt at The Big Issue. All earning potential was stripped from our 1,700 regular vendors who made their living selling The Big Issue on the streets of the UK.
"Now, as we find ourselves in our third national lockdown and, with high streets likely to be quieter for the foreseeable future, we are fully focused on empowering our vendors with the digital skills they need to connect with their customers online.
"The partnership with LinkedIn, which we welcome wholeheartedly, will not only help the vendors sell their magazine again, it will ease the feeling of social isolation experienced over the past year, allowing them to reconnect with their customers and community."
Josh Graff, UK country manager, LinkedIn says: "The pandemic has had an enormous impact on the livelihoods of Big Issue vendors and wreaked havoc on their ability to earn an income. We're delighted that this pilot programme will give vendors a new, safe, and much needed, opportunity to reconnect with customers and sell their magazines. We're really excited about the potential of this scheme and hope that LinkedIn members across the UK also welcome the opportunity to buy from Big Issue vendors once again."
Owen Lee, chief creative officer FCB Inferno, said: "Helping the vendors reconnect with customers on linkedin is an unexpected yet totally logical idea, and a great way to remind people that the vendors are still out there, even if they can't see them on their familiar streets."

Credits
Agency : FCB Inferno
Chief Creative Officer - Owen Lee
Senior Account Director - Hannah Thorn
Senior Account Manager - Claire Macalister-Hall
Strategy - Imogen Armstrong
Creative Directors - Jess Giles & Austin Hamilton
Senior Creatives - Francesca Ferracini & Alice Teruzzi
Producer - Livvy Tidd
EVP Communications - CC Clark
Designer - Max Fox
Senior Digital Communications Manager - Laura Greenslade

If you enjoyed this article, you can subscribe for free to our weekly email alert and receive a regular curation of the best creative campaigns by creatives themselves.