Loo Gardens: Tideway launches hidden subterranean garden in London's super sewer

Tideway has unveiled Loo Gardens – a magical subterranean installation nestled within the Thames Tideway Tunnel, also known as London's 'super sewer', created to symbolise the healthier future of the River Thames.
Working closely with creative agency Boldspace, the activation pays homage to the positive environmental impact the super sewer will have on London by preventing millions of tonnes of raw sewage entering the river every year. The activation marks that London is just a year away from a healthier River Thames, with the system activated for testing from next summer.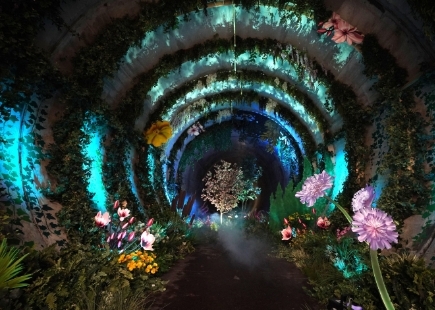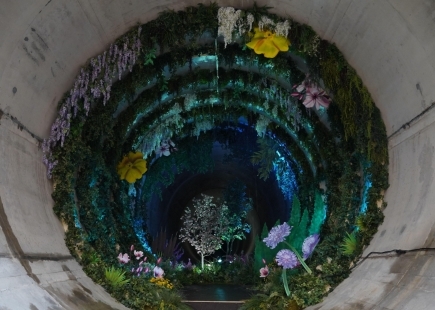 Tideway and Boldspace partnered with creative production house, Joy Collective, to create the garden which features hyper-realistic hand painted flowers and sustainable artificial plants and flora, reflecting those that will thrive in the future thanks to the super sewer. The garden will touch all the senses, with a bespoke soundscape featuring the sounds of nature and the aromas of grasses and wetlands.
As part of the project, Tideway has worked with its long-time partner, Thames21, a charity dedicated to improving the health of the River Thames, to create elements of the gardens using repurposed waste cleared from the banks of the river.
Lou Kelly, head of consumer at Boldspace, said: "When Tideway came to us with this brief, we knew we had to create something bold to demonstrate just how phenomenal Tideway's achievement is, and the profound environmental legacy it will forge in revitalising the River Thames. In the creation of Loo Gardens, we proudly present a vision of a thriving natural ecosystem of London's future."

Tideway is also giving some lucky members of the public a once in a lifetime opportunity to visit the super sewer and head 50 metres under the city to explore the underground garden, and see the scale of this vital infrastructure up close through a competition with Time Out.
The Tideway project is due to be complete in 2025, following secondary lining, connection, commissioning and testing works. To date, the Tideway project has seen the creation of more than 4,000 sustainable jobs and more than 150 apprenticeships.
If you enjoyed this article, you can subscribe for free to our weekly email alert and receive a regular curation of the best creative campaigns by creatives themselves.