Lucky Generals, Symprove and Lisa Snowdon crash Fashion Week with Gut Couture

Symprove hits Fashion Week.
In September the world's style mavens descended on London for Fashion Week. Then quickly onto Milan. And now to Paris.
But as lovers of high fashion turn their attention to the catwalks and collections of these classically cultured cities, enter Symprove!

The gut-health supplement is crashing the parties with its very own 'Gut Couture Collection' — featuring 'The No-bloat ball gown', 'Flatulence Frock' and 'Loo Roll Look'.
This fierce, fabulous and outlandish high-fashion line with all the trimmings was designed to perfection for IBS sufferers, highlighting how the condition affects women's day-to-day lives. The tongue-in-cheek collection — spoofing the likes of luxury fashion house Balenciaga — is showcased with no uncertain amount of elegance by TV presenter and catwalk queen Lisa Snowdon.
It's estimated between 10 and 20% of the population may suffer from IBS.
For those in the dark, irritable bowel syndrome (IBS) is a nasty and often misunderstood condition that subjects sufferers to sudden bouts of gas, bloating, diarrhoea or constipation, forcing them to spend hours on the toilet.
In the film, Lisa struts her stuff in three brand new high-fashion, and very distinctive gowns that are "bespoke" for IBS sufferers. Whilst dropping jaws and maybe a toilet roll or two in 'The Loo Roll Look' she jokingly reveals the lengths people could go to for fashion to feel both stylish and comfortable while suffering from IBS.
Other dresses modelled are 'The No-bloat Ball gown' — an oversized baggy number that leaves everything to the imagination — and 'The Flatulence Frock', which is an air-filled tent designed to disguise gas and odours. All three outfits were designed by London-based stylist Polly Mann.
While these dresses are of course — like a lot of high fashion — deeply impractical, Lisa reveals why they shouldn't be the only option and that there are more practical solutions via Symprove.com.
This is the third 2022 activation from gut health supplement Symprove through Lucky Generals' Special Ops unit. The brand has already challenged the people of Shitterton to talk about shit and enticed holiday goers with irritable bowels to visit the uber-exclusive island of Lootopia, both of which helped contribute to record-breaking growth.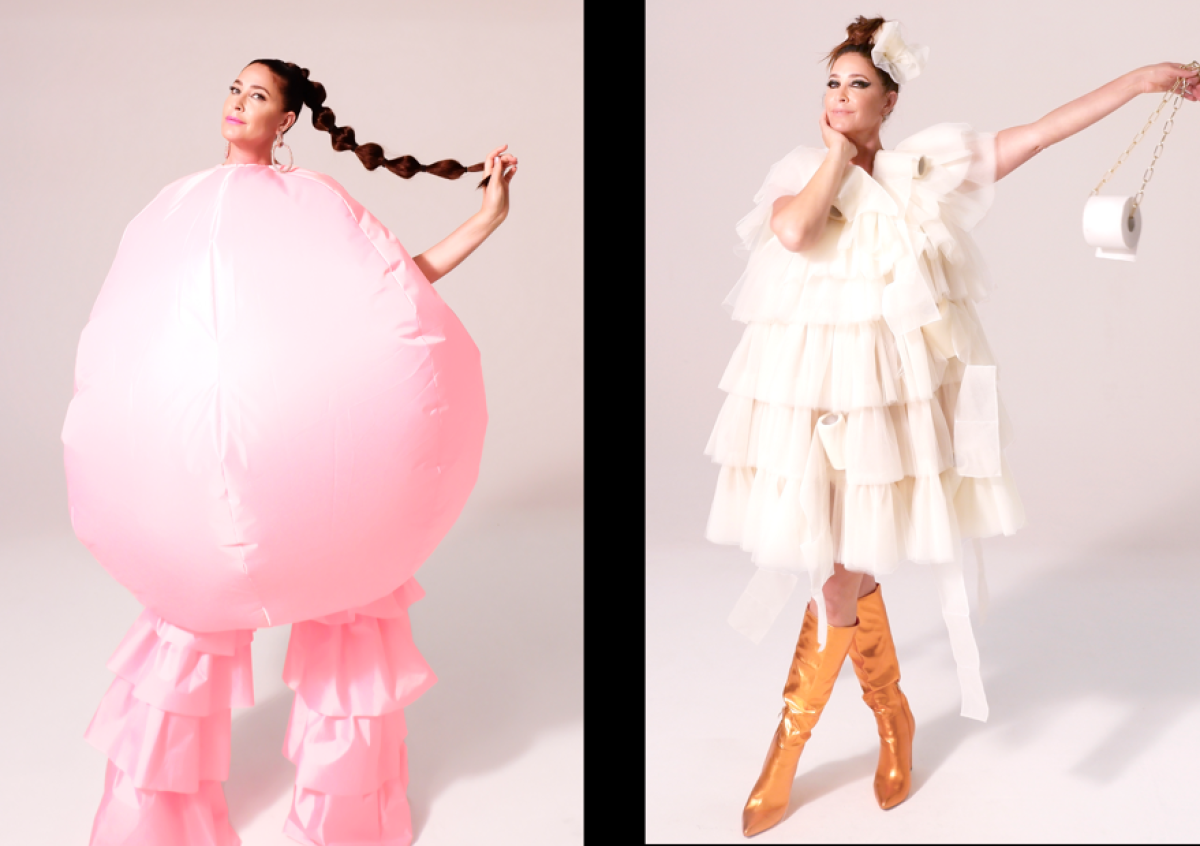 Lisa Snowdon said: "This collection was fantastic! I actually loved wearing all these looks. Not only were they comfortable and brilliantly designed, but the fact that nothing was too tight or restrictive around the tummy made them a joy to wear. The whole collection was super creative and brilliantly appropriate for what we are trying to achieve. A full-on fashion attitude with an understanding of what people with gut issues might experience that also tapped into the humorous side of what we were doing."
Paul Mallon, head of special ops at Lucky Generals, said: "We wanted to take aim at this world of high fashion that takes itself very seriously, but with somebody who wasn't afraid of a little self-deprecation — Lisa Snowdon looks dynamite in loo roll. So it's more Bowel-enciaga than Balenciaga, but we hope our IBS suffering audience don't have to go this far for a bit of relief."

Credits
Creative Agency: Lucky Generals
Brand: Symprove
Production Company: Lucky Productions
Costume design: Polly Mann.

If you enjoyed this article, you can subscribe for free to our weekly email alert and receive a regular curation of the best creative campaigns by creatives themselves.