Maersk turns dystopian logistical nightmare into a land of opportunities

Maersk's launches new global communications campaign, 'Upside'.
The campaign is created by the internationally acclaimed creative agency &Co. and directed by CC Wade. The director duo of twin brothers Paraic and Michael Morrissey is best known for their music videos for artists like Michael Kiwanuka and King Krule.

'Upside'—a 2-minute film combining CGI and old school miniature building techniques—marks their commercial debut and depicts a heroine's emotional transformation when she enters a dystopian logistical nightmare only to discover a new land of opportunities—the 'Upside'.
The film reflects the daily battle businesses face when trying to deliver their goods around the world, a chaos that Maersk promises to smooth over with the technology and services they offer. The new 'Upside' campaign also aims to encourage the VPs of logistics to view themselves as opportunity seekers, rather than exclusively problem solvers.
"To me, the film shows the upside of shifting the perception from solving logistical problems to actually seeking opportunities," says Anne With Damgaard, global head of marketing at Maersk explains: "Integrated logistics holds some of the most untapped potential for business growth, and this piece of unconventional and creative B2B communication embodies our offering."
At the core of the strategy is emotional storytelling.
&Co. strategist, Mathias Birkvad, explains:"A strategy is essentially a story. The strategic change of Maersk is complex. However, when it is told through the toolbox of emotion storytelling its intent is not only understood, but also felt. By employees, customers, inventors, and other stakeholders. And feelings are the key to acceptance and consequent action. The storytelling is essentially accelerating the impact of the strategy."

The first stage of the work was recently awarded a Grand Prix in the B2B category at this year's WARC Awards for Effectiveness in association with LIONS, a global marketing benchmark, acknowledging the astonishing brand value the campaign grew for Maersk.
The marketing effort is part of a strategic shift for Maersk, who move one in five of all the world's goods at sea and have 80,000 staff, yet five years ago they undertook the enormous ambition to expand its services from ocean freight to become a leading end-to-end logistics company by delivering goods "all the way". Bloomberg Business has commented that "This might be the biggest business transformations ever attempted in history…".
The repositioning of Maersk entails an alternative approach to marketing and a deep understanding of the customer. Senior art director from &Co., Claus Collstrup, elucidates: "When working with one of the biggest business to business brands in the world you might expect a more conservative approach, but the results from our previous campaigns have shown the immense power that creativity can have. Especially in business to business which has been creatively malnourished for a long time. We took the simple approach to talk to the human being, and not the employee in a company."
Havas Media Group ensures that the storytelling travels the world with strong brand activation and media planning. David Goodall, managing director at Havas Media International, comments:"The Upside campaign is all about repositioning Maersk as an end-to-end logistics business. In order for us to change perceptions amongst an audience of C-suite and logistics decision-makers, we've used a multichannel approach, harnessing the most meaningful media, from global television through to trade media and highly targeted core customer-focused digital channels."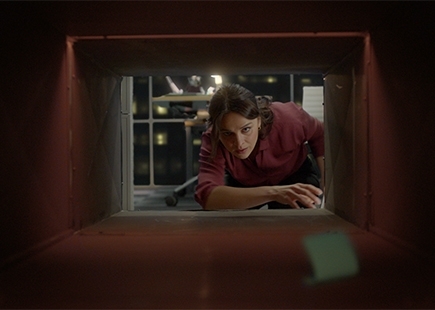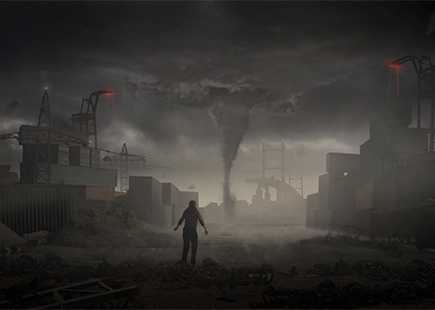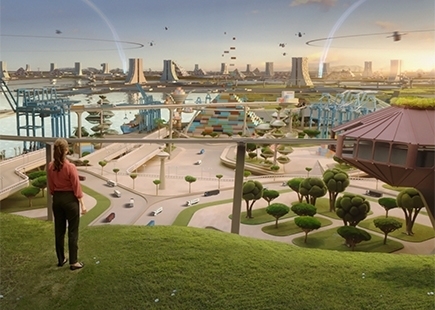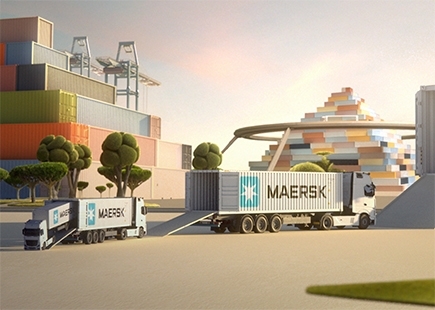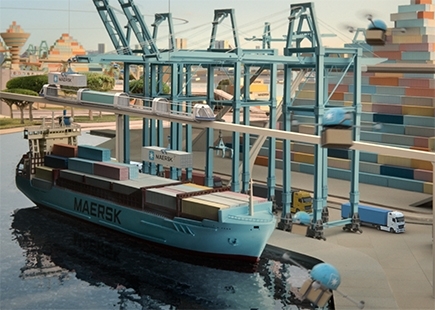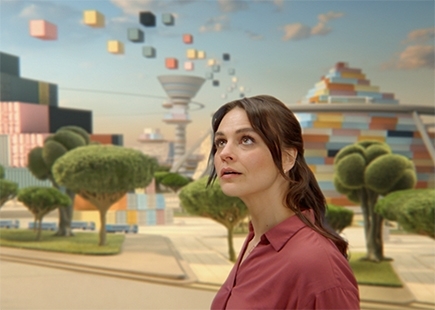 Combining old-school and modern craft
The campaign is created by the award-winning creative agency &Co., produced by Somesuch, planned by Havas Media Group.
It is produced in an untraditional manner, combining old school miniature building techniques with modern day CGI, which gives it a quite unique look. It was furthermore shot remotely due to the challenges of COVID-19.
Senior Art Director from &Co. Claus Collstrup explains: "When CC Wade brought forward the idea of actually building the two worlds that we see in the film in small scale we thought it was nuts—and a fabulous idea. Because this way we could create something that wasn't the typical clean and photorealistic CGI, but which had its own texture and slightly odd look because everything was made by hand. This is also why we ended up shooting in the Ukraine, because of the high level of miniature craftmanship".

If you enjoyed this article, you can subscribe for free to our weekly email alert and receive a regular curation of the best creative campaigns by creatives themselves.