Marmite launches its poshest flavour yet in new campaign by adam&eveDDB

adam&eveDDB has rolled out the red carpet in the poshest ever OOH campaign that celebrates the launch of Marmite's new posher-than-posh-spread – Marmite Truffle.
The campaign launched with the installation of an ornate, gold horse and carriage fit for royalty, that toured the perfectly coiffed streets of Eaton Square, Chelsea. The carriage features an OOH poster declaring "One either loves it or finds it really rather beastly".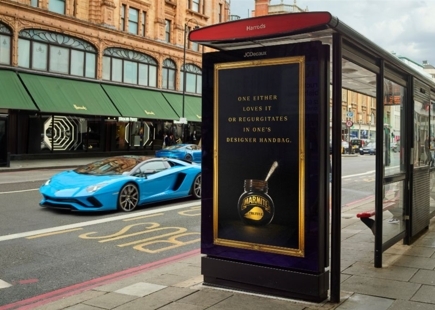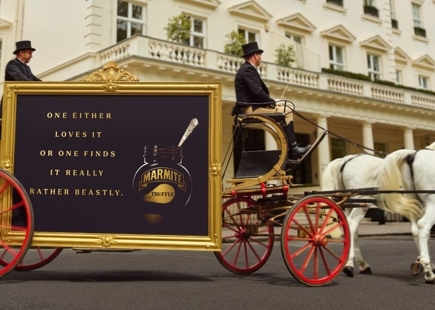 adam&eveDDB's campaign is accompanied by a series of upmarket DOOH ads with a luxurious difference—targeting typically posh locations across London with ostentatiously opulent lines such as; One either loves it or regurgitates in one's designer handbag" featuring outside Harrods , "One either loves it or would rather gargle Thames Water" running on the Chelsea Embankment; "; and "One either loves it or has to rinse one's mouth with Early Grey" in Knightsbridge.
adam&eveDDB's concept for the new decadent truffle flavour has been extended to a social campaign, set to run on Facebook, Twitter and Instagram. The campaign will also include print activity set to run at the end of May. The media strategy has been executed by Mindshare, consumer outreach has been managed by WCommunications and the special build horse and carriage has been produced by Making Pictures.

Following the success of adam&eveDDB's explosive launch of Marmite Dynamite in 2020, the new Marmite Truffle is the latest addition to join the line-up of the nation's favourite yeast spread.
Sophie Allan, senior brand manager at Marmite, said: "One doesn't need a butler to spread ones Marmite Truffle on one's toast, but this is without a doubt our poshest Marmite yet. Britain's love affair with truffle shows no signs of slowing down and we've carefully curated our new product with the distinct flavour of truffle for the most discerning Marmite connoisseur. Gracing the poshest of tables from brunch through to supper, Marmite Truffle is deliciously decadent - one will either love it or will find it rather ghastly."
Ben Tollett, group executive creative director, adam&eveDDB, added: "From the very first moment one saw this campaign one's been struggling to contain one's excitement."
The campaign will run from 2nd May to 26th June.

Credits
Client: Unilever
Brand: Marmite
Project/Campaign name: Marmite Truffle
First Air Date: 02.05.22
Client/s Team:
Marketing Director for Foods, Unilever UKI: Fikerte Woldegiorgis
Marketing Director for Foods, Unilever UKI: Georgina Bradford
Marketing Manager: Kyrie Merryman
Senior Brand Manager, Unilever UK: Sophie Allan
Marketing Executive Unilever UK: Grace Mallinder
Agency: adam&eveDDB
Group Executive Creative Director: Ben Tollett
Chief Creative Officer: Richard Brim
Snr Creative: Stevie Rowing-Parker
Snr Creative: Helen Balls
Agency Integrated Producer: Peter Williams
Planner/s: Will Grundy, Liora Ingram, Henry Bilson, Sara Keegan
Project Manager: Linda-Aileen Macfarlane
CEO: Tammy Einav
Managing Partner: Tom White
Account Director/s: Max Sullivan, Oliver Lester
Account Manager/s: Emily Bristowe
Design and retouching: King Henry
Designer: Martin Murphy
Senior Designer: Carl Warren
Head of Design: Paul Knowles
Artworker: Sam Stabler
Head of Artwork: Dave Callow
Retouching Supervisor: Daniel Sandals
Retoucher: Charlie Townsend
Media agency: Mindshare
Client Director/s: Clemmie Marcel
Account Director: Tess Domenet
Account Manager: Tash Irwin
Account Executive: Siobhain Molloy
OOH Account Director: Rikul Sudra
Billboard sites: JCDecaux
PR Agency: W Communications
Associate Director: Jess O'Donohoe
Senior Account Manager: Paige Hartley
Account Manager: Susana Micolta
Senior Account Executive: Ella Bull
Photographer (Still Life): Sam Hofman
Photographer (Lifestyle): Dan Burn-Forti
Photography agent: Coco Wolf
Shoot Producer: Sasha Rickerd
Agency: Making Pictures
If you enjoyed this article, you can subscribe for free to our weekly email alert and receive a regular curation of the best creative campaigns by creatives themselves.