McDonald's celebrates moments of togetherness with 'The Alternative Christmas List'

McDonald's is changing the meaning of 'Christmas lists' this year as it launches The Alternative Christmas List, a campaign anchored around a mobile experience accessed through the McDonald's App, led by Leo Burnett UK.
The campaign gives new meaning to the festive symbol of a Christmas list. Instead of being about material objects, McDonald's Alternative Christmas List is instead made up of a series of experiences each curated to bring families together to enjoy small but meaningful moment of magic.
At the centre of the campaign is the Alternative Christmas List mobile experience. Launching on 14th November, the Alternative Christmas List invites fans to enjoy six unique experiences, released weekly in the build up to Christmas. Every experience on The Alternative Christmas List has been created to enhance a shared family moment, and the experiences will include things like McDonald's festive PJs and Jumpers for the ultimate night in on Christmas Eve, a touring festive photobooth and McDelivery Christmas carollers and a festive audio books for those families driving home for Christmas.
To launch the campaign and raise awareness of the alternative Christmas list, McDonald's has created a 90 second film directed by Academy® Award winner Tom Hooper, known for critically acclaimed hits like The King's Speech and Les Miserables.
Opening on Alfie and his mum looking over the balcony of their flat at neighbours riding a red bike, she encourages him to write a Christmas list for Father Christmas.
As the boy crafts and builds his list, he becomes more and more carried away with the craft and excitement of it. The list grows and grows: multiplying in length each time we see it.
Alfie and his parents are Christmas shopping at their local high street when he asks, 'How do you send this to Father Christmas?'. The pages begin to take flight, riding a gust of wind into the sky. The boy and parents chase the list through the town centre, but the list flies into the distance.
The upset boy is embraced by his parents: mum spots a McDonald's in the distance and they head in to cheer him up. Mum asks 'What was on your list anyway?'. Alfie smoothens out a scrunched up page of the list, which he managed to keep as it flew away: the most important page of them all, it shows a drawing of mum, dad and son.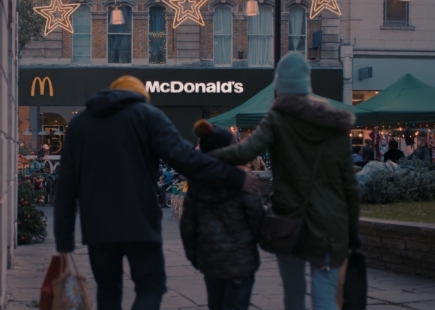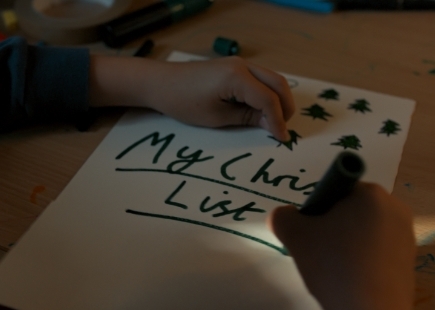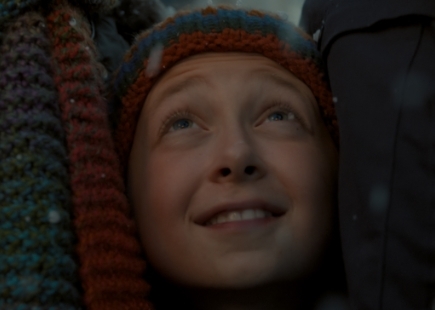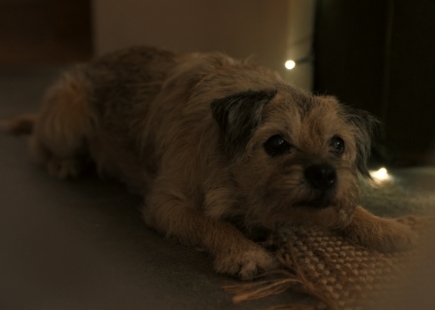 The ad, created by Leo Burnett, will launch in cinema's alongside Black Panther's 'Wakanda Forever' and on TV on 13th November during ITV's 'I'm a Celebrity, Get Me Out of Here!'. The soundtrack, recorded by Becky Hill, is an enchanting, festive rendition of Yazoo's iconic track, 'Only You'.

The Red Consultancy has led activations, experiential and PR, OMD has handled all media planning and buying, CRM by Armadillo and Linney - all point of purchase activity and competitions by TMS.

Chaka Sobhani, chief creative officer at Leo Burnett UK and Global, said: "We can all get a bit carried away by the excitement of Christmas, but we all know it's those small moments with loved ones that matter the most. We hope the Alternative Christmas List taps into that, particularly in such a difficult year, and gets people up and down the country proper reindeer ready."

Credits
CAMPAIGN TITLE: The Alternative Christmas List
CLIENT: McDonald's UK
ADVERTISING AGENCY: Leo Burnett UK
CCO: Chaka Sobhani
EXECUTIVE CREATIVE DIRECTOR: Mark Elwood
CREATIVE DIRECTOR: James Millers & Andrew Long
SENIOR CREATIVE: Joe Miller
CREATIVE DIRECTOR OF DESIGN: David Allen
SENIOR DESIGNER: Rupert Knowlden
DESIGNER: Jakk Breedon
HEAD OF PLANNING: Tom Sussman
STRATEGY DIRECTOR: Hamish Cameron
SENIOR STRATEGIST: Roxy Windisch
BUSINESS LEAD: Steph Bates
ACCOUNT DIRECTOR: Jack Brenman
SENIOR ACCOUNT MANAGER: Nicola Kuan
ACCOUNT MANAGER: Florence Potter
PROJECT DIRECTOR: Siobhan Mulcahy
TV PRODUCER: Graeme Light
PRODUCTION COMPANY: Smuggler
DIRECTOR: Tom Hooper
EDITOR: Russell Icke
PRODUCER: Ella Sedgwick
POST-PRODUCTION COMPANY: Framestore
AUDIO POST-PRODUCTION COMPANY: 750MPH

McDonald's Brand Team:
Chief Marketing Officer, S.V.P: Michelle Graham-Clare
Director of Marketing & Media Steve Howells
Head of Marketing: Hannah Pain
Head of Consumer Communications & Partnerships: Louise Page
Brand Manager: Amber Myers
Assistant Brand Manager: Emma Pellegrinelli
Campaign Assistant: Callum Seviour
Marketing Placement: Rian Wilson
PR Manager: Melodie Richards
MEDIA AGENCY: OMD
PR AGENCY: RED CONSULTANCY
SOCIAL AGENCY: OLIVER
CUSTOMER ENGAGEMENT AGENCY: The Marketing Store
CRM: Armadillo
POP: Linney

Framestore:
VFX: Framestore
VFX Supervisor: Ross Wilkinson
2D Supervisors: Matt Thomas and Ollie Bersey
CG Supervisor: Henrique Campanha
Senior Producer: Alexia Paterson
VFX Production Coordinator: Poppy Chadwick
Production Assistant: Conor Garnett
Flame: Darran Nicholson and Aadel Matoorianpour
Colourist: Steffan Perry, Company 3

If you enjoyed this article, you can subscribe for free to our weekly email alert and receive a regular curation of the best creative campaigns by creatives themselves.