Saatchi & Saatchi and Deutsche Telekom use money-can't-buy NFTs to supercharge youth volunteering

Saatchi & Saatchi and Deutsche Telekom use NFT technology to create real world value, positively impacting the volunteering causes Gen Z care about.
The #WhatWeValue platform uses connected technology to amplify the impact young people want to have on the world around them. In recent times, no other connected technology has generated more interest and controversy than NFTs.
This project aims to flip the NFT narrative on its head and transform them from something you buy for personal gain in a virtual world, into something you earn for collective gain in the real world.

At the heart of the platform is a digital community powered by Value, a money-can't-buy NFT for 'good'.
The platform is open to volunteer project leaders aged between 18 and 30 from across the brand's European footprint to host their own volunteering projects. Diverse categories include gender, racial and social equality, disability advocacy, climate change, urban regeneration, mental wellbeing, migration and more.
Projects that meet the required criteria are verified with a 'Value NFT', which proves their volunteering commitment and time invested in the projects you care about. Owning a Value NFT grants young volunteers exclusive access to valuable resources including:
The opportunity to unlock customised support from Deutsche Telekom.
A Discord community of like-minded young volunteers they can learn from and collaborate with and a full schedule of virtual sessions with volunteering experts, such as Bart Staszewsk, hosted by Jacqueline Azah.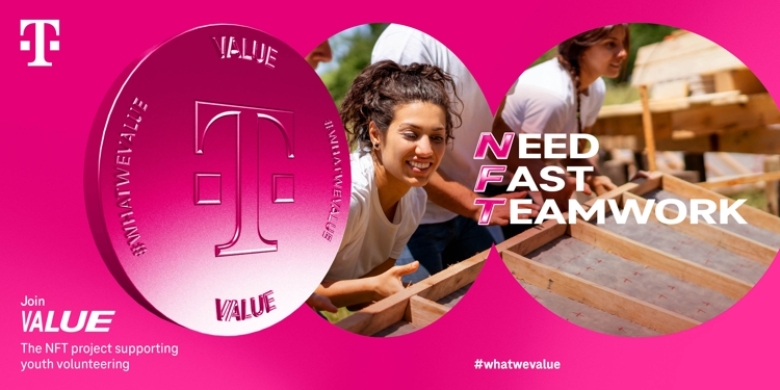 The platform already plays host to nearly 100 diverse projects from over 10 different countries.
The first projects to receive support from Deutsche Telekom range from the first Polish foundation fighting period poverty and menstrual exclusion, to a team using AI technology to support children with speech and hearing impairments in the Czech Republic.

The platform is now launching to a wider audience with a film directed by the award-winning Oliva Kastebring. It features real young volunteers and riffs on the 'NFT' acronym to emotionally connect with the true potential of Web3 technologies.
The digitally focused amplification campaign also includes bespoke international activity across Gen Z platforms including Instagram, Twitch, Snapchat, Spotify and TikTok.
"We are consistently in awe of this socially conscious and action orientated generation." says Ulrich Klenke, Chief Brand Officer at Deutsche Telekom. "Volunteerism is a key example of how young people are using connected technologies to create real world action and transform our lives for the better. We call this 'digital optimism'. With #WhatWeValue, we continue to demonstrate our commitment to Gen Z, leveraging web3 technologies to supercharge the causes that matter most to them."
Franki Goodwin, Saatchi & Saatchi CCO said: "This project exemplifies our commitment to finding new ways for brands to be influential. Anticipating a backlash to the first wave of the NFT hype, Saatchi and Deutsche Telekom have built #WhatWeValue as a way to explore how we can harness Web3 to impact change in the real world. We're already blown away by the amazing volunteering projects that have been submitted and look forward to seeing how their bespoke support packages can help them to grow."
Credits
CAMPAIGN TITLE: What We Value
CLIENT: Deutsche Telekom
ADVERTISING AGENCY: Saatchi & Saatchi
CCO: Franki Goodwin
CREATIVES: Tobias Tercic & Hernan Dietrich & Avani Maan
DESIGNERS: Kris Miklos & George Goldsack & Jay De Silva & Steven Tinkler & Devin Arden & Seb Bailey & Marco Balducci
PLANNERS: Sam Wise & Mathieu Abet
BUSINESS LEAD: Clare Shaw
ACCOUNT TEAM: Tim Dixon & Cali Fish
EXECUTIVE PRODUCER: Sam Robinson
SENIOR PRODUCER: Nayab Malik
MEDIA BUYING AGENCY: Emetriq
PRODUCTION COMPANY: New-Land
DIRECTOR: Olivia Kastebring
PRODUCER: Benedict Turnbull
EDITOR: Flaura Atkinson @ Stitch Editing
POST-PRODUCTION COMPANY: OKAY Studio
AUDIO POST-PRODUCTION COMPANY: String and Tins
PLATFORM DEVELOPMENT: Sapient
If you enjoyed this article, you can subscribe for free to our weekly email alert and receive a regular curation of the best creative campaigns by creatives themselves.