Samsung appears to turn off TVs during ad breaks, saving viewers the bother

Background
Taylor Herring rekindled its fruitful relationship with Samsung (having just claimed a Drum Grand Prix for its Quickdrive washing machine campaign) to launch a new TV set.
The Big Idea
Someone had an idea to promote the Samsung QLED set; turn off people's televisions while they are watching them. From this #tvblackout was born.
Samsung's vision is that the TV set doesn't need to be an archaic black square, but instead a piece of modern art; an extension of your living room wall. So, it turned off people's TV sets during Coronation Street to reinforce the point… or so it would seem. I'm not sure anybody would have actually fallen for the stunt, but perhaps that doesn't really matter. It made it into the news.
Review
My first reaction was to wonder whether another brand had championed this technology before. They must have? Perhaps not loud enough and that is why Samsung deserves credit for this. Every other TV provider must have kicked themselves because this technology is so simple. It's so simple it almost feels old! But, it has grabbed the headlines because of a meaty and integrated campaign. Time will tell if the sets fall off the shelves, but as a through-the-line campaign there is no denying its strengths and single mindedness. The tag line/hashtag is descriptive and catchy and the combination of out-of-home advertising, on-air, stunt and research-filled press story make it feel like a PR-led narrative which more often than not these days results in the most rounded marketing.
So, let's break it down.
Samsung did some research to find that the majority of adults found a black TV screen overbearing. This gave the project its raison d'etre. Some elements of the press story felt a bit contrived if I'm being honest. Apparently, this was the first time in ad-break history that TV screens have gone entirely blank. A rather sweeping statement that seems to ignore that the most common editing transition is a dip to black. But hell, the Mirror gobbled up the line so Taylor Herring wins. I guess it's all part of the sell-in formula – its last Samsung spot was the longest TV ad in history after all. The London-centric stunts featuring people with TVs for heads perhaps wasn't original, but it served up a plethora of imagery that the media devoured.
The advert/stunt ran in some high-spend breaks such as the Champions League Final. Samsung chose to use at least two slightly different creatives. The longer TV ad was more impactful in my opinion compared to the 10-second spot which was filled with copy and felt less unique. I think the project lost some synergy here – especially when it ran the short spots on the London Piccadilly Circus big screen (time is clearly money when it comes to the new Piccadilly display). In my opinion a lot of viewers will have missed the connection. Also, it feels to me like a bit of a knee-jerk response to take over the biggest screen in London for a campaign like this. In reality, it's actually one of the least TV-like screens around; its curves running in the exact opposite direction to curved television screens.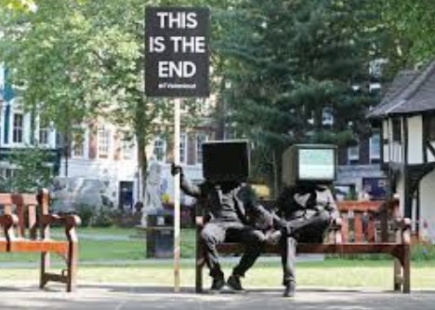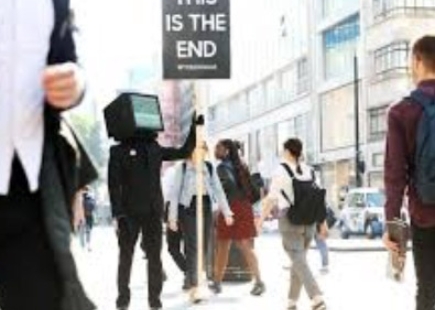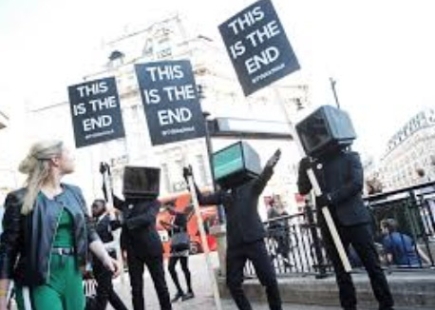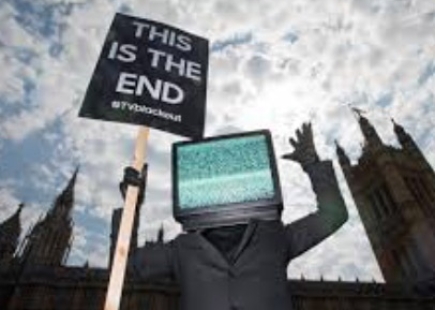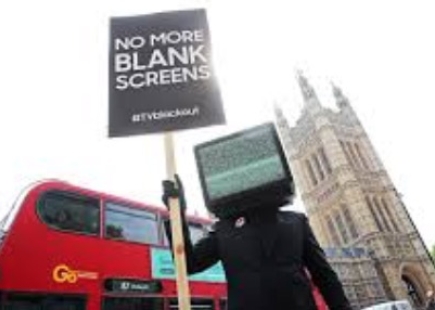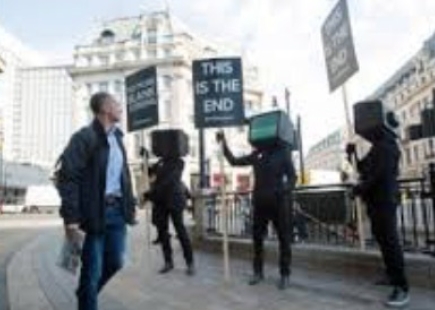 In Hindsight
Some reviews in the tech press cited disappointment at the tactic of trying to trick people into believing their television had turned off; they claimed it was unnecessary. Chill out! In contrast, I think this is the key to the creative and the coolest part of the idea. Realistically, nobody will have fallen for it. Not even my mum I'm afraid. That's because the static/breakup effect (used to transition into the blackness) is such an overused mechanic in commercials. But to criticise this creative would be to miss the point. After all, if hundreds of press articles write about TVs being turned off in people's living rooms, then it doesn't really matter if it happened or not. Credit where credit is due.
Overall, it's a really tight campaign. A simple idea that I'm sure stemmed from a simple brief and resulted in a clear-cut, integrated execution. What's especially amazing to me is Taylor Herring's ability to sell in a story in the future tense; with most publications covering 'it' before it actually happened and simply writing about how TV screens 'will' go blank and TV-headed men 'will' roam the streets. Impressive. I don't like how Samsung repeatedly referred to its own campaign as disruptive – the most overused word in the industry. Leave that for others to conclude please! Ultimately, I wish I'd experienced it rather than reading about it but like most of you I don't watch adverts.
A really simple idea executed cleverly through-the-line. A strong product idea supported by strong comms that was led by PR.
If you enjoyed this article, you can subscribe for free to our weekly email alert and receive a regular curation of the best creative campaigns by creatives themselves.