OLIO has created an ad to raise awareness of the colossal scale of the UK household waste problem

OLIO, the free sharing app, has created an ad to raise awareness of the colossal scale of the UK household waste problem, and how using OLIO can help tackle it.
The direct and unvarnished adverts launch on TV and outdoor sites, and feature a choir of British school children standing in the middle of a vast rubbish dump, singing Louis Armstrong's evocative 'What a Wonderful World'.

The shooting style focuses initially on the children showing discarded toys, bags, TVs and other household waste on the landfill site in Wales, before panning out at the end to reveal the enormity of just one single landfill.
The ad ends with a powerful message: "Let's not waste our wonderful world"; and closes with OLIO's tagline inspiring us all to "Share more. Waste less."
Out of home ads will run in November and January across London and use photography from the shoot, taken by acclaimed artist and photographer Rachel Brown, with real-life quotes from the children featured.
UK households throw away a staggering 30 million tonnes of waste each year.
This is an average of over 1 tonne per household and 80% of the contents of our bins could be reused, recycled or composted. Some of the biggest culprits are food waste (26% of our bins) and packaging (20%).
OLIO's sharing app directly tackles this waste by ensuring that unwanted food and goods find a new home, reducing both landfill and the need for more packaging.
The TV ad will run across Sky, Channel 4 and ITV channels , and will also benefit from £250,000 additional media spend as one of the inaugural winners of the Sky Zero Footprint Fund. Media is being handled by Squadron Venture Media.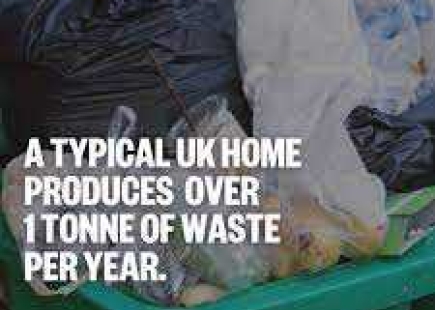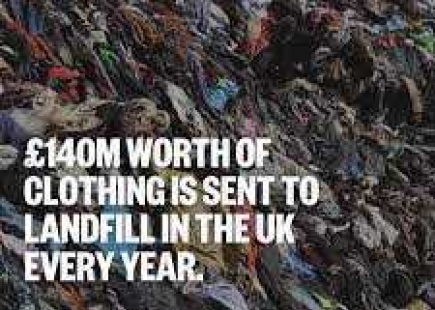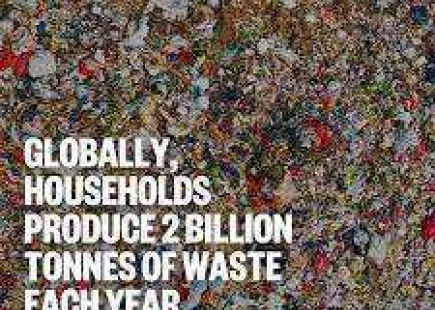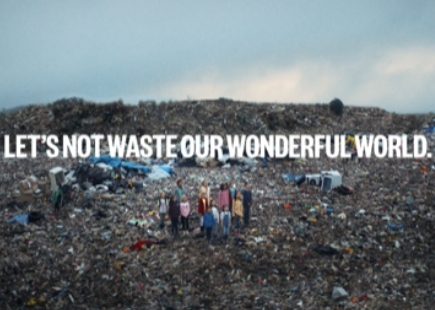 Fiona White, creative director, Hell Yeah! said: "This isn't a dystopian vision of the future, but a very grim and current reality - and it's today's children who'll end up paying the price for our behaviour. At the same time there is genuine optimism, it's not too late to turn the tide. Creatively we kept things simple - innocent children singing one of the world's most beloved songs on an actual landfill delivered our message with an emotional punch."
Tessa Clarke, co-founder and CEO at OLIO said: "We wanted to reach everyone, but particularly parents, with the message that there is something simple they can do to make a difference and protect their children's future. We urgently need to start a discussion about waste in our homes, and show people that whilethings are bad, there is hope - they can take real action right now by sharing more and wasting less."

"People have woken up to the climate crisis and are ready to take steps to fight it. OLIO now has more than 5 million members, sharing items in 59 countries. The environmental impact of their sharing has been equivalent to taking 100 million car miles off the road, and has saved 4.8 billion litres of water. Every single person who shares on OLIO is making a change for the better and doing their bit to protect our planet. "

Credits
Client - OLIO
Co-founder and CEO - Tessa Clarke
Co-founder and COO - Saasha Celestial-One
Agency - Hell Yeah!
Head of Creative - Dulcie Cowling
Creative director - Fiona White
Creative Director - Nick Tasker
Creative - George Nixon
Strategist - Asa Nowers
Account Director - Isobel Hooper
Account Director - Madeleine Evely
Managing Partner - Josh Clarricoats
Exec Producer - Adam Morley
Media - Squadron Venture Media - Tom Lucas
Production Company - Studio Yes
Exec Producer - Adam Morley
Producer - Victoria Ayettey
Director - Amy Becker Burnett
DOP - Joe Douglas
Production Designer - Harriet Trant
Fashion Stylist - Edwina Williams-Jones
H&MU - Sarah Karran
Gaffer - Nick Platt
Grip - John Dunne
PM - Josephine Owusu
1st AD - Jonathan Sidwell
Grade - Electric Theatre Company
VFX - Electric Theatre Company
Sound Mix - Guilt Free Post
Photography - Rachel Brown
If you enjoyed this article, you can subscribe for free to our weekly email alert and receive a regular curation of the best creative campaigns by creatives themselves.