'Our Wait Is Over': Unique animation from BBC Creative welcomes back the Euros

Our wait is over.
The campaign from BBC Creative takes place in a waiting room big enough to fit the whole of Europe. Players and fans sit side by side idly trying to pass the time. In one corner Gareth Bale is working on his putting trying to get a gold ball into a mug, in another Kylian Mbappe is swapping football stickers, and all the while Cristiano Ronaldo is relentlessly pounding the treadmill.
Suddenly the calm is broken when a cheer erupts and everyone realises the tournament is finally here.
The players start a kick about that builds in intensity until it has to be brought under control by a nearby referee. At this point the doors open and players and fans exit the waiting room into the bright summer sunshine for the start of the tournament.
Our wait is over.

Directed by Nicos Livesey out of Blinkink, this 60 second animation features thousands of beautifully observed hand-drawn characters and is set to the new The Chemical Brothers track, 'The Darkness That You Fear'.
Sometimes we all have to wait for the things we want, and we've all waited a long time for this year's Euros.
Four years turned into five. Football shirts and sticker books were put back in draws. Dreams of glory and redemption remained on the shelf.
Fans would have to wait to cheer and players would have to wait to play. But all this waiting didn't make us forget - if anything, it made it mean more.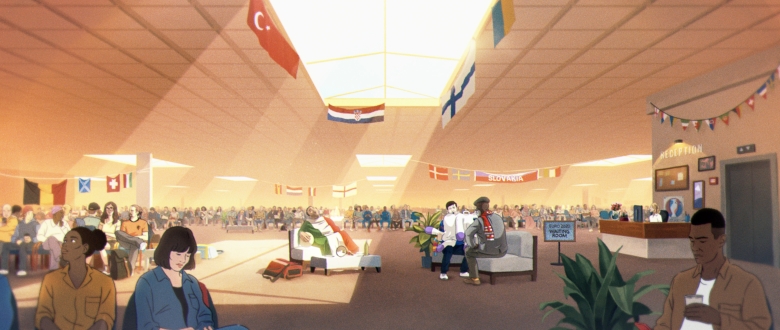 James Cross, creative director, BBC Creative
"The piece took four months to create but, of course, 16 months since we originally started and had to can our original trailer days before we were about to start shooting. We wanted to encapsulate the wait we've all experienced for summer football, and acknowledge how agonising that can be for many of us.
Our decision to execute in animation, we believe, gives us a unique creative freedom in a sector dominated by brand endorsement deals and exclusive player appearances. Being the BBC, of course, we don't have that, but we turn that to our advantage in two ways.
Firstly, there's executional stand out. Few, historically, have or will use animation to promote the tournament. This gives us something unique, but also allows us to focus on the craft of the piece, to delight our audiences in a different way.

Secondly, animation helps us circumnavigate the difficulty of getting footballers to appear, and do things integral to the idea we're executing. Being professional sportspeople, the desire to perform and take part is relatively low, this way we can get Mbappe to trade stickers, Ronaldo to run on a treadmill, and Harry Maguire to inflate a unicorn without any awkward agent conversations or multiple takes."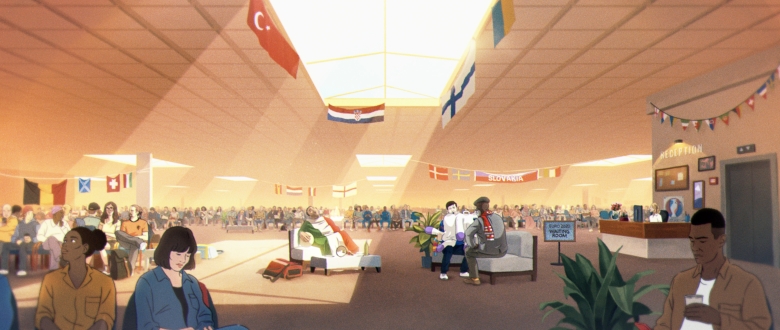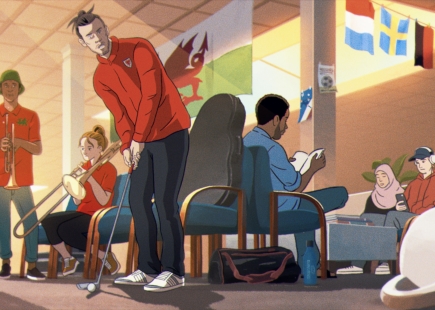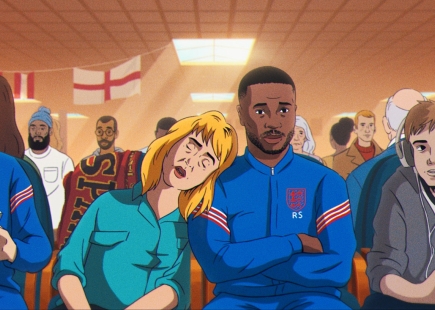 Credits
BBC Creative ECD Helen Rhodes
BBC Creative Head of Planning Mike Lean
BBC Creative Head of Production James Wood
BBC Creative Creative Director Tim Jones
BBC Creative Creative Director James Cross
BBC Creative Creative Andy Parkman
BBC Creative Senior Producer Rachel Roberts
BBC Creative Project Manager Matt Totterdell
BBC Creative Planner Sam Pavey
BBC Creative Production Manager Sophie Knott
BBC Creative Production Coordinator Charlotte Stapleton
BBC Creative Head of Audio Debbie Dillon
BBC Creative Audio Senior Creative Kate Dinsdale
BBC Creative Audio Creative Jimmy Ward
BBC Creative Audio Producer On the Sly
BBC Creative Pictures Senior Creative Sam Ratcliffe
BBC Creative Pictures Producer Lucy Dawson
BBC Creative Photographer Nick Eagle
BBC Creative Pictures Retoucher Gary Roylance
BBC Creative Lead Designer Ian Jones
BBC Creative Static Designer James Nolan
BBC Creative Static Designer Daniel O'Mara
BBC Creative Digital / Social Jack Freeman
BBC Portfolio Head of Marketing James Parry
BBC Marketing Manager John Sprott
BBC Media Planning Marc Jones
BBC Media Planning David Wheadon
Blinkink Director Nicos Livesey
Blinkink Executive Producer Bart Yates
Blinkink Producer Alex Halley
Blinkink Production Manager Rosanna Morley
Blinkink Production Coordinator Molly Turner
Blinkink Storyboards Oscar Wright
Blinkink Editor Nicos Livesey
Blinkink Cutdowns Editor Reece Proctor
Blinkink Character Design Elio Moavero
Blinkink Additional Character Design Dan Lambert
Blinkink Concept Artist Camille Perrin
Blinkink Background Layout Camille Perrin
Blinkink Background Painter Camille Perrin
Blinkink Background Painter Clement Danveau
Blinkink Lead Animator Reg Isaac
Blinkink Animator Laura Nailor
Blinkink Animator Ed Roberts
Blinkink Animator Chiara Sgatti
Blinkink Animator Maxime Jouniot
Blinkink Animator Ed Smith
Blinkink Animator Sandy Lachkar
Blinkink Animator Ilan Hatukah
Blinkink Lead Animation Assistant Seti Seto
Blinkink Animation Assistant Gerry Gallego
Blinkink Animation Assistant Angeline De Silva
Blinkink Animation Assistant Krisi Zhupali
Blinkink Animation Assistant Harry Davidson
Blinkink Animation Assistant Katerina Kremasioti
Blinkink Animation Assistant Patrick Selby
Blinkink Animation Assistant Henriette Barsden
Blinkink Animation Assistant Saffron Mackie
Blinkink Animation Assistant Denise Dean
Blinkink Lead Colourist MartinDray
Blinkink Colourists Andrea Friedrich
Blinkink Lead Compositor Simone Ghilardotti
Blinkink Compositor Alasdair Brotherston
Blinkink Compositor Stephen McNally
Post Production:
Factory Sound Design Mark Hills
Factory Audio Producer Beth Massey
Black Kyte Grade Andi Chu
Music Supervision Major Tom Music.
If you enjoyed this article, you can subscribe for free to our weekly email alert and receive a regular curation of the best creative campaigns by creatives themselves.