Pantene campaigns to end discrimination against Afro hair in the UK

Pantene is proud to announce it has partnered with Black Minds Matter and Project Embrace on a new campaign which aims to increase awareness of hair discrimination and common microaggressions in the UK, as well as stimulate long-lasting change required to help end discrimination against Afro hair.

The Gold Series from Pantene 'My Hair Won't Be Silenced' campaign launched with a new research report that reveals discrimination against Afro hair in the UK is widespread, with at least 93% of Black people with Afro hair having experienced microaggressions related to their hair.
The brand has also launched an emotive short film created by creative collective SXWKS, featuring six Black British women talking about their own experiences of microaggressions as well as their personal journeys to embracing and celebrating their hair.

Charles Olayinka, creative collective director, SXWKS said: "For SXWKS it was great to work with a team that are passionate about making thought-provoking content and a brand like Pantene that wants to help raise awareness of an important conversation like hair discrimination."
Hair has been shown to be key to self-esteem, confidence, and identity, which is why Pantene is on a mission to give more great hair days to all. The goal is >50% reduction in hair discrimination in the UK by 2025 with the My Hair Won't Be Silenced campaign and the Power of Hair Fund.
As part of the campaign, Pantene has partnered with Project Embrace an initiative focused on increasing representation of Afro hair within advertising and the media, to help progress its mission and its wider commitments to normalise and celebrate Afro hair within its campaigns, a journey the brand started when launching Gold Series in 2018. Research has shown that 70% of Black people agree they do not feel their hair type is represented in the media and/ or advertising.
Lekia Lée, founder of Project Embrace said: "We cannot expect to enjoy the benefits of an inclusive society if the images we constantly see do not reflect diversity. Advertising is a powerful medium and we can use that power for good. This is why the Pantene campaign is so important, because we cannot be what we cannot see. By showing more images of Afro textured hair in a positive light, it is giving Afro hair a voice that has been silenced for far too long. It is normalising its existence and creating the diversity we need to see. Diversity is not going away, and will never go away, so instead of wasting energy and time in fighting it, we should embrace it and benefit from it."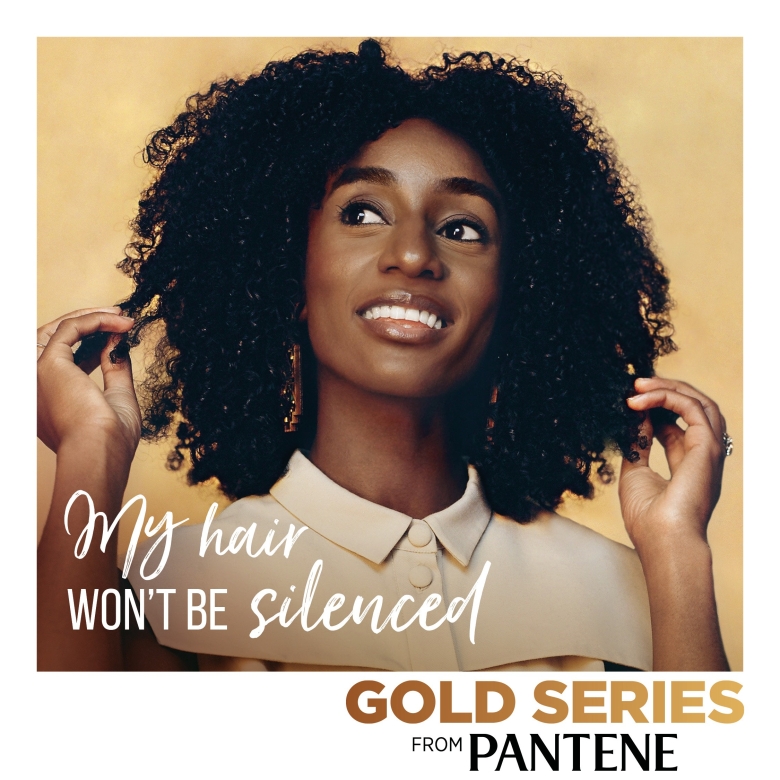 Driving cultural change
With only 7% of people without Afro Hair able to identify common microaggressions, Pantene will continue to work with Black Minds Matter, Project Embrace, and other partners to drive cultural debate focused on increasing awareness and education around unspoken hair bias.
The Power of Hair Fund will support charity partners and community groups who share the common goal to end hair discrimination in the UK. The campaign will include educational resources crafted by experts about microaggressions, the science and beauty of Afro hair and ways to support the mission.
Pantene launched Gold Series in the UK in January 2018 after 15 years of research with Black PHD's and scientists to provide strength and moisture for women with relaxed, natural or transitioning hair. Pantene has focused on representing all hair types, including with current brand ambassador, Somalian boxer Ramla Ali, who has been working with the brand since 2019.
Ramla Ali, boxer and Pantene ambassador explains: "My personal hair journey has been a real whirlwind; I have memories from school picture day, being made to feel less beautiful than all the other girls with straight hair, and even now hair stylists try and convince me to straighten my natural hair. There are deeply entrenched beliefs in society about what is deemed more beautiful and the small, often unspoken microaggressions that come with this. That's why I'm so proud to be a Pantene Gold Series ambassador and see this campaign come to life. It's so important to raise awareness of the issues and ensure that all types of Afro hair are celebrated as beautiful."

Katharine Joy NewbyGrant, vice president for Beauty Care Northern Europe said: "I am delighted to see Pantene take this step to help racial equality and overcome bias towards Afro Hair in the UK. At P&G, we are working to stamp out racism and promote equal opportunities for all, both inside our workplaces and in wider society. I am proud of our progress, but we can and will do more to embrace all our differences and create a more level playing field, so every person feels they belong and is able to unlock their full potential".
Credits
PR Agency: PrettyGreen
Media agency: Publicis
Film:
Created by SXWKs collective
Creative Director: Barbara Premo
Director: Jolade Olusanya
AD: Salome Williams
DP: Adenike Oke
1st AC: Joel Gutteridge
2nd AC: Devan Clarke-Shepard
Gaffer: Dylan Angol
Sound: Peter Davis
Art Director: Erin O'Garro
Art Director assistant: Tanya Weekes
Production Manager: Charles Olayinka
Producer: Nardia Bryan
Assistant Producer: Reece Laurent-Hughes
Photographer: Jessica Ross
Photographer Assistant: Irvine Bartlett
Make-Up: Jennifer Olaleye
Make-Up: Damilola Adio
Stylist: Naomie Meirelles
Hair: Sharon Robinson
Runner: Ross Ramsey-Golding
Post Production: Method Films
Editor: Seraphina Mattis
Grade: Paul Akinrinlola
If you enjoyed this article, you can subscribe for free to our weekly email alert and receive a regular curation of the best creative campaigns by creatives themselves.