Public health ad highlights the warning sign that could indicate lung cancer

A campaign by M&C Saatchi
Public Health England and NHS England have revealed "Warning sign", a major new campaign to raise awareness of the fact that a cough lasting three weeks or more could be a sign of lung cancer. The integrated campaign was developed with creative agency M&C Saatchi.
Lung cancer is the third most common cancer in England, with around 39,300 cases per year, and the biggest cause of cancer deaths. Lung cancer GP referrals remain lower than before the pandemic and a further impact of COVID-19 has been that some members of the public are reluctant to use NHS services, citing concerns about being exposed to the virus and not wanting to be a burden on the NHS.
To address these issues, Public Health England and NHS England have worked with M&C Saatchi to develop a campaign to encourage those with the key early symptom of lung cancer – a cough for three weeks or more – to contact their GP practice.
The initiative is the latest in a series of 'Help Us, Help You' campaigns which seek to address barriers to accessing the NHS and encourage people with early signs of cancer to speak to their GP. The campaigns aim to assure people that despite COVID-19, the NHS is ready to see those that need care in a safe way.
The key symptom of lung cancer is a persistent cough.
At a time when coughs are associated with COVID-19, the campaign aims to help people understand that a cough for three weeks or more, that isn't COVID-19, could still be a warning sign of lung cancer.
M&C Saatchi has created a warning sign on the chest, much like the type you'd see on a car dashboard. In a TV spot, directed by Josh Feder at Agile Films, every time our protagonist coughs, unbeknown to him, a warning sign lights up on his chest, as if it's emanating from inside him. The ad shows him coughing in various scenarios over the course of a three-week period, dramatising the cough's persistence and the way in which people can just ignore symptoms that hang around. It isn't until his partner expresses concern that he accepts he needs to see a GP.
The TV ad is supported by video-on-demand, radio and social activity.

PHE and NHSE are also working in collaboration with key partners and relevant charities who will amplify the messages through their networks.
Media planning for the campaign is by Wavemaker and media buying is by Manning Gottlieb OMD. There will also be extensive national and consumer PR activity from freuds and a bespoke multi-cultural activity strand by MMC.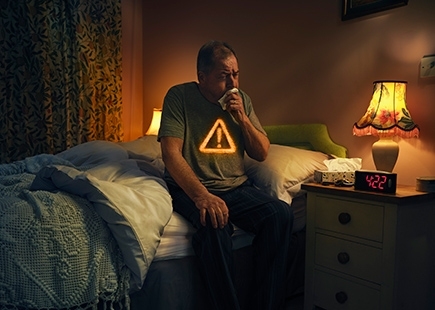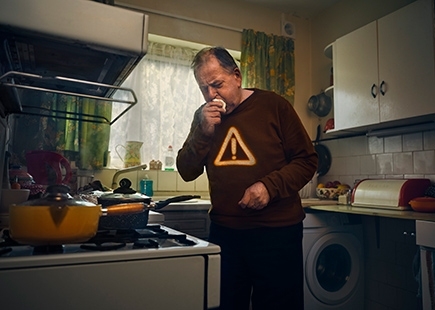 Phil Bastable, Head of Campaigns and Social Media at NHS England and NHS Improvement, comments: "COVID-19 has had a huge effect on how people are accessing the NHS, with members of the public citing concerns about being exposed to the virus and not wanting to be a burden on services. Lung cancer GP referrals also remain lower than normal so we've developed this phase of the 'Help Us, Help You' campaign specifically around lung cancer to remind the public of the warning signs and to urge anyone with symptoms to come forward, reminding them that the NHS is here to see them safely."
Alexia Clifford, Director of Marketing at PHE, says: "The campaign's media strategy is based on extensive data analysis to target those who are more at risk of developing cancer and more likely to delay presentation including people in BAME communities. In-depth consumer testing helped shape the messaging to overcome deep-seated barriers to seeking help and to encourage those with symptoms to present at a clinically significant time. The message is simple and clear: if a persistent cough isn't COVID-19, it could still be a sign of something serious and if it is cancer, early diagnosis can make all the difference."
Ben Golik, Chief Creative Officer, M&C Saatchi, adds: "From a light on our car's dashboard to a worrying symptom – there are warning signs we are all guilty of ignoring. This campaign hits home the importance of getting checked, at a time where fears about safety and COVID-19 provide yet another excuse to put things off."
Credits
Campaign: "Warning sign"
Creative agency: M&C Saatchi
Chief Creative Officer - Ben Golik
Art Director - Tom Kennedy
Film Producer - Andy Thackeray
Project Manager - Andy Williams
Business Director - Angus Maclay
Account Director - Tabby Powell-Tuck
Senior Account Manager - Siri Montague
Global Chief Strategy Officer - Richard Storey
Senior Strategist - Matt Brazel
Production company - Agile Films
Director - Josh Feder
Producer - Saul Abraham
DOP - David Faulkes
Editor - Oli Carr
Colourist - Richard Fearon @ Black Kite Studios
Music - Soviet Science
Sound - 750
Photographer - Gary Salter

If you enjoyed this article, you can subscribe for free to our weekly email alert and receive a regular curation of the best creative campaigns by creatives themselves.