Real Madrid players and fans share their pre-match rituals in new campaign by Cut Media

BOAST is a place where you can find out about recent creative campaigns.
It is a space where agencies can tell us about the new work they are proud of; blowing their own trumpet, so to speak.
Here's the latest from the creative world as we know it.
A campaign by Cut Media
Rituals are an important part of the beautiful game, for the players and the fans. Rituals can be very personal and passionate and are part of what makes the Real Madrid community great.
Cut Media has created a multi-media campaign for Real Madrid which celebrates the time-honoured and precious rituals shared by the Real Madrid family and invites everyone to share theirs.
The "Rituals" campaign film, which will run online , is shot on location in Madrid and showcases the weird and wonderful pre-match rituals practiced by Real Madrid players, club staff, fans and devotees. It also captures the atmosphere and the building excitement in the city and at Santiago Bernabéu Stadium prior to a Real Madrid game.
In the opening shot, Real Madrid star Sergio Ramos symbolically kisses his jersey before he puts it on.
We also see legendary midfielder Luka Modrić in the dressing room picking up his shin pads and kissing them before the game. Printed on the shin pads are pictures of his family and Jesus.

The film shows the pre-game rituals of different Real Madrid fans around the city, and through the ages, with an older member of the club sitting in the same stadium seat he's sat in for years, watching history unfold. As the match starts, we see some members of the crowd kissing their scarves with others in silent prayer. The narrator says: "It's you that makes the difference. This is #RealFootball."
The social media campaign encourages everyone to share their pre-match rituals using the hashtag #RealFootball. There is a 60-second version and a 15-second version, each of which will run with English, Spanish and Mandarin subtitles.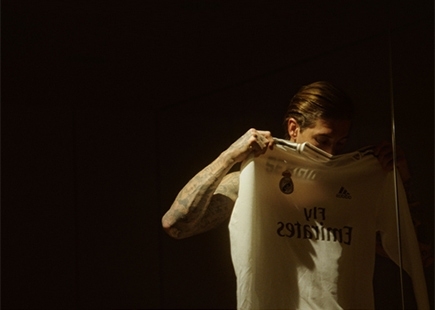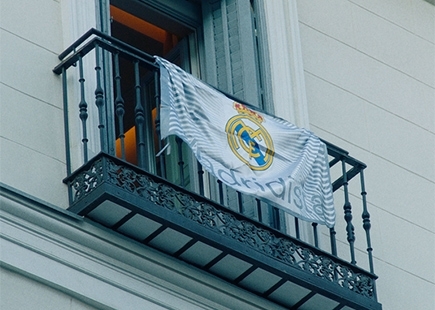 Scott Marshall, creative director at Cut Media, said: "It's incredible to think that there's such a sense of community between followers of Real Madrid, whether they're born and bred Madrileños who watch them live every home game or whether they catch the action on their smartphone in the middle of the night in Shanghai. The passion of these supporters, and of the brilliant players they support, was totally inspiring when it came to making this film and letting the fans know how much Real Madrid appreciates them."
If you enjoyed this article, you can subscribe for free to our weekly email alert and receive a regular curation of the best creative campaigns by creatives themselves.