Sandy C. Gull and Wesley Peck the pigeon urge you to explore again with South West Trains

Spread your wings!
St Luke's is introducing a new creative positioning, along with two avian brand ambassadors, in its debut work for South Western Railway.
'Spread your wings', is designed to remind people of all the things they've been missing out on during the various phases of lockdown, and to encourage them to get back out there and explore everything that's on offer using the South Western Railway network.
The new characters, who sparked an unlikely friendship on a South Western Railway commuter train a few years back, act as ambassadors for the region: Sandy the West Country Seagull representing the very best of the coast and Wes the loveable pigeon from Peckham, showcasing the very best bits of London.
The new campaign focuses on commuter travel and captures the joy of reconnecting with friends—reminding everyone of the benefits of going into the office and showing how you can now enjoy all of that with greater flexibility with the new ticketing options on offer.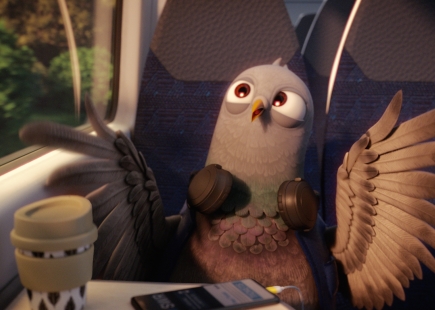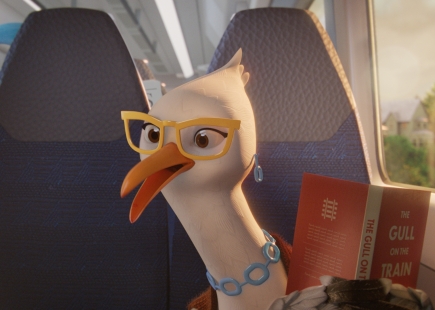 The animated ad introduces us to Wesley Peck, the young business-pigeon, who runs into his friend, a successful execu-bird called Sandy C. Gull, on a South Western Railway train on its way to London. Together they discuss their plans for the day, from lunch with clients and business meetings to an exhibition and drinks with friends, in a conversation packed with bird-inspired word play. A voiceover reminds us of the flexible ticket options available and finishes with the 'Spread your wings' strapline.
The animation, directed by Smith & Foulkes through Nexus Studios, has all been modelled, textured and animated in 3D with some 2D background work. Lighting was very important to the atmosphere of the journey from a misty morning departure to their arrival at Waterloo station on a bright and sunny day. Part of every train journey is looking outside at the passing landscapes so it gives a total sense of the train journey through its environments.

The 40-second film aired on 23 February on TV in the Meridian region, as well as on VOD in areas served by South Western Railway. It is supported by a print, poster and digital campaign also featuring Wes and Sandy in a brand new look and feel, promoting flexible ticketing options, and the SWR Commuter Rewards scheme offering commuters discounts on a huge range of activities across London. Media is planned and bought by the 7stars.
Richard Denney, ECD St. Luke's says:"We couldn't be more excited to finally see our exciting new campaign and brand world fly. Wes and Sandy's friendship, thanks to their chance meeting as commuters on SWR, delivers real warmth and a lovable sense of humour. I challenge even the most cynical of commuters like me to not smile and be inspired to spread their wings."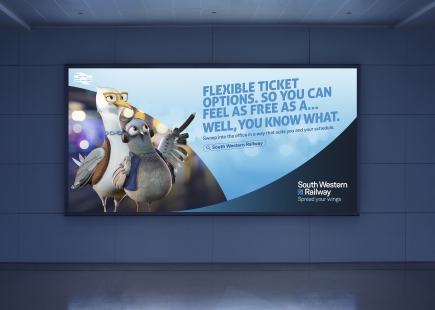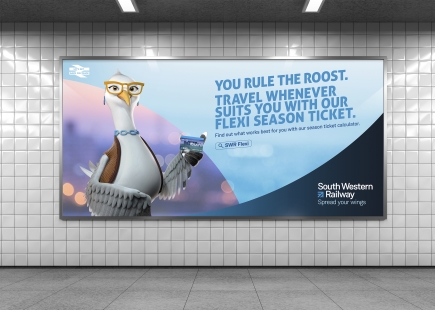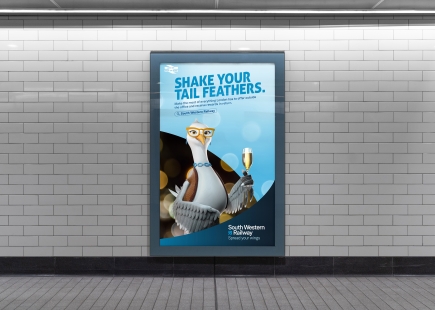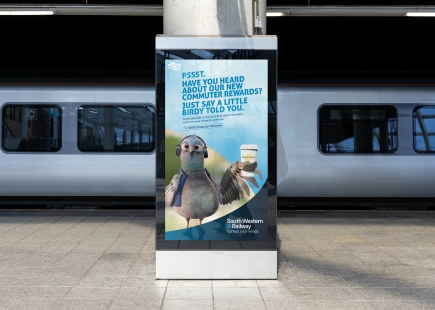 If you enjoyed this article, you can subscribe for free to our weekly email alert and receive a regular curation of the best creative campaigns by creatives themselves.