Say thank you to frontline workers when they need to hear it with Hopeline19

Two in five frontline staff are suffering with PTSD as a result of the pandemic.
This is nearly double the rate of recent military veterans. This trauma is the focal point of adam&eveDDB's first work for the charity Frontline19, which offers support for NHS and frontline workers struggling with their mental health.

At the heart of the campaign is a free phone service called Hopeline19, which allows people to leave messages of support that will provide a boost for frontline workers when they are feeling vulnerable and traumatised.
An accompanying film called "One Crisis Has Caused Another", directed by Novemba through Academy in collaboration with PTSD specialists, will raise awareness of Hopeline19 as well as increasing understanding of PTSD and the ways in which it affects frontline staff.

The film begins with Vicky, a nurse who is phoning the next of kin of her patient Michael to inform them he has lost his battle with Covid. We then see how devastated Jenny is after delivering the news as she sobs alone in the hospital break room.
From there, the film brings to life the way people on the frontline, from ambulance workers to ICU doctors and nurses, suddenly find their minds replaying harrowing moments from work, even when they're in the midst of calm domesticity. It reveals that two in five critical care staff are experiencing PTSD as a result of what they have been through over the past 18 months.
We are then invited to make a small gesture that could make a big difference, by phoning HopeLine19 to leave a message of gratitude, love or support. These will be moderated and then uploaded so that frontline workers can call and listen to kind words from the public when they feel discouraged or down.
Outdoor, print and radio will be used to ask members of the public to leave messages, while more targeted media in and around hospitals will be used to make frontline workers aware of the service when they need it most.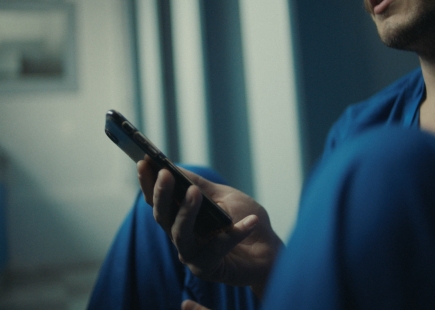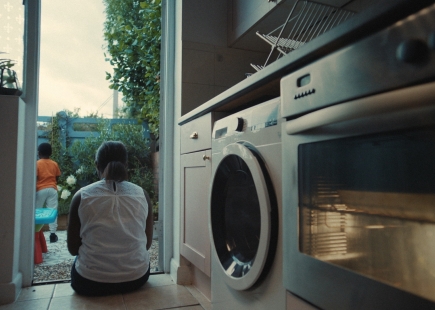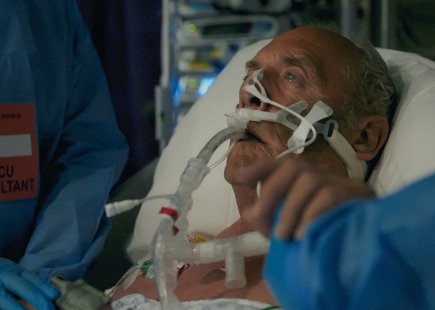 The phone number, 0808 19 665 19, can be used to both leave and listen to messages. Callers are greeted by a pre-recorded message from Dermot O'Leary. They are invited to press 1 to leave a message, or 2 to listen.

Twilio, a voice and video messaging platform, has supported the project by hosting the phone line free of charge.

Hopeline19 is backed by Frontline19, a non-profit organisation set up right at the start of the UK's first lockdown in March 2020 by psychotherapist Claire Goodwin-Fee, who recognised that the NHS staff dealing with Covid patients were about to face an incredibly testing time.

Goodwin-Fee began by offering her own services but Frontline19 now has 3,000 volunteers and has created a system where NHS and frontline workers can get in touch to be matched with a suitable counsellor for free, confidential sessions. It helps everyone from hospital staff and emergency response teams to the people who support the ambulance service and those working in social care.
Hopeline19 isn't a replacement for counselling but there to let those for whom the Covid battle is far from over know they are appreciated. At the same time it lets us deliver our own messages of gratitude and love in a way that is personal and meaningful. By putting it at the centre of Frontline19's first ever campaign, adam&eveDDB hopes it will raise awareness of the help available to NHS and frontline workers.
Claire Goodwin-Fee, Founder of Frontline19, said: "There is a looming mental health crisis among the people who have dealt with the very worst of the pandemic, and for whom it is far from over. We know that it is commonly around a year to 18 months after a trauma that PTSD can begin to surface, so it's vital to raise awareness now of what Frontline19 is doing and ensure none of these incredible people feel alone or abandoned."
Ant Nelson, Executive Creative Director at adam&eveDDB, said: "We're humbled at what the doctors, nurses, emergency responders and thousands of other unsung heroes have achieved over the past 18 months. But while their actions may be heroic, they are human beings as vulnerable to mental health problems as the rest of us. Frontline19 has already done so much in such a short time, but we need to make sure their work can carry on and in turn help NHS workers get through this traumatic time."
Credits
Client: Frontline19
Brand: Frontline19
Project/Campaign name: Hopeline19
First Air Date: 09/09/2021
Client: Claire Goodwin-Fee
Joint CEO: Mat Goff
Chief Creative Officer: Richard Brim
Executive Creative Director/s: Ant Nelson, Mike Sutherland
Creative directors: Darren Beresford, Richard Gayton
Copywriter: Darren Beresford
Art Director: Richard Gayton.
Deputy Head of Integrated Production: Jack Bayley
Agency producers: Katie Heaselgrave, Hannah Needham
Head of Planning: Will Grundy
Business Director: Louis Lunts
Account Director: Renee James
Production Company: Academy
Director: Novemba
Executive Producer: Medb Riordan
Producer: Gemma Priggen
Production Manager: Cara Mills
Production assistant: Rosana Irwin
Production assistant (shoot) : Katie Kennedy
1st AD: Joshua Loftin
DOP: Jaime Ackroyd
1st AC: Mike Hannides
2nd AC: Conor Kennedy
DIT: Jessie Viljoin
Gaffer: Deepan Thava & Leo Olesker
Electrician: Brian Salcedoavila
Lighting van driver: Colum Ewart
Sound Mixer: Simon Haggis
Art Director: Louis Simonon
Casting Director: Sue Odell
Runner: Megan Calcutta
Editing Company: TenThree
Edit Producer: Julian Richards
Editor: Stephen Dunne
Post Production: Selected Works
Grade: Jason Wallis @ ETC
Post Producers: Alex Fitzgerald
VFX Supervisor: Wes
VFX Artists: Dan Adams, Stephanie Skarbek, Robin McGloin
Audio Post Production: Factory
Audio Engineer: Dan Beckwith
Audio Producer: Beth Massey