Scottish Widows encourages women to close the Gender Pension Gap

Announced on International Women's Day, the Scottish Widows' Gender Pension Gap campaign launched in print, social and radio. The campaign aims to encourage women to engage with their pension as early as possible and follow expert tips and advice from Scottish Widows to help close the £100,000 Gender Pension Gap.
On average women in their twenties today are on course to retire with £100,000 less in their pension than men the same age. To get the same size pension as a man, they would have to start work a lot younger. This affects millions of women around the UK, with many not knowing it's a problem until it's too late.
As well as raising awareness of the issue and encouraging women to take action, Scottish Widows are taking on the gap by lobbying the government and by working with employer pension schemes across the UK.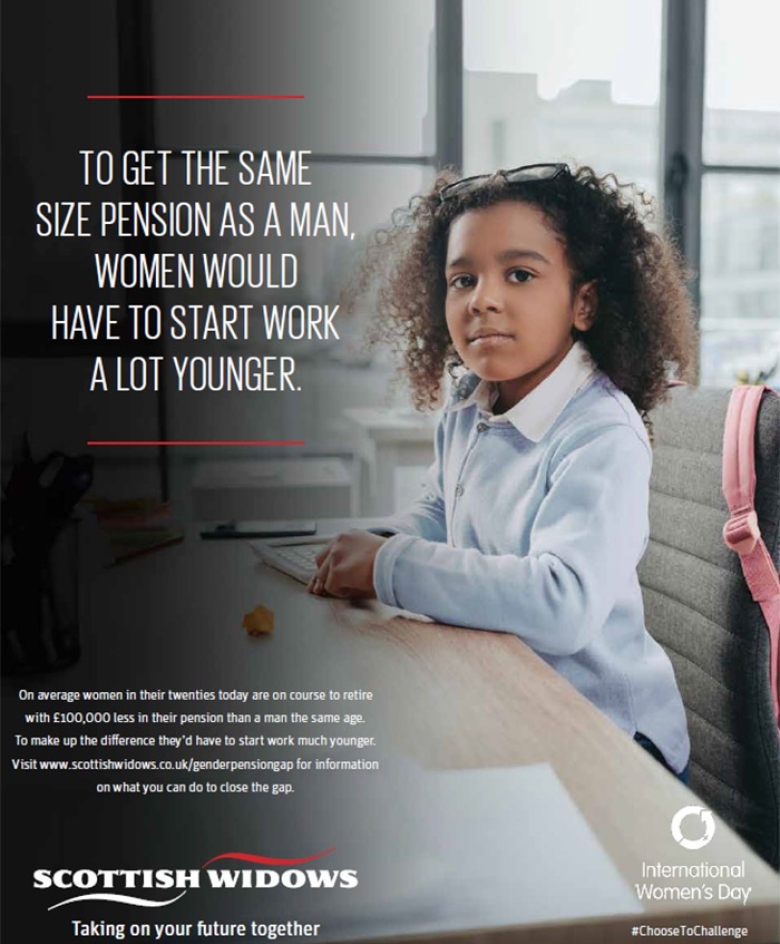 Young people are one of the most disengaged groups when it comes to their pension.
But for young women in particular, this is a major problem as the later they begin to save for retirement, the larger the gender pensions gap gets.

Women already face being £100k worse off than their male counterparts when they reach retirement due to challenges including reducing hours to look after children and being more likely to work in shut-down industries, such as retail and hospitality. This means that women face needing to work far longer in order to catch up to the same size pot.
The campaign highlights the need for young women to engage with their retirement savings at the earliest possible point, communicating the benefits this would provide over time. This would be supported with expert tips on how women can feel more empowered to help close the gender pensions gap for good.
Alongside data from Frontier's modelling, we can also include stats from the Pensions Nudge research and the Women in Retirement report.
46% of women aged between 22 and 29 are saving adequately, much less than 54% of men in the same age group
65% of 18-29 year old part-time workers are women
49% of young women were furloughed (25 and under)
36% of women under 25 working in shutdown sectors
Nudging young people to think about their future lifestyle increased the number they wanted to save by 11
If you enjoyed this article, you can subscribe for free to our weekly email alert and receive a regular curation of the best creative campaigns by creatives themselves.