Sherbet transforms its all-electric black taxi fleet to show off its zero emission credentials

Sherbet Taxis, the premium, all-electric black taxi company, is transforming its 350-strong fleet.
New livery featuring its distinctive brand identity has been created by agency Dog, Cat & Mouse.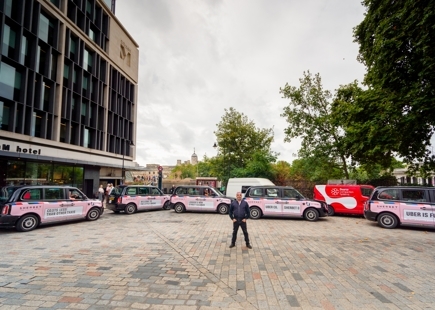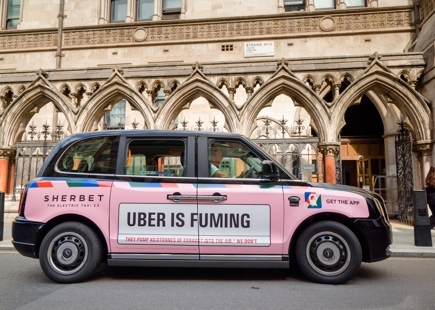 The design draws heavily on the pink element of Sherbet's branding, accented with the red blue and racing green which also feature.
The font design is taken from London street signs, using Univers Bold Condensed, marrying two of the most iconic, timeless pieces of London design, the black taxi and the street sign. The taxis will carry one of a number of messages to emphasise Sherbet's zero emission credentials, including "Luxury doesn't have to cost the earth" and "London's new street cleaner".
The campaign aims to dispel perceptions of the black taxi as polluting entities.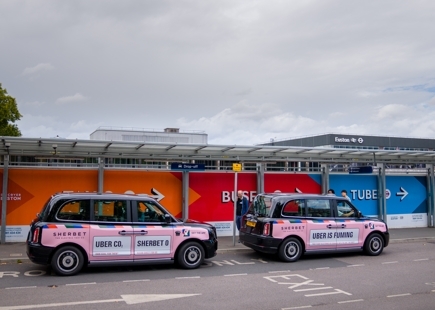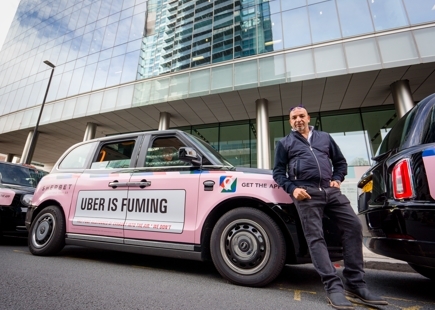 The campaign is running on the sides of Sherbet's own taxis, as well as on digital and social media. It launched on 12th September on the Euston Road and The Strand – two of the most polluted roads in London. The branded taxis will also be parked outside Uber's head offices.
Other messages in the campaign, such as "Luxury doesn't have to cost the earth" and "London's new street cleaner", will also appear on the Sherbet fleet.
The campaign comes as Sherbet plans to increase the size of its fleet of electric black taxis to a thousand within the next two years. Once its own campaign has run, the fleet is available for other brands and is particularly ideal for those wishing to target a London audience who are out and about in the capital.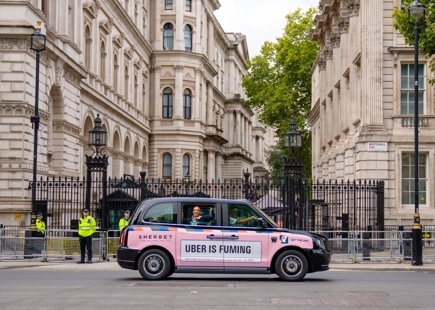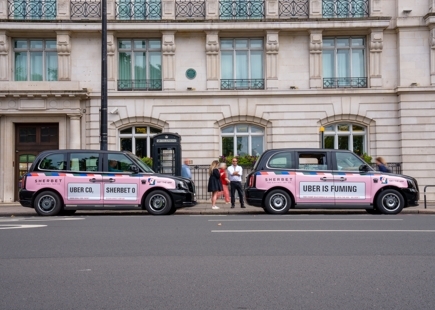 Asher Moses, CEO of Sherbet Taxis, said: "We aim to drive pollution and emissions in London down, whilst at the same time calling out those who don't follow our example. We are not afraid of naming and shaming the culprits."
Steve Stokes, Planning Partner at Dog, Cat & Mouse, said: "We believe that confident and provocative creative work that courts fame can be one of a brand's most effective marketing weapons. And when a brand such as Sherbet has such strong sustainability credentials and a desire to walk the talk, it makes even more sense. We're very excited to be working with them."
Credits
Creative director: Jo Tanner
Art director: Mark Howard
Copywriter: Jo Tanner/Mark Howard
Planning director: Steve Stokes
If you enjoyed this article, you can subscribe for free to our weekly email alert and receive a regular curation of the best creative campaigns by creatives themselves.