Size Matters: Subway enters the McDonalds versus Burger King ChatGPT competition

The longstanding advertising tet-a-tet between McDonalds and Burger King welcomed a third player over the weekend, as Subway entered the latest string of tactical executions with its own ChatGPT-led creative.
Created by Saatchi & Saatchi, the latest spot for Subway also used AI to generate a copy-led execution, comparing the icon-status and size of the fast-food giants' best loved menu items.
In response to the questions posed by McDonalds and Burger King's spots, Subway asked the chatbot how a McDonalds Big Mac and a Burger King Whopper 'compare to a footlong?', and ChatGPT's response is presented in bold, brand-led typography: "In terms of size, both are significantly smaller than a footlong sandwich."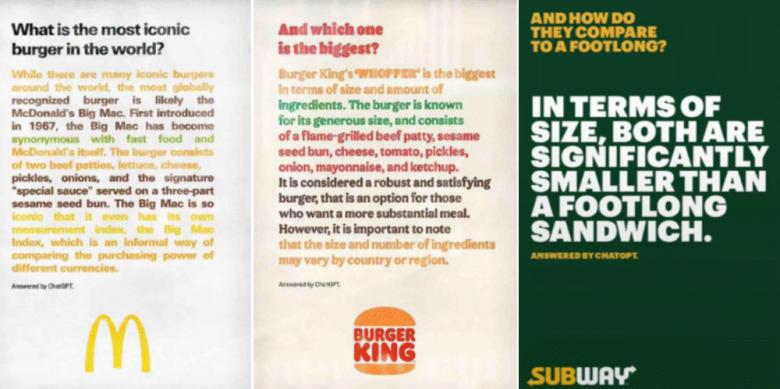 If you enjoyed this article, you can subscribe for free to our weekly email alert and receive a regular curation of the best creative campaigns by creatives themselves.