Sky Cinema launches Idris Elba on a cinematic adventure to promote its offer of cinema tickets to subscribers

Until now, subscription channel Sky Cinema has brought movies to its viewers. Now they're offering viewers the chance to go to the movies, with 2 free tickets every month to Vue cinema.
To promote the deal, Sky is launching an action-packed new film, produced by Birth Productions, sending the audience on a cinematic adventure through the streets with Idris Elba.
The film begins with a scenario any Sky Cinema viewer can relate to, as Idris Elba and his nephew settle in to watch a movie.
Suddenly, they're a part of a gripping, action-packed movie themselves, starring Idris, and his nephew as The Sidekick. They're whisked away in their armchairs, exploding through the glass doors out onto the streets at breakneck speed in an exhilarating scene, akin to the heart-pounding thrill rides we expect from Fast and the Furious. In the adrenaline-filled sequence that follows, the pair race by traffic, fly around corners and down steps, gripping hands Thelma & Louise-style as they veer towards a roadblock before surviving a dramatic explosion, and landing directly in front of a Vue cinema where, thanks to their subscription with Sky Cinema, they have 2 free tickets.
For director Rodrigo Valdes, making the film, and the offer, memorable, meant focussing on the action, creating a cinematic experience within itself. The 60' spot is an homage to some of the most celebrated movies in cinematic history - Italian Job, Ferris Bueller's Day Off, Back to the Future, Baby Driver - and pays tribute to the most iconic car chases in filmdom.
Produced by Birth Productions, the film was released on TV and in cinemas on October 9.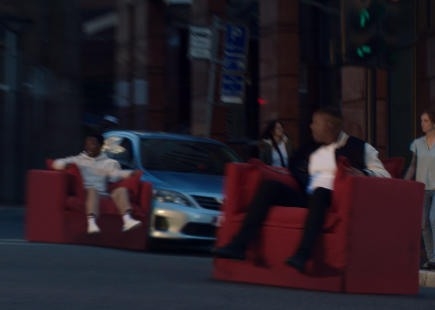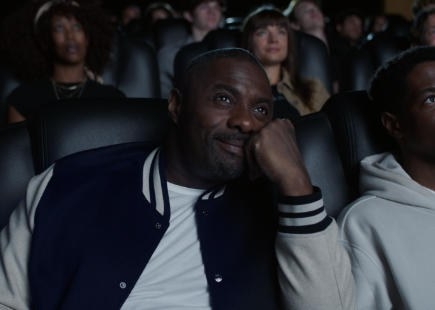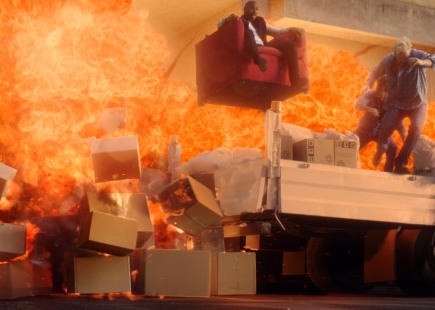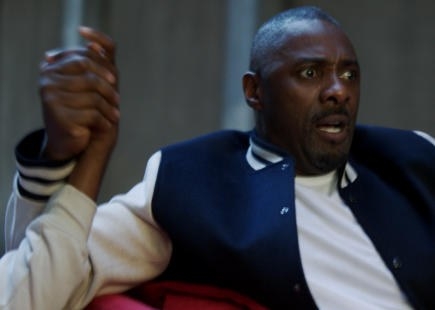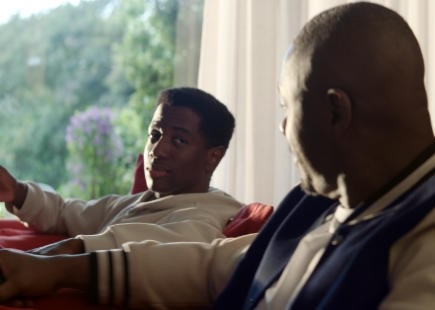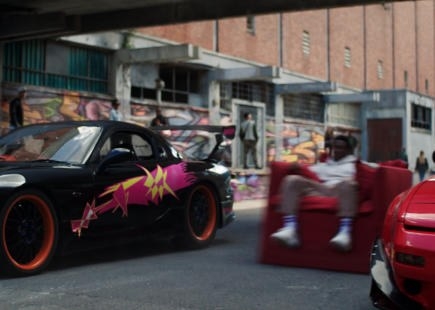 Credits
Agency Credits:
Agency: Sky Creative
ECD: Robin Garton
Creative Director: Rob Welch
Senior Creative: Piers O'Kelly
Senior Creative: Liam Scott
Head Of Production: Paul Mortimor
Senior Account Director: Chloe Kitter
Account Director: Pav Deol
Head Of Dep Marketing: Abbey Kickham
Marketing Manager: Gemma Bell
Producer: Martha Wright
Production Credits:
Production Company: Birth
Director: Rodrigo Valdes
CEO: Hugo Legrand Nathan
Executive Producer: Kate Elson
Producer: Dom Wilcox
DOP: Arnau Valls Colomer
Stunt Supervisor: Rob Inch
Editor: Ben Campbell | The Quarry
Editor: Ben Cowan | The Quarry
Grade: Simon Bourne | Company 3
Post: Ruslan Borysove | The Mill
Sound: Grand Central
If you enjoyed this article, you can subscribe for free to our weekly email alert and receive a regular curation of the best creative campaigns by creatives themselves.